October 2023
Confronting Health Care's Carbon Footprint
Hospitals are waking up to their climate change culpability and the mandate to act
by Stephanie Dutchen

4 min read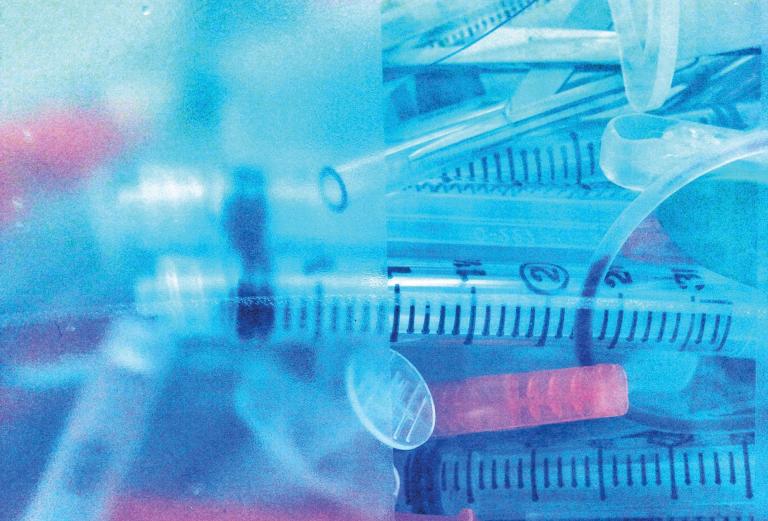 Talking about climate change and health care usually involves recognizing how extreme weather events and shifting climate patterns harm people and threaten practitioners' ability to provide care. But another facet of the issue has been gaining attention: how the health care industry itself contributes to climate change, and what can be done about it without compromising care.
Data suggest that the global health care sector belches out between 4.4 and 5.2 percent of the world's greenhouse gas emissions. Aviation, by comparison, is estimated to contribute 2 to 5 percent. In a landmark 2019 report, the group Health Care Without Harm calculated that the United States produces the greatest share of the world's health care emissions and has the highest per-capita health care climate footprint.
Those statistics alarm increasing numbers of U.S. practitioners and administrators as they realize that the systems they work in can run counter to the principle of doing no harm.
Such alarm can paralyze — or spur action.
"It's an ethical imperative for health care to take this seriously and transform the way it does things," says Anand Bhopal, a PhD research fellow at the University of Bergen focusing on health care decarbonization and a recent Takemi Associate in International Health at the Harvard T.H. Chan School of Public Health. "By sorting out our own house, we can inspire the global movement toward zero emissions to go ever faster."
Making changes, planning for more
First come awareness and quantification. Medical specialties and hospital and department teams are gauging their contributions, from estimating emissions to doing trash audits. Physicians are pushing for low-carbon alternatives when appropriate, such as telemedicine and virtual professional meetings. Statisticians are breaking down emissions within health care — supply chains, pharmaceutical production, ambulance and employee travel, energy use in buildings, anesthesia — to better understand what needs tackling.
Next come creation and assessment of mitigation strategies. Some motivation trickles down from the top as organizations draft plans to achieve net-zero carbon emissions by 2050, per recommendations from the United Nations Intergovernmental Panel on Climate Change. Leaders include the U.N. and the World Health Organization, the National Academy of Medicine's Action Collaborative on Decarbonizing the U.S. Health Sector, and the White House/U.S. Department of Health and Human Services' Health Sector Climate Pledge. The Joint Commission, the health care accrediting organization, almost joined them when it proposed earlier this year that carbon reduction practices become part of the rubric for accrediting hospitals, but it later made such practices voluntary.
Significant change also can come from the bottom up. So-called easy wins include reducing greenhouse gases in anesthesia and inhalers and identifying where disposable materials can be replaced with recyclable or reusable ones. Some labs are experimenting with slightly raising subzero freezer temperatures to save energy without damaging biological samples. Jonathan Slutzman, an HMS assistant professor of emergency medicine and medical director for environmental sustainability at Massachusetts General Hospital, and colleagues laid out dozens of practical steps that emergency medicine and other departments can take in a 2020 Annals of Emergency Medicine article.
Institutions are rising to the occasion. Mass General cut its energy use by 36 percent in the past 15 years by ramping up use of cogeneration technology, which produces electricity and usable heat at the same time; installing solar panels; and buying more of its power from local wind farms. Teams that find success — including the hospital's Center for the Environment and Health — share what they learn with others.
"We want to create processes that make it easy to do the right thing," says Slutzman, who directs the center. "If we find things that are good for the environment, save money, and improve or are neutral for patient care, why not offer those solutions to other hospitals in this country?"
Advocates for decarbonizing health care find allies in many arenas. Economically, cutting carbon often cuts costs. For employers, sustainability can improve staff morale and retention. Slashing emissions in wealthy nations supports global health equity by making space for low- and middle-income countries to strengthen their care infrastructure. Striving for net-zero emissions aligns with efforts to incentivize prevention over treatment in U.S. health care; healthy people, after all, require fewer medical resources.
"The best way to decarbonize health care is to not use health care," Aaron Bernstein, who was then interim director of the Harvard Chan School's Center for Climate, Health, and the Global Environment, said at a March 2023 webinar.
It can be hard to imagine incorporating climate considerations into day-to-day care when practitioners are already battling time constraints and pandemic burnout. But keeping people healthy requires a healthy planet, and most clinicians want to be part of the solution, says Slutzman.
"Every clinician can play a role," he says. "We have the technology. The question is, do we have the will."
Stephanie Dutchen is the manager of feature content and multimedia in the HMS Office of Communications and External Relations.
Image: Dtimiraos/iStock/Getty Images