Spring 2020
Alumni on Music and its Role in their Lives
Did you play an instrument or sing while you were in medical school?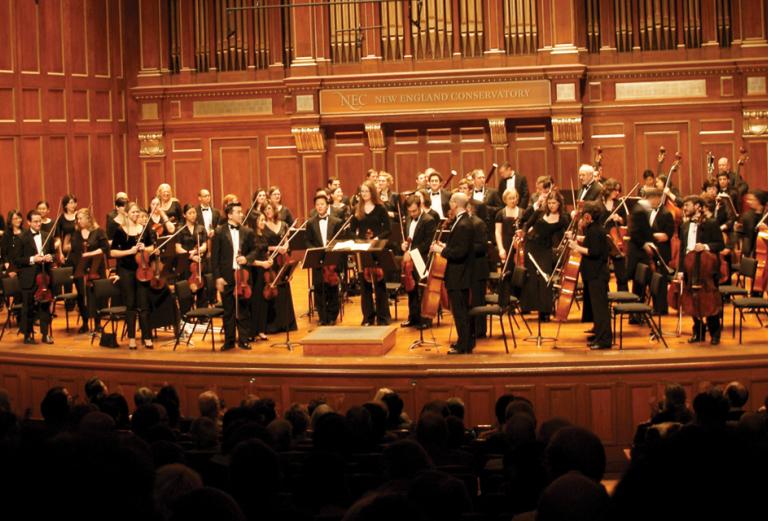 Katherine Murray Leisure, MD '78
Yes, music has an important role in our lives! At HMS, we had great fun singing madrigals and folk songs in Vanderbilt Hall as the Grand Rounds Singers under William Kupsky, MD '78. And I was mesmerized hearing violinist Yeou-Cheng Ma, MD '77, and others perform in the majestic Vanderbilt Hall dining room. During my public health years, I sang gospel with physician-missionaries Paul and Margaret Brand, hospital staff, and patients with leprosy within a lively Baptist church in Carville, Louisiana, sometimes accompanied by Hawaiian steel guitar.
I studied voice and sang with choral and opera groups in central Pennsylvania, including a community performance of the Mozart Requiem in the Harrisburg, Pennsylvania, capitol building rotunda shortly after the World Trade Center was destroyed on September 11, 2001. I sang my fourth full performance of the Mozart Requiem with the Pilgrim Festival Chorus in Scituate, Massachusetts, in 2019. This was a poignant Lacrimosa, as my 33-year-old daughter was battling adult Ewing sarcoma and died later that year. To quote Pablo Casals, "Is not music the divine way to tell beautiful, poetic things to the heart?" For me, it started in Vanderbilt Hall decades ago.
George Ryan, MD '53
Music has long been an important part of my life. I am a jazz trumpet player and have played since age 10. I played while in medical school and residency and during my service in the U.S. Army. I played while in private practice with bands in the Boston area. And I played while I was a professor of obstetrics and gynecology at the University of Tennessee. I founded the Memphis Traditional Jazz Festival in 1982 and also began the Hot Cotton Jazz Band that year. That band became a favorite nationally and internationally. In 2018, I was inducted into the Arkansas Jazz Hall of Fame.
Though I am now 90, I will continue playing until it is physically impossible.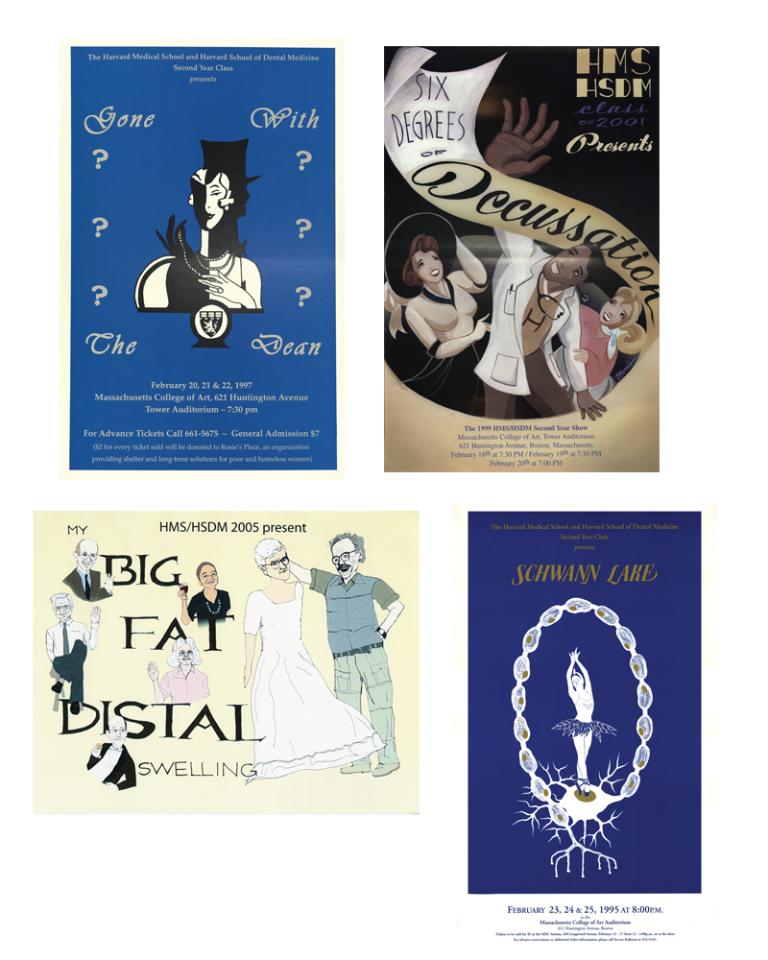 Howard Rubenstein, MD '57
As a medical student at HMS, I attended as many rehearsals of the Boston Symphony Orchestra as I could. The rehearsals were educational, fun, and inexpensive, and for me more enjoyable than the actual concert because I could see the conductor interacting with the instrumentalists, and the latter interacting with each other. And I loved Richard Sogg's (MD '56) concerts or when he played the piano in Vanderbilt Hall. I could barely play the piano or any other instrument, and my only exhibition of musicianship at HMS was when I was cast in the chorus of the Second Year Show. We sang "Everyone Runs to Harry," a reference to Harry Trimble, a professor sympathetic to and an advocate for struggling students like me. The ditty, one of many showstoppers, went to the tune of "3 Little Maids" from The Mikado.
I have retained an interest, and an involvement, in theater. In 2011, the Romance of the Western Chamber—a musical with my English lyrics on the stage with Mandarin supertitles—had its world premiere in Hangzhou, China. It was the first time this remarkably modern Chinese thirteenth-century play was produced in English. It premiered off-off Broadway in 2017 to good reviews and will have its West Coast premiere in San Diego in July. My most recent work is a modern adaptation of an ancient Greek tragedy. It is slated to run off-Broadway in September 2020.
Karl Singer, MD '67
During medical school, every Sunday morning, I would take my viola to Cambridge and join three colleagues for string quartets. For those two hours, no thought of med school would enter my head. I also rejoined the Harvard orchestra, where I was fortunate enough to meet my wife.
Music continues as a passion. I play chamber music once a month, play in the student orchestra at Exeter Academy, and take viola lessons. Playing music is a wonderful way to challenge all parts of my brain.
William Hood, MD '58
Music was important to me while I was a medical student, and it continues to have an important role in my life.
Michael Rasminsky, MD '64
I came to HMS with a musical theater background (the road not taken) and wrote the music for our Second Year Show, "For Prevention of Disease Only." The definitive review was delivered the following morning by the Vanderbilt caretaker who opined, "I have seen many of these shows in my time. Yours was by no means the best, but it was certainly the dirtiest." High praise indeed for medical juvenilia. A pianist and avid amateur chamber musician, I now engage in less scatological musical pursuits.
Samuel Katz, MD '52
I played drums with a professional group most weekends.
Claire Broome, MD '75
During medical school, my only singing was in the Second Year Show, but in my forties, I realized vocal harmony was a passion. Thirty years later, I'm singing Palestrina, Byrd, and Monteverdi motets, and I'm now learning duet singing. Professional accomplishments are irrelevant—singing one's part on pitch is what's valued.
Luis Fernandez-Herlihy, MD '49
Harmonica. I hum in private, occasionally.
Brandon Lujan, MD '02
I began to learn guitar as I was finishing residency. Music has been a major outlet from stress and a source of inspiration ever since. I'm glad I was willing to take on something new. I've derived tremendous joy from it, despite being a perpetual beginner.
William Kupsky, MD '78
I played the piano in Vanderbilt Hall, was involved in the music preparation and performance for the Second Year and Fourth Year class shows, "Call It the Flu" and "Stoma," respectively, sang in and later directed the Grand Rounds Singers, served as student liaison helping to organize the Vanderbilt Hall student-faculty concerts, and during senior year participated in an a cappella quartet with three nonmedical singers. We performed with several class members on Class Day.
Ernest Bergel, MD '56
I did continue to play the piano to some extent but did not have the time or energy for piano lessons or regular practicing. Classical music has been a source of inspiration, comfort, and consolation for me during my entire adult life.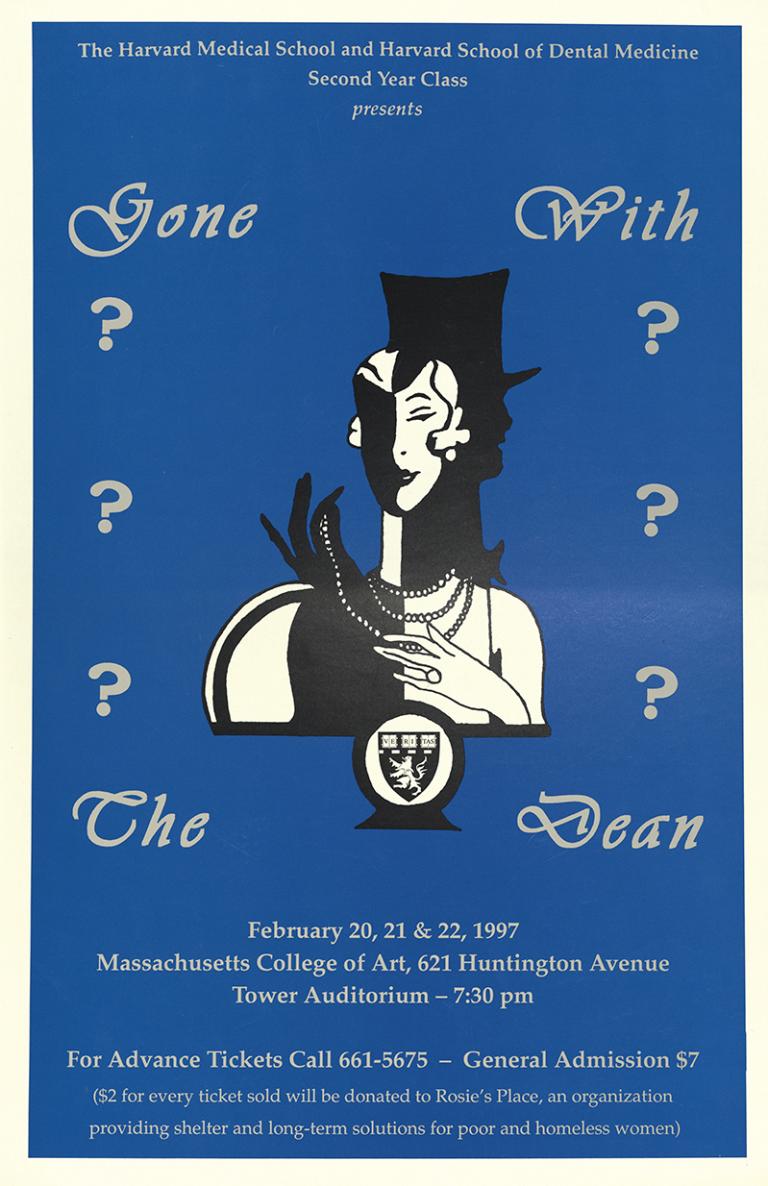 Robert Brooks, MD '55
I had some piano lessons, but do not play. Classical music is my favorite. I loved the Boston Symphony and other classical music while I was in Boston. I continued to enjoy it here in Phoenix as long as I could get out. Now I continue to enjoy classical music on KBAQ, our local PBS station.
Richard B. Dobrow, MD '62
I have played the piano essentially all my life and did so in medical school. Throughout my life as a physician, I continued to give recitals in public. Since my retirement, I'm practicing the piano more than ever. I recently moved into a senior community, and just two days ago gave a public recital to an audience of 160 people. There are far more physicians here than musicians.
Richard Hirschhorn, MD '58
I have played the piano since I was nine years old and still play every day. I even played in a cocktail lounge on an ocean cruise a few years ago.
Donald Dillon, MD '59
I did not sing or play an instrument. I like music but not modern-day lyrics, singers, or groups. If I listen, it is 1970s or pop (as in Boston Pops).
Sina Saidi, MD '94
I played guitar at HMS and started a band with four classmates. Playing "Good Lovin' " and "Black Water" at Vanderbilt Hall was one of the most fun med school experiences. I continued to play folk and classical guitar for years, but recently picked up piano. Learning to play pieces by Beethoven or Mozart, albeit at a basic skill level, has been a very enriching part of life.
Nathan Selden, MD '93
I played guitar for fun and had a small occasional band in college. But these pastimes have slipped away in favor of others. I still have my guitar. Maybe I will pick it up again.
Bruce Barnett, MD '75
I played my saxophone when I could in medical school. Music is still a great joy to me and is a very important part of family life.
Joseph McCabe, MD '74
Music is incredibly important to me. I played piano while in school and have been taking piano lessons for the past 16 years. I play regularly. I took voice lessons in the past and have performed with groups and individually as an amateur.
Bartholomew Tortella, MD '80
I played the organ at church, and still do. Many happy memories of playing at Mass at the Paulist Center on Park Street in Boston. Music is a wonderful release for me to create sound and praise and share community with friends.
Dale Cowan, MD '63
I played trombone in the Harvard University Band and continued during medical school. I still play and will join the HUB for its 100th anniversary this October.
Tamara Fountain, MD '88
I played violin up through early college. I dusted it off to play in some student talent shows at Vandy during med school but that was pretty much it. Music is so important. It brings back memories, lessens pain and anxiety, and boosts mood.
Stephen Schoenbaum, MD '66
I played the piano during medical school, and still do. Music has a very important role in my life. I have learned a lot of chamber music and enjoy playing with others. My wife and I go to many concerts throughout the year.
Robert McKinstry, MD '92
I sang a bit in the Second Year Show. I toyed with guitar, but I had given up piano. Big mistake. I picked up piano again in 2012 and it has been my number one stress reliever.
Richard Aadalen, MD '65
I sang in a chorus during med school and have continued to sing in my church choir and in a community mixed chorus.
Royce Moser Jr., MD '61
I sang in church choir and recently sang "Holy City" in our church. I sang "La Vie en Rose," "Unchained Melody," and "Some Enchanted Evening" to Lois on our fiftieth and sixtieth (!!) wedding anniversaries.
Patricia Williams, MD '78
I sang in several groups during medical school, including a women's Balkan singing group, which, alas, proved to have too demanding a schedule, and the Harvard Graduate Chorale. Several of us in the class of 1978 (including me, Christopher "Kit" French, Susan Okie, and Walter Weiss) had a grand time as the Grand Rounds Singers under the direction of our classmate, Bill Kupsky. Since HMS I have sung in community theater, various choruses, and, most recently, a folk/pop/jazz trio.
Linda Waldman, MD '81
I sang in the Chorus pro Musica in Boston until nights on call during rotations interfered. I sang in the Medical School Madrigal Group all four years. I was the music director for our Second Year and Fourth Year class shows as well as for the House Staff Show at Boston Children's Hospital. As soon as I finished my training, I joined the New Haven Chorale, and 33 years later I'm still with them! Music has always been a crucial part of my life.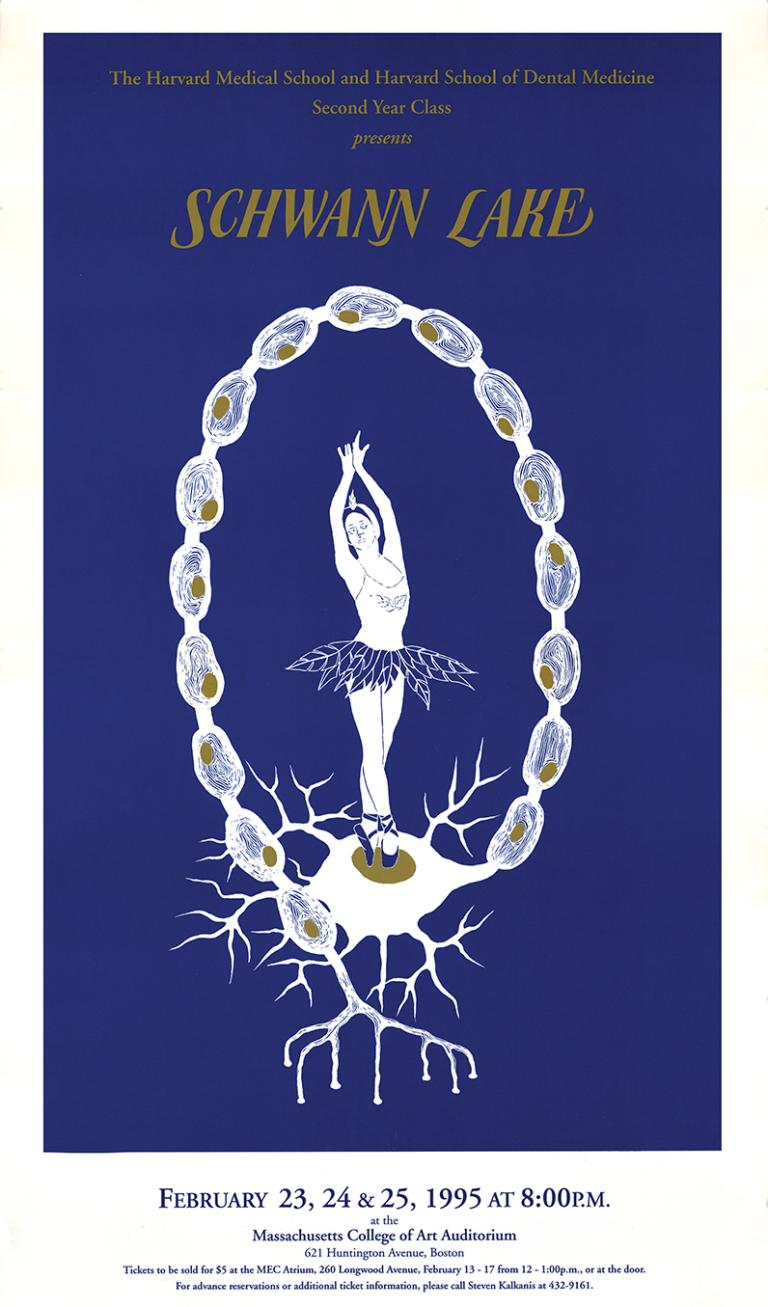 David Dorsky, MD '82
I studied and played piano starting in third grade, mainly classical, though not particularly well, and continued in med school and beyond. I have also played guitar since high school, mostly folk and traditional fiddle tunes and joined a contradance band, which is how I met my wife. She plays fiddle. Music is a vital part of my life today, and I play piano nearly every day and accompany my violinist son when he's around.
Richard Peinert, MD '73
I think just about everybody played a musical instrument. It was the piano for me, and I spent many hours working up Beatles tunes on the Steinway in Vanderbilt Hall. A classmate who shall remain nameless wanted a Hammond organ for his room. After a long sob story to the financial aid people, he got the $3,000 at a one percent interest rate for his organ! Anyone from our class reading this will know who it was. He was a darn good organist, which came in handy for Second Year and Fourth Year class shows.
John Mordes, MD '73
No, but music is an important part of my life.
Paul Wheeler, MD '61
No music in med school, but I loved Dixieland music before HMS and have added bluegrass, classic Broadway, movie musicals, and classical music. I hate most music now polluting radios.
John Merrifield, MD '59
Not while I was in school but now I listen to music with huge pleasure.
Carolyn Aldredge, MD '63
I only played and sang for my own enjoyment, but music always will be an important source of enjoyment and stress relief for me.
Peter Barrett, MD '60
The Second Year Show was a landmark event for the Class of 1960. Lenny Shulman's expertise on piano held the musical part of the show together, including a memorable tune that featured a squeaky clarinet and an enthusiastic tuba. Sadly, the Second Year Show is no longer a part of the HMS scene.
Joseph Barr, MD '60
I'm tone deaf, but I've always enjoyed classical music.
Mary Flowers, MD '78
I used to sing all the time and was pretty good. I don't sing much anymore. No music in my head or heart. Bring back the music!
Samuel Kim, MD '62
Yes I did, and music still has an important role in my life.
Robert Ockner, MD '61
I began studying the cello as a freshman at Pomona College, and I have continued to the present.
John Stanley, MD '58
Yes. I played the violin in medical school, and still do at age 85. I still play OK. Now I also make and repair violins.
Images: Jean-Francois Caubet (top); Harvard Medical Library in the Francis A. Countway Library of Medicine