Spring 2022
Alumni Reveal Favorite Study Spots on Campus
Marguerite Barnett, MD '79
I would study any place that was warm. I could not afford heat in my tenement apartment behind Kendall Square in Cambridge.
Paul Shellito, MD '77
I would go to the Countway Library. It was close to Vanderbilt Hall, quiet, and cool looking, both inside and out.
Tamara Fountain, MD '88
Most of the time, I studied in my room; I lived in Vandy my first year and off campus the other three years. One of the few times I stayed at the Countway to study and then took the E-line trolley home, I was jumped on the short walk from the station and held up at knifepoint. He took my satchel and was probably pretty angry when all he netted were USMLE notes and a credit for Jordan Marsh (never rob a poor graduate student). Thankfully he let me go. He was caught by the Boston Police Department and let off with community service since it was his first offense.
Albert Levin, MD '60
I lived in Vanderbilt Hall during my first two years at HMS. My favorite venue for studying in the evening and on weekends was a small library on the second floor of the original rotunda building of Children's Hospital. For some reason, it was apparently unknown to other students. It was quiet and had an elegant atmosphere.
William Goodson III, MD '71
I would study in the basement of the Countway Library. It was quiet and had few distractions.
Victor Piotrowski, MD '74
I studied in the Hilles Library at Radcliffe College. I liked being among a more diverse undergraduate student body and social atmosphere.
James Reiss, MD '62
I would go to the Harvard University Faculty Club and the Widener Library. I was fortunate to have a Widener stack pass during most of my undergraduate and HMS years, and Widener was a quiet place to study—or to read old Life magazines and pulpers.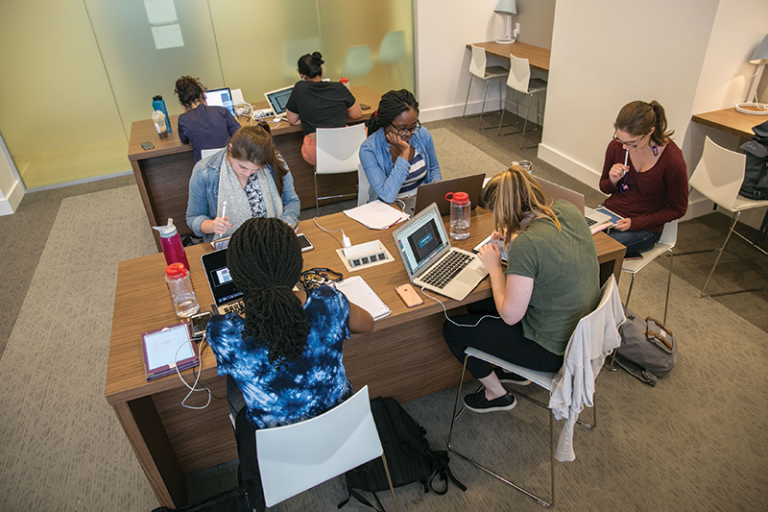 James MacDonald, MD '96
I lived off campus in Central Square in Cambridge. I enjoyed commuting by bike to and from home and Avenue Louis Pasteur. I always enjoyed studying at Widener Library, in part because I lived off campus, in part because I was slightly older (28) when I entered HMS, and in part because I am a graduate of the College ('85). Widener's atmosphere was far different from what could be characterized as the nervous energy of HMS.
Eubee Koo, MD '15
I loved the privacy of the tutorial rooms in Tosteson Medical Education Center. I'd put up a picture of a beach, put some tunes on, and study for hours on end, sometimes using the chalkboards to work through some thoughts. Sometimes I'd migrate to the atrium with its incandescent glow or creep through the underground tunnels to Shattuck for some late-night tea or coffee. I remember a few late nights drinking coffee (or, rarely, beer!) while doing question banks in those eerily quiet spots. Will never forget those moments!
Stephen Grund, MD '91
I was married with three young children so I studied whenever and wherever I could find the space, time, and quiet. Not easy. My wife helped me get through it. She's a saint. I owe EVERYTHING to her.
Robert Colvin, MD '68
I would go to the reserve book room at MIT. It was always open and was great for studying for second-year boards. My other study spot was the Countway Library.
Nneka (Azikiwe) Holder, MD '97
I would study in my dorm room and later on, off campus. Honestly, it was easier to study as a group with classmates Abimbola (Abby) Aina-Mumuney, Charlene Brown, MD '98, Nadia Hansel, and Michelle Lee, MD '21.
Ernesto Parra, MD '82
My two classmates and I would study late into the night on the top floor of Building A overlooking the quadrangle. Peering out the open window we could enjoy the smells, sights, and sounds of the beautiful Boston summer nights. There was the faint aroma of the sea, the bright colorful Citgo sign with nearby Fenway Park aglow, and the occasional distant roar of the crowd from the ballpark.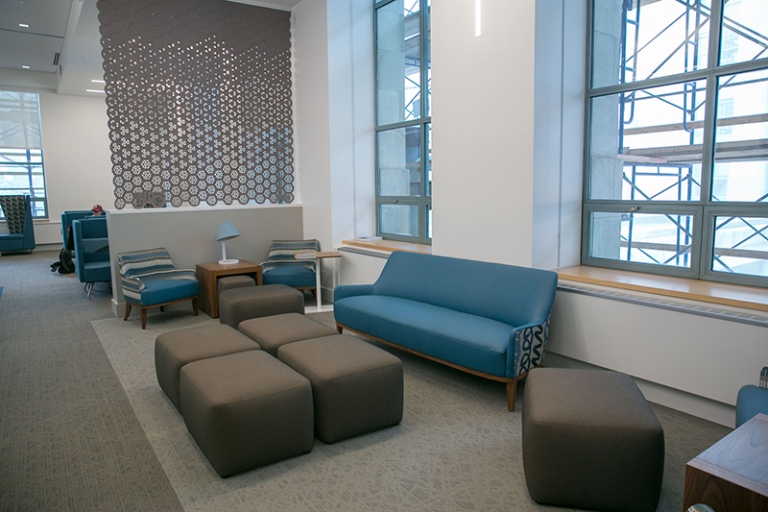 Mitchell Rabkin, MD '55
Now long gone, I suspect, but during my student years, in the dome of the Children's Hospital building on Longwood Avenue there was a quiet, comfortable place to go over the needed books, from Gray's Anatomy to the Cecil-Loeb Textbook of Medicine. In those days, one thought (at least partially) that if you could remember most of the contents of these basic textbooks, one might have a passable knowledge of medicine and its basic sciences. Such hubris disappeared; my first postgraduate year began a lifelong career of learning.
Richard Peinert, MD '73
I studied in the carrels at the Countway Library. The isolation was just great for a power grind.
Alan Baker, MD '66
The deafening quiet at the Countway Library made for absolutely unperturbed sleep.
Michael Quiñones, MD '86
I would go to the Harvard Business School library. The great hall's appearance was inspiring, and the quietude was calming.
Jan Polissar, MD '61
I would study in my Vanderbilt dorm room, where my most useful books were at hand.
Images: Betheny Verso