Spring 2012
On Course
Space-based research instills a passion for science in the next generation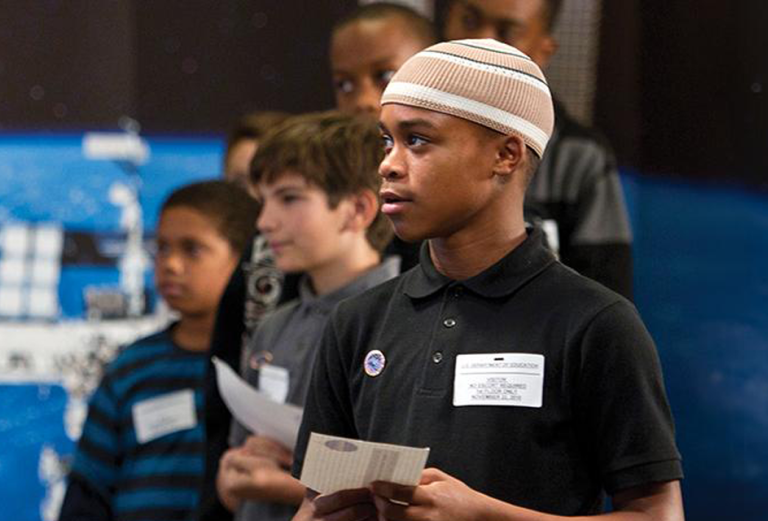 The night sky has been called humanity's oldest picture book. Looking upward and outward captures the curiosity that feeds the deepest, and sometimes the most tender, roots of scientific inquiry and discovery. During the Endeavor shuttle mission in May 2011, for example, schoolchildren in Tucson, Arizona, peppered astronauts Mark Kelly and Mike Fincke with "chat" questions: How long does it take to get to space? How fast do you travel? What's the strangest thing you've seen in space?
NASA's outreach to youth is not new. For decades, agency-funded programs have aimed to instill the thrill of science in the nation's young by collaborating with researchers and teachers on the development of innovative curriculum tools. Joan Reede, dean for diversity and community partnership at HMS, led one such effort, which produced a set of case studies for children in middle and high school. Developed by an interdisciplinary team of scientists and educators, these problem-based case studies have sparked the imagination and curiosity of students in schools throughout the country for more than a decade.
Teacher's Guide
Education is a principal means of community outreach for Reede, part of her quest to increase the diversity of students, trainees, and faculty at HMS. In 2002, Reede, together with HMS professors David Potter, the Robert Winthrop Professor of Neurobiology, and Edwin Furshpan, the Robert Henry Pfeiffer Professor of Neurobiology, each now emeritus, asked whether the case-based method could work in the K–12 classroom. Their answer: a resounding "Yes."
The three teamed up to develop a medical case for middle- and high-school students in the Boston area. Called "Mary's Mystery," the case told the story of a young woman who was taken to the emergency room after she fainted in a park. Included were lessons on the connection between brain injury and seizures as well as activities that helped students think like doctors in order to diagnose Mary's condition.
At the time, problem-based learning had been in use for about seven years at HMS, but it hadn't yet trickled down to the K–12 level. With "Mary's Mystery," however, Reede, Potter, and Furshpan discovered that these sorts of cases appealed to middle- and secondary-school students—and to their teachers.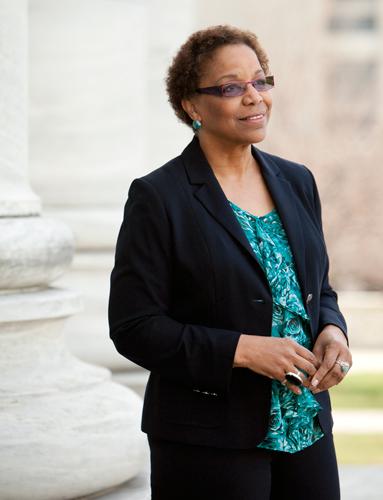 "The cases have strong science content," explains Reede, "and pique the students' interest in understanding how the content relates to their experiences. The stories encourage the students to realize there is more to know. They open a door rather than close one."
Show and Tell
"I still remember the vestibular system," says Justin Owumi, who, as a 14-year-old attended PRISM (Program for Research and Investigation in Science and Math), a hands-on summer workshop at HMS for rising ninth graders. Now a sophomore biochemistry major at Maine's Colby College, Owumi remembers how one of the cases, "Cecilia's Story," grabbed his attention by using participatory demonstrations to illustrate science concepts. Spinning around, for example, helped him understand the role of the inner ear's semicircular canal in maintaining balance, and why dizziness occurs after riding certain amusement park attractions, or, in astronauts, during their first few days in space. "Cecilia's Story," the tale of a woman who developed a balance disorder that caused extreme dizziness and nausea, teaches students about the vestibular system and its role in maintaining balance on Earth and orientation in space.
"I already was interested in science. In fact, my mom and other close relatives always called me 'doctor'," recalls Owumi. "But this program and others I attended at Harvard Medical School catalyzed my love for medicine and science. Now I can't see myself doing anything else."
One challenge for Reede and others who develop science-based educational programs is how to entice teenage boys to enroll. PRISM's success came in part from its partnering with teachers and leaders at community institutions, such as churches, community centers, and YMCAs, to identify and recruit bright students who might benefit.
Aaron Landrum's mother heard about PRISM from someone at her church who knew her son was interested in health care. How did the then 14-year-old feel about being in class during the summer? "That didn't bother me," he says. "It was amazing to be with others like myself who were passionate about science. Plus, it wasn't like a regular class where you are lectured to for 45 minutes." PRISM students instead would head to the computer lab to research their questions or to the sleep lab to watch a study in progress. From his research experience, Landrum was able to publish a scientific paper that he also presented at some medical conferences.
Now a junior at the University of Pennsylvania, Landrum is traveling through Brazil, Vietnam, and South Africa as part of his study of public health and the social determinants of health, a project for his major in health and societies.
This budding researcher benefited from early encouragement from sources other than PRISM, however. Landrum's parents each have a career in science—his mother is a chemist at the FDA and his father is a therapist and clinical social worker with Boston Public Schools. Even so, Landrum says, it was PRISM that inspired him. "It gave me a strong base of knowledge, opened up opportunities, and empowered me to succeed. To those of us in the program, it offered an environment that showed us we were capable of doing anything."
Good Grades
The success of the team's case-based tools among middle- and secondary-school students came to the attention of Marlene MacLeish, a professor in the Department of Medical Education at Morehouse School of Medicine and a senior education fellow for the National Space Biomedical Research Institute's Education and Public Outreach Program. In 2003, MacLeish offered Reede's team an Institute-funded opportunity to develop problem-based cases in partnership with Morehouse School of Medicine. The collaboration produced "Cecilia's Story" and "What's Up with José?", a case about a high-achieving high-school student whose grades plummeted because he couldn't stay awake in class (it turns out he had a circadian sleep-cycle problem).
NSBRI, overseen by a consortium of 12 universities including Harvard, is funded by NASA to further a dual mission: seek solutions to health concerns facing astronauts on long missions in space, and apply their research advances to benefit health care on Earth. But there is also an unwritten mission, according to MacLeish: "NSBRI wants the knowledge gained through its research to be transferred to students, teachers, and communities."
"Discovery in science is active and dynamic," she adds, "you can't just use didactic approaches to come up with new ideas and approaches." To achieve a similar spirit that would engage and inspire students, "I wanted to start them young with a new way of thinking about problems—asking questions and figuring things out—and I felt that problem-based inquiry was the way to do that."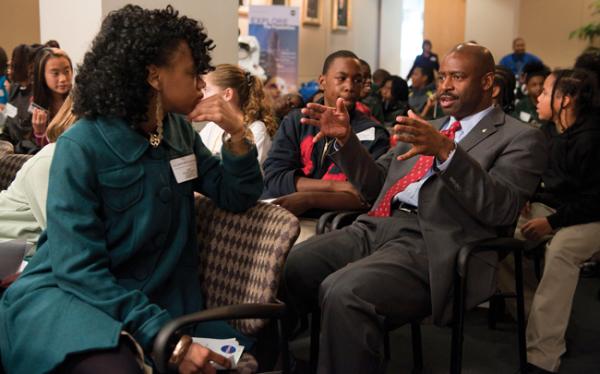 For Reede, the funding for these cases was an opportunity to build on the curriculum teachers were using with "Mary's Mystery." The cases focused on Earth-based function and dysfunction, but each also included supplementary material for students interested in investigating how the microgravity environment of space affects human physiology. Astronauts can have difficulty sleeping in space, for example, and can feel dizzy or disoriented while adjusting to microgravity.
Classroom Aids
"Cecilia's Story" and "What's Up with José?" are still part of NSBRI's education and training resources, and are available online to anyone interested in exploring their content.
Says Morehouse's MacLeish, "These cases have lasted—and are still being used by teachers across the nation—because educators recognize how easily the cases fit into lesson plans." Reede's team developed the case-based tools to align with national curriculum standards for science education, but the cases also can be modified to comply with various state standards.
Another strength of the tools is the contributions from scientists during their development. In addition to Potter and Furshpan, Charles Czeisler, Baldino Professor of Sleep Medicine at HMS, contributed to "What's Up With José?". Czeisler, who continues to conduct NASA-funded studies, was responsible for developing the sleep–wake schedule guidelines for astronauts and mission-control personnel. Additional expertise for the neurovestibular case came from Charles Oman, an affiliated faculty member of the Harvard–MIT Division of Health Science Technology and director of the Man Vehicle Laboratory at MIT, and Conrad Wall, an HMS professor of otology and laryngology at Massachusetts Eye and Ear Infirmary and director of the MEEI Jenks Vestibular Lab.
Object Lesson
But the ultimate strength of the tools may be found in the young people who, having experienced science through them, are now pursuing health and science careers.
Aaron Landrum plans on graduate training in both medicine and public health. And Justin Owumi admits that since he attended PRISM, "I've dreamed of walking on the HMS Quad as a first-year medical student." All the late nights he now spends studying organic chemistry are easier, he says, because he knows he's working toward that goal.
According to Reede, the appeal of space is absolute. "It's the idea that my love of science can take me anywhere," she says, "even into outer space." Or, just as amazingly, to a lifetime of learning the art and science of caring for patients on Earth.
Ellen Barlow is a freelance science writer based in Massachusetts.
Image: Paul Alers/NASA