Autumn 2017
A dedication to healing children
A profile of Giulio D'Angio, class of 1945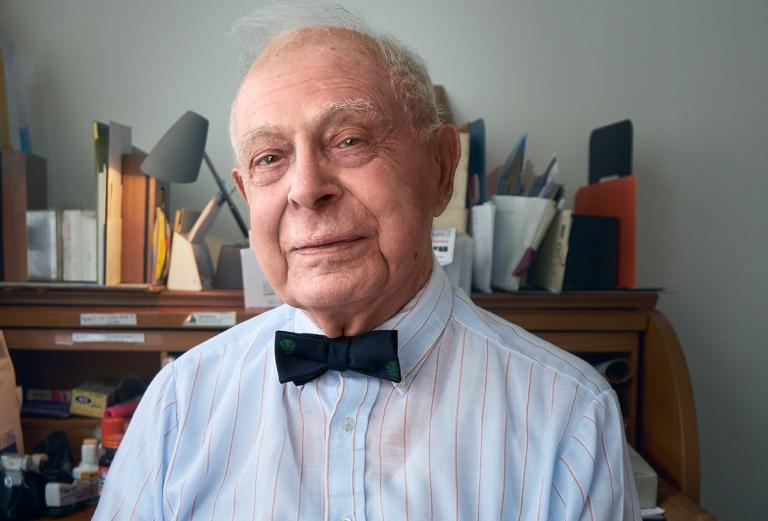 Claims to fame
Professor Emeritus of Radiation Oncology, Hospital of the University of Pennsylvania; past president, International Society of Pediatric Oncology and founder of the first Late Effects Study group; founder of the Histiocyte Society, the Society for Paediatric Radiology, and the Paediatric Radiation Oncology Society
Italia
Giulio D'Angio grew up in Brooklyn and Westchester County, New York, but it was 1929, the year he was seven years old and his family lived in Italy, that, he says, left an indelible mark  regarding this nation's chauvinism. Although he took classes in geometry, history, art, arithmetic, and several languages, when he returned to PS 201 in Brooklyn, he was put back a year. The reason? "What could I possibly have learned in Italy?"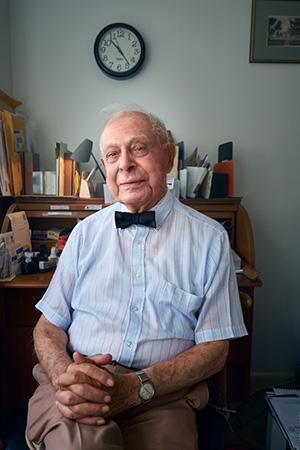 Prep time
While at HMS, D'Angio sensed that his destiny was to work with children. He trained at what was then known as Children's Hospital in surgery under Robert E. Gross '31, a pioneer in pediatric heart surgery; and in radiology under Martin "Dick" Wittenborg, a mentor who taught him to look at an x-ray as a film clip from a movie: "when looking at the image in front of you, think about what came before and what's going to happen after."
Family practice
Another strong influence was his work in a lab with Sidney Farber '27, founder of the Children's Cancer Research Foundation, the precursor to the Dana-Farber Cancer Institute. From Farber, D'Angio learned an abiding lesson: when you have a sick child, you have a sick family. The physician must consider how the family is altered by the child's illness, how suffering is shared, and how expenses mount.
When parents would bring in their sick child with their other children, D'Angio says he would make a point of addressing the siblings first, complimenting them or showing an interest in something they were wearing or playing with. He would also thank them for helping their parents care for their sick sister or brother.
Looking ahead
As a clinician, D'Angio focused on making treatment regimens more family-friendly and on monitoring the long-term effects of cancer treatment. Believing that "cure is not enough," a slogan D'Angio coined, he researched the late effects of cancer treatment in children. What, he asked, would life be like for the child 20 years after treatment? How can that outcome be improved?
Sunny side up
Exhibiting a special kind of optimism, D'Angio says that during his long career in pediatric oncology, he never met a nasty person in a professional capacity. People in pediatrics, he says, tend to pull together to help make things better for children.  
Bringing this optimism to his patients, D'Angio championed the concept of "total care," a term he credits Farber for originating. D'Angio saw a need to coordinate a child's care and thus right a wrong he saw in practice—compartmentalization of care. He is proud of his ability to get disparate specialists to talk to one another, to create a unified team to solve a common problem: how to make a sick child well.
When he served as chair of the National Wilms Tumor Study, he brought along this concept. In the 1980s, the study addressed psycho-socio-economic issues of treatment, showing that survival results were not impaired if treatments were curtailed in frequency and overall duration.
"The benefits to harried families," he says, "and to health care teams, were incalculable—a gain for society overall."
Image: Jeff Wojtaszek