Winter 2020
Dynamic (Duo)
P. Oneeka Williams on never setting limits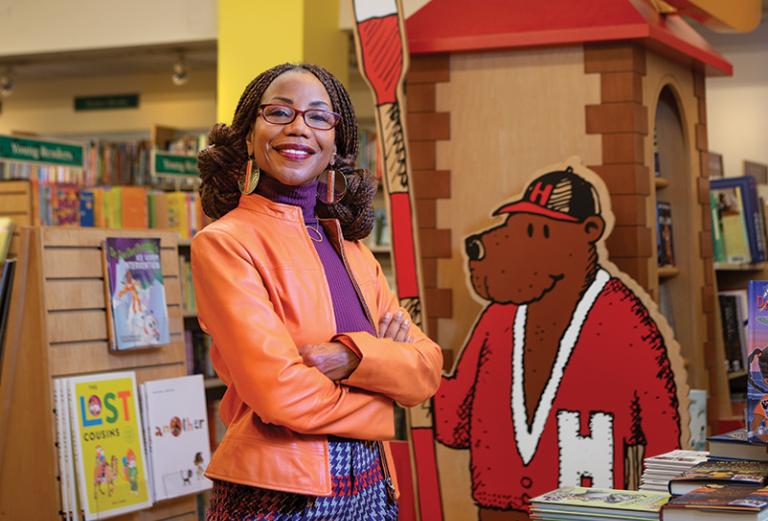 Some people set limits on life. Others, like P. Oneeka Williams, do not. In fact, her motto, "Not Even the Sky Is the Limit!" is one she lives and expresses vibrantly through Dr. Dee Dee Dynamo, the character in the children's books she writes.
Williams found a launching pad for her boundless energy and optimism for medicine in the New Pathway curriculum at HMS. "It created a context about what we were doing and why and provided us with an understanding that the practice of medicine was about treating the whole patient," says Williams, a urologic surgeon.
Williams says she was fortunate to have mentors such as Alvin Poussaint at HMS, Jonathan Mann at what was then the Harvard School of Public Health, and John Libertino at the Lahey Clinic. "They set high standards and supported you. You knew they believed there was nothing you couldn't do."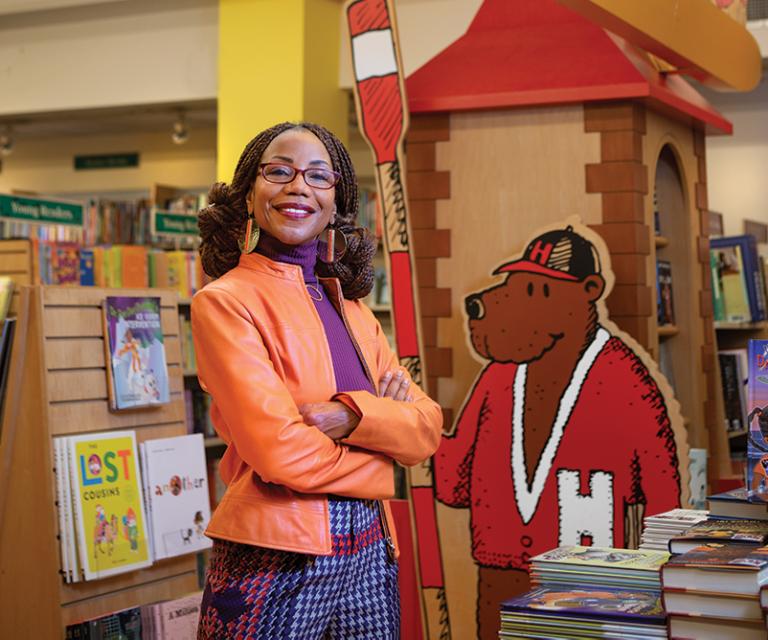 Williams internalized that lesson and is promoting it to children, especially girls of color, through her series of books featuring Dr. Dee Dee Dynamo, a super surgeon with magic hands. She cites a study from Columbia University, which found that "by the time girls are six, they don't believe they can pursue careers that require brilliance." Her mission is to change that narrative.
Born in Guyana to a science teacher and a journalist, Williams comes by her interest in science and storytelling naturally. "Much of what I do is at the intersection of storytelling, healing, and teaching. Even in a patient interaction, the first thing I do is listen to their story and then weave that story to help me understand the medical history, what the diagnosis is, and what am I going to do about it."
Williams tries to embody what she calls habits of positivity—a way of thinking that says a limit can always be converted into an opportunity. She has imbued Dr. Dee Dee Dynamo with that same spirit, "Literally her world is my world. Her journey is my journey. Her belief of positivity is really my positivity."
Glancing at the arc of the career she began 25 years ago, Williams is surprised by how little has changed in surgery: "I feel like change has not occurred as quickly as I would have expected in terms of women's roles, women in surgery, the mentalities of male dominance, and some of the misogyny that I encounter daily." This reality is a strong motivating factor for her work outside medicine.
"You really can't undo things that are deeply embedded," she explains, "until you start at the beginning and change the way we educate and expose all of our kids, boys and girls."
Persis Oneeka Williams, MD '93 | clinical assistant professor of urology, Tufts University School of Medicine | urologic surgeon, St. Elizabeth's Medical Center, Boston | author | president and founder of Dr. Dee Dee Dynamo
Susan Karcz is associate editor of Harvard Medicine magazine.
Image: John Soares