Winter 2015
Fab Lab
Ideas become tools when researchers and engineers work together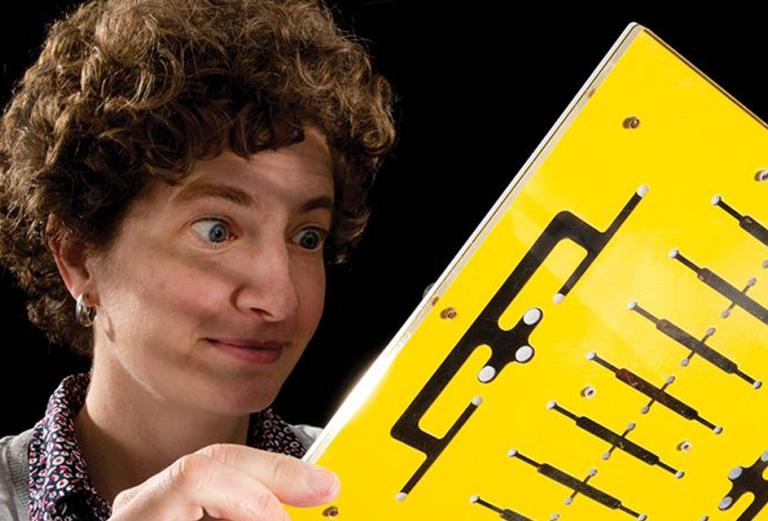 Tucked among the Quad's research laboratories is a nexus of inspiration and industry. The Research Instrumentation Core Facility, located along a nondescript hall, can be identified by the one-of-a-kind plaque that hangs at its entrance. That plaque, sporting the School's lion rampant grasping a microscope and calipers and backlit by either blue, purple, or green LED-generated light, hints at the unusual and the unexpected. In short, it gives a visitor an accurate sense of what to expect inside.
Run by Ofer Mazor, an HMS research associate in neurobiology and the facility's senior engineer, and Pavel Gorelik, an HMS staff engineer for research instrumentation, and advised by Rachel Wilson and Bernardo Sabatini '95, professors of neurobiology and faculty liaisons for the facility, the two-year-old facility gives form to concepts. Need a tool that can gently hold steady the head of a fruit fly? They will work with you to get it made. Require a device that will allow cultured neurons to be optically stimulated? They will collaborate with you on sketching out some ideas—then build you the perfect one.
According to Mazor, the facility has few peers among academic institutions; in fact, he and Gorelik often field inquiries from technical personnel at other schools. At HMS, Mazor and Gorelik consult with approximately 70 researchers each year, providing some with advice on turning an idea into an executable design; on developing hardware and software that interface with existing or new instruments; or, using plans they have drafted, on crafting and assembling components for electronic, optical, or mechanical devices tooled to meet the specifications of discovery.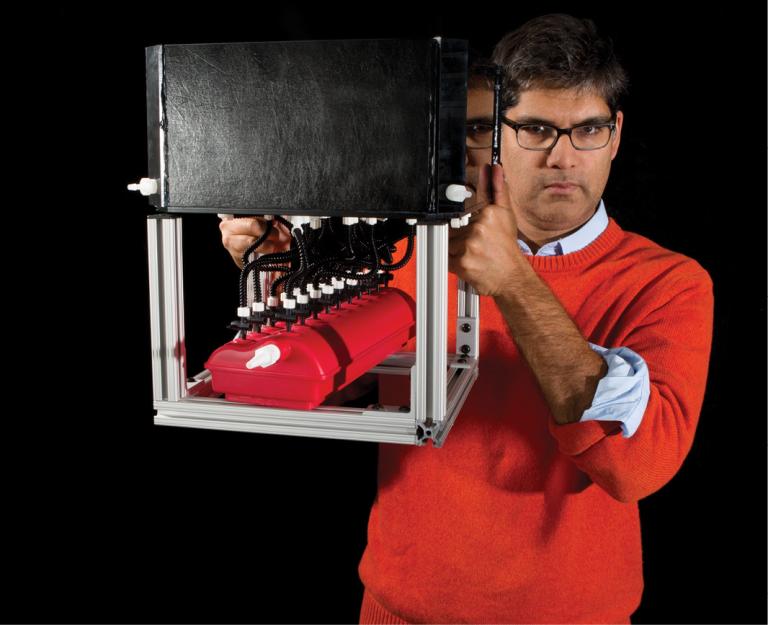 Investigator: Sandeep (Bob) Datta '04, assistant professor of neurobiology
Device: Olfactory behavior arena for mice
Fabrication Detail: Laser-cut acrylic panels, aluminum framing
Use: Track behavior evoked by animals' exposure to up to four odors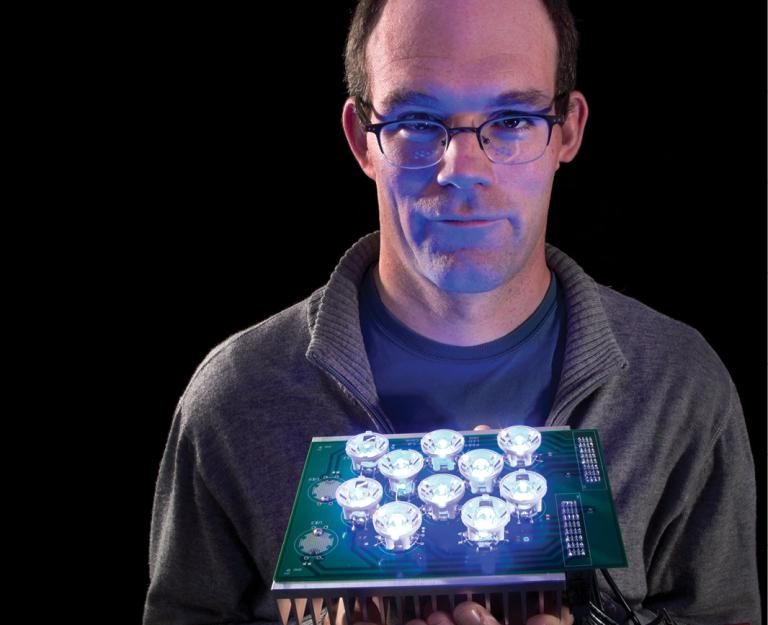 Investigator: Jesse Gray, assistant professor of genetics
Device: Optical stimulator for cultured neurons
Fabrication Detail: Ultra-bright LEDs, printed circuit board
Use: Test how neural activity drives changes in gene expression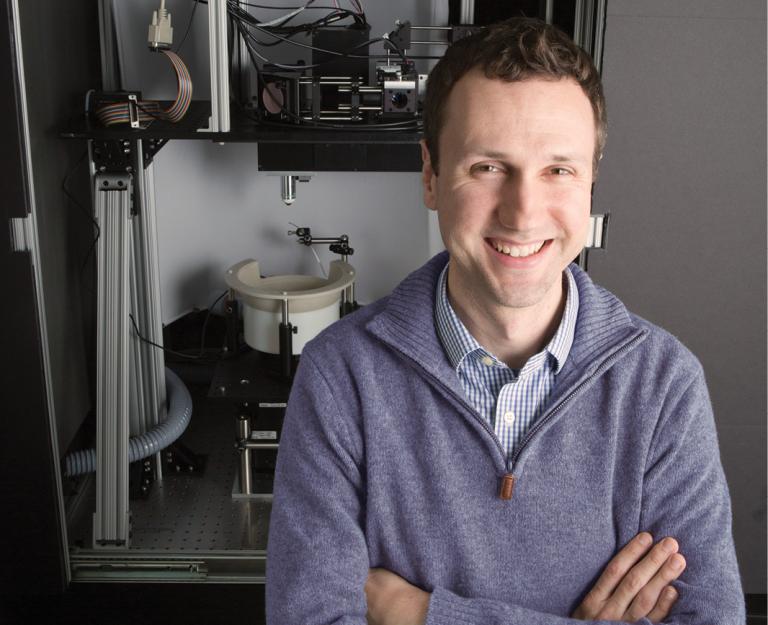 Investigator: Christopher Harvey, assistant professor of neurobiology
Device: Two-photon microscope
Fabrication Detail: Precision optical mounts, lenses, mirrors, pulsed laser, electronics, control and data acquisition software
Use: Record neural activity in animals during memory and decision-making tests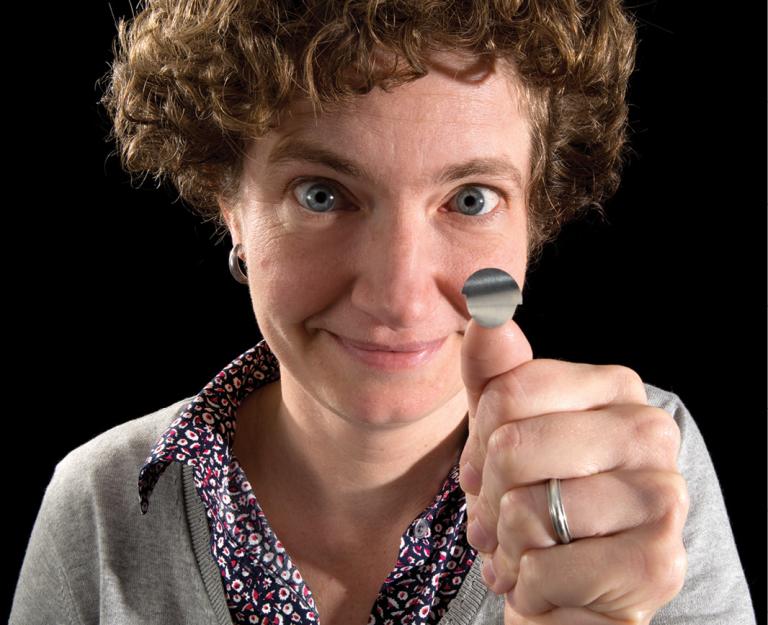 Investigator: Rachel Wilson, professor of neurobiology
Device: Fruit fly holder
Fabrication Detail: Steel foil precision milled to a thickness of one one-thousandth of an inch
Use: Precise positioning of animal during stimulation and recording of neural activity
Images: John Soares