Winter 2014
From Gridiron to Orthopedic Surgeon
A profile of Mark Adickes, Class of 2000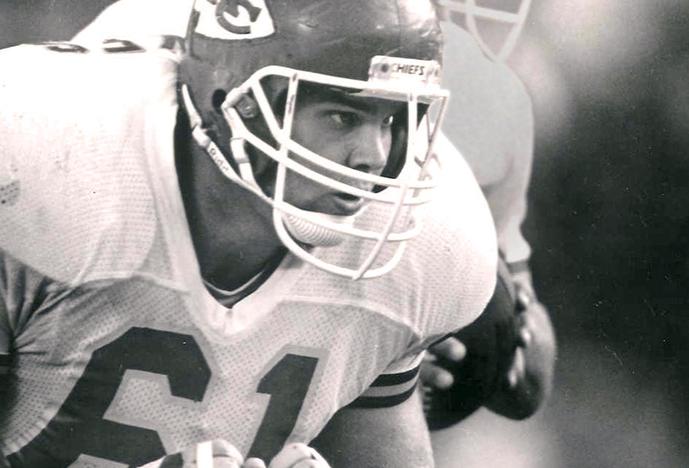 Claims to Fame
Assistant professor, Department of Orthopedic Surgery, University of Texas Medical School; professional football player, Kansas City Chiefs and Washington Redskins; commentator, ESPN.
First Down
A love of football was rooted in Mark Adickes' upbringing. Football was such a defining presence that throughout his childhood, Adickes '00 dreamed of becoming a football coach. His aptitude for playing the sport led him to earn a scholarship to Baylor University, where he was named an NCAA All-American.
In 1986, after two seasons with the U.S. Football League, Adickes was drafted by the National Football League in the first round, and played for the Kansas City Chiefs through the 1989 season, then for the Washington Redskins in 1990, and in 1991, when he helped Washington win the Super Bowl.
"The experience of being part of a team, the camaraderie of a pretty amazing group of guys, and winning the Super Bowl and receiving a Super Bowl ring; all those memories are icing on the cake," says Adickes.
After retiring from the NFL, he concentrated on combining his career as a professional athlete with his interests in health care, physical therapy, and medicine.
Two-Point Conversion
Adickes attended George Mason University in Virginia to fulfill his medical school requirements, but hadn't planned on applying to HMS until his wife encouraged him to. At the end of his education at HMS, Adickes was once again tapped for a pinnacle event: He was selected as a student commencement speaker.
A residency in orthopedic surgery at the Mayo Clinic in Rochester, Minnesota, was followed by a sports medicine fellowship at the Steadman Hawkins Clinic in Vail, Colorado. "I love being in the OR," he says.
Adickes is now an orthopedic surgeon at the University of Texas Medical School in Houston and co-medical director of the Ironman Sports Medicine Institute at Memorial Hermann Hospital.
Theater to Screen
A typical day for Adickes begins at 5:00 a.m., often with his first surgery of the day starting at 6:00 a.m. Each week, he performs about 15 surgeries, which are often arthroscopic treatments of knee, shoulder, and hip injuries. In clinic, he sees up to 60 patients daily, many of them elite athletes.
Adickes notes that working with professional athletes requires coordinating communication between an athlete's manager, agent, and coach, and discussing such issues as whether the athlete is physically and mentally ready to return to the sport.
"You're under the microscope when you're taking care of elite athletes," he says.
In late 2013, he kicked off his latest venture: sports medicine expert for ESPN. From his home studio, he gets looped into conversations about athletes' injuries and prognoses. He also was the host of Athlete 360, a sports medicine television show on Fox Sports Net.
When he's not seeing patients or serving as a TV doc, Adickes can usually be found at one of his five kids' sporting or arts events.
"My spare time totally revolves around family. My kids are involved with sports, arts, drama, so I go to all those events."
Image: Courtesy of the Kansas City Chiefs