Spring 2015
High Seas Surgeon
During conflict and calm, Amos Evans cared for the crew of Old Ironsides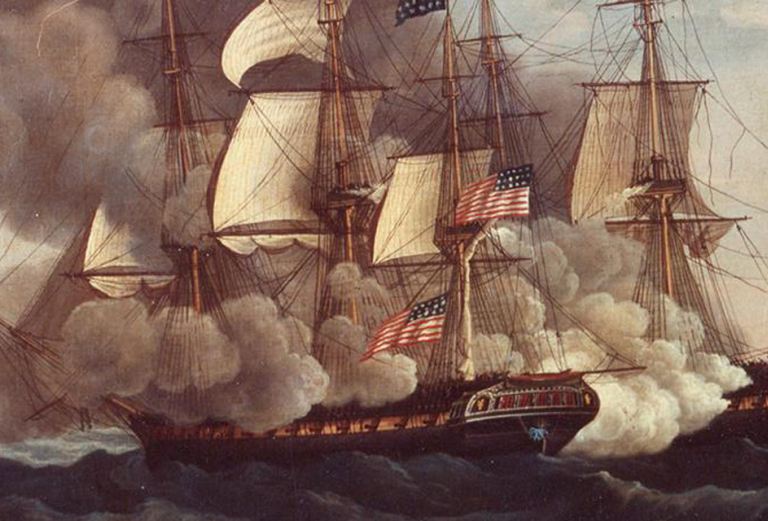 At the time the United States declared war on Britain on June 18, 1812, vessels in the U.S. naval fleet were authorized to carry one surgeon and one or two surgeon's mates.
One of those surgeons was Amos Evans, Class of 1814.
Evans was assigned to the frigate Constitution early in 1812. At the time, his medical training was rudimentary, consisting of a three-year apprenticeship with George Mitchell, a physician in Elkton, Maryland, and attendance at lectures delivered by Benjamin Rush and other professors at the University of Pennsylvania. Later, after becoming a physician, Evans earned the distinction of being appointed the U.S. Navy's first Surgeon of the Fleet.
The world that Evans and other shipboard surgeons inhabited was a gritty one, beset by administrative tasks. Surgical skills were used in the service of daily complaints, such as infections, food poisoning, occupational traumas such as fractures, dislocations, and hernias, and during outbreaks of contagious disease. Occasionally, these duties were punctuated by frenzied work conducted amid the chaos of battle.
The Marine Practice of Physic and Surgery, a manual of shipboard care published in 1770, described in straightforward terms the standard of care that surgeons should deliver. 
"When you are entering on any capital operation, you should use your utmost endeavours to encourage the patient (if he is sensible) by promising him, in the softest terms, to treat him tenderly, and to finish with the utmost expedition; and indeed you should use expedition but not hurry: you should not make more haste than the care requires, nor cut less than is necessary, or leave any mischief unremedied … In regard to the wounded, you should act in all respects as if you were entirely unaffected by their groans and complaints; but at the same time … behave with such caution, as not to proceed rashly or cruelly, and be particularly careful to avoid unnecessary pain."
On Evans's second cruise, the Constitution headed for Canada. There, w
ell off the coast of Nova Scotia, it met and engaged in action with HMS Guerriere.
During the battle Evans and his mate worked in cramped quarters belowdecks while the din of cannon fire and general mayhem continued overhead. Entry to the area was likely covered with canvas, a drape that was easily removed and washed when it became saturated with blood or bodily wastes. The surgical area's deck was painted red, a color less likely to show blood. During surgical procedures, it was strewn with sand to prevent slipping. Once the operations were completed, the contaminated sand was swept up and flushed overboard.
After the Guerriere's surrender, Evans worked alongside that ship's surgeon to treat the wounded. Later, in his journal, Evans wrote that the wounded prisoners were transferred to the hospital on Rainsford Island in Boston Harbor.
In October, the Constitution, with Evans again as surgeon, left port and headed toward Brazil. On December 29, it engaged HMS Java. The four-hour battle damaged both ships and took a notable toll on their crews. The Constitution lost eight seamen and had another twenty-seven injured. For five of the injured sailors, Evans needed to amputate an arm or a leg.
From 1813 to 1814, Evans was stationed at the Naval Hospital in the Charlestown Navy Yard. It was during this time that he enrolled in HMS and earned his medical degree.
Louis Arthur Norton, Harvard School of Dental Medicine '62, is a maritime historian and author.
Image: Cornè painting, in the collections of the U.S. Naval Academy Museum, transferred from the Navy Department in 1869. Official U.S. Navy photograph.