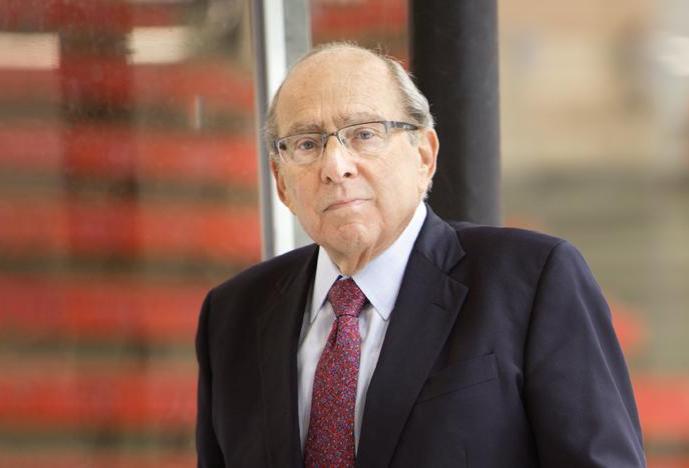 R. Bruce Donoff
Position: Attending Oral Surgeon
Team: Boston Bruins
Ruminating over an old photograph hung on a wall in his office, R. Bruce Donoff '73, dean of the Harvard School of Dental Medicine, projects a calm gentleness that one might not associate with the rough and tumble of a professional ice hockey team. Yet the oral and maxillofacial surgeon has consulted with the Boston Bruins for nearly two decades.
"Dr. Donoff, thanks for all your help," he says, reading aloud the inscription below the picture. "This was taken in the old Boston Garden," he adds. "That long ago."
Donoff, who also is the School's Walter C. Guralnick Distinguished Professor of Oral and Maxillofacial Surgery, says that the health care provided for professional hockey players has much improved since he became involved with the sport. A good deal of that improvement came as a result of changes following the strike by National Hockey League players in the early 1990s. Among its stipulations, the contract settlement mandated that a team physician and dentist be present at every game.
In need of a dentist who could handle both the volume and variety of dental and jaw injuries, the Boston Bruins searched for an oral and maxillofacial surgeon. Donoff was approached by Ashby Moncure, a surgeon at Massachusetts General Hospital who was working with the Bruins at the time. Could Donoff provide dental coverage to the team? "I'd taken care of a lot of fellows with broken jaws," Donoff says. "That's really how I got into it," he adds.
Donoff treated injuries ranging from broken bones to lacerated lips, and teeth that had been displaced from their sockets. He also began making bite guards for the players, which is now done routinely, but was not then standard practice.
"I joke that I could tell the quality of the season by the number of fractured bones the players had," he says, equating more aggressive play to better performance. He notes that players, once proud of their missing teeth, have become more "cosmetically conscious" in the past decade or so.
"Talk about a sign of the times: I was at a Bruins-Rangers game, and one of the New York Rangers took a puck in the lip. I got called down to sew it up. As I began to sew up his lip, he said, 'Doc, how are my veneers?' I said, " 'Veneers?' " Donoff laughs. "Hockey players usually don't have veneers. So they've gone from being proud of their missing teeth to being cosmetically conscious. What can I say?"
Donoff has treated his fair share of celebrated athletes; for example, he fixed the jaw of Stanley Cup winner Ray Bourke. He notes that, over the years, the players have gotten bigger and, consequently, the hits have gotten harder. Although he still enjoys watching the Bruins compete, and receives tickets to the games from some of his former patients, he chuckles as he reveals a little secret: the best seats are at home.
George Theodore
Position: Orthopedic Surgeon / Foot and Ankle Consultant
Team: New England Patriots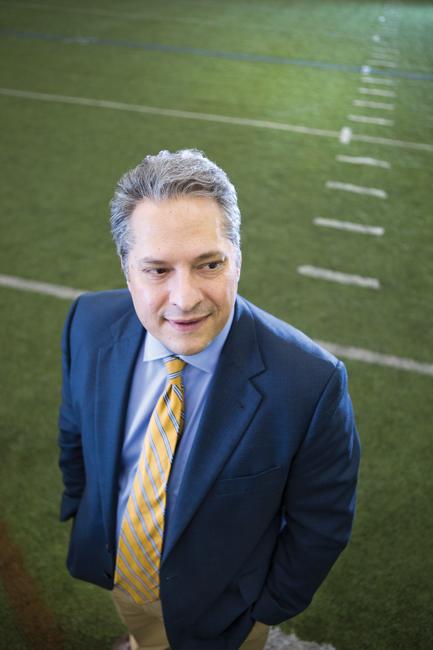 The two men talking about New England Patriots' tight end Rob Gronkowski's injury had no idea that the man next to them was the orthopedic surgeon who had worked on that famous ankle. George Theodore '91 recalls this conversation with amusement, just one of many he's overheard while out and about in Boston. Does he ever volunteer his part of the Gronkowski story? He shrugs, "I prefer to keep a low profile and let the outcomes speak for themselves."
This appears to be a good strategy for Theodore, who serves as a foot and ankle consultant for New England's professional baseball, football, hockey, and soccer teams and also tends to the injuries of professional athletes from teams outside of the region. Theodore, an HMS instructor in orthopaedic surgery at Massachusetts General Hospital, sees sports icons at their most vulnerable, helps them work through their concerns and injuries, and, fortunately, as he notes, is often able to celebrate with them when they recover.
"I treat my athlete patients as I treat all my patients. I extend to them the same kindness, sensitivity for their injury, and devotion to their care," he says.
Theodore considers it a privilege to be a surgeon who has helped professional athletes overcome injury, including most valuable players (MVPs) from two different sports: Tom Brady of the Patriots and Dustin Pedroia of the Boston Red Sox. He also acknowledges the pressure that comes with treating such high-profile patients. "Their careers, their lifestyles, their sources of income, everything that forms their professional lives, could depend on whether their surgery goes well," he says. "But there's also a lot of satisfaction in knowing they place their trust in me as their doctor to get them back onto the field."
This former Harvard College classics major hadn't set out to become an orthopedic surgeon, but elected to specialize in the field when he realized what an effect orthopedic surgery could have on someone's life. "I thought it was a well-defined field that allowed you to help everyone: young, old, male, female, super athlete, and couch potato." And he's done just that. Reflecting on his career, Theodore says, "I'm lucky. I'm blessed."
Laurence Ronan
Position: Medical Director/Internist
Team: Boston Red Sox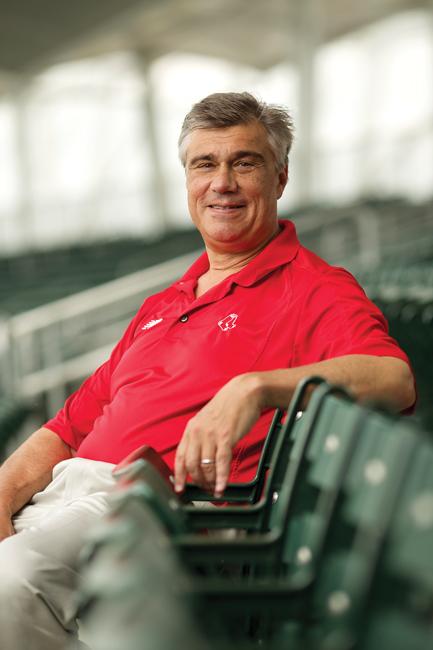 Laurence Ronan '87 is dedicated to knitting together lives disrupted by injury and trauma. That resolve often puts Ronan, head of the Thomas S. Durant Fellowship for Refugee Medicine at Massachusetts General Hospital and an HMS instructor in medicine, at the site of national and international disasters, directing relief efforts in such places as New Orleans, Haiti, Indonesia, and Iraq. In Boston, that commitment drives the care he provides to his patients at Mass General.Since 2005, that same commitment has guided the medical care he provides to the players on Boston's baseball team, the Red Sox.
This last responsibility might seem unexpected. It is to Ronan. Although he has always been interested in sports—growing up, he wrestled and played baseball, basketball, and football—Ronan never imagined he would one day serve as a physician for a professional sports team. The experience has taught him that athletes are like all patients. They have aches and pains. They also don't like to let illness or injury hold them back.
"These are competitive people. They want to be in the game all the time. It's a bit of a task to try to make that work for them. But the idea always is to get them to a place where they can regain their health and their ability to perform at their peak."
Although Ronan has treated the types of injuries he thought he would—concussions and musculoskeletal and soft-tissue injuries—he had not expected to be confronted with serious disease, such as pitcher Jon Lester's lymphoma. "It's unusual to have a high-performing professional athlete get a serious disease. I watched him go through diagnosis and treatment, and rebuild his body and recover emotionally." As a physician, Ronan saw Lester's trajectory as both heroic and instructive. Today, Lester works with pediatric cancer patients. "He's a really great role model for a lot of our kids with disabilities or who are facing cancer."
One of Ronan's challenges since starting with the Sox has been shifting from the hospital's calendar to the team's. "You go from February through October," he says. "But in the off-season, there's also the draft." Ronan is with the team for four of their six weeks of training each spring in Florida and attends a majority of the home games. "You should talk with my wife," he jokes, noting how much time he and his family spend at the games.
Sports medicine as a whole has changed, Ronan says. At Mass General, it has evolved from a sports orthopedic service to a multidisciplinary team that includes surgeons, internists, nutritionists, physical therapists, psychologists, primary care sports medicine doctors, and cardiologists. "We do a lot of research on heart, endocrine, and bone issues that affect athletes," he says, "as well as on musculoskeletal and soft-tissue concerns. I've appreciated being a part of this larger group of sports medicine professionals."
Valerie Wencis is associate director of communications in the HMS Office of Communications and External Relations.