Winter 2021
The Journey to Here
A physician reflects on race, racism, and the power of family
by André Churchwell

9 minute read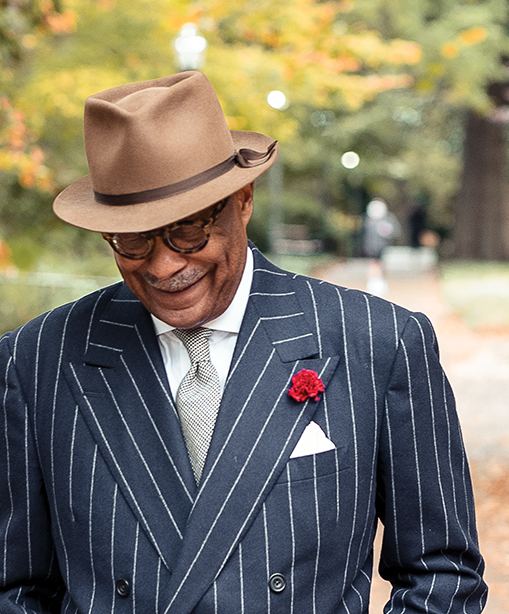 I have been asked to pen a few words and thoughts about racism from my vantage point as a Harvard Medical School student of the class of 1979. My story will certainly stir the memories of folks of a certain age and vintage, and to complete it, I will include reflections on my family and their role in this story.
I arrived in Beantown late in the summer of 1975 to start my four years at HMS. Having never left the South nor traveled any distance from my native city of Nashville, Tennessee, I arrived in Boston with my father, Robert. The two of us cautiously maneuvered through the chaos of Logan Airport, and, after securing a taxi, were whisked to Roxbury by an apparent NASCAR cab driver. Although the driver offered us many unsettling examples of what a car should not do when on a street or highway, with the Lord's help, we made it to 107 Avenue Louis Pasteur and the front door of Vanderbilt Hall.
Before my arrival, I knew of contentious debates regarding Boston public school integration. A mere few years earlier in Nashville we'd had our own incendiary and divisive polemics over school integration. But my naïve understanding of the liberal values of the Boston populace led me to believe that the discussions in Massachusetts would be wholly different from those in Tennessee.
Boy. Was I wrong.
Words that chill
After a few months of living in Boston, it was clear to me that Nashville and the South, in general, had no monopoly on racial inequities or morbid institutional practices designed to subjugate African Americans.
Further shocks occurred over the years. One, in 1976, was particularly eye-opening for me.
That year, Bernard Davis, MD '40, a professor of medicine at HMS, published a piece in the New England Journal of Medicine that was worthy of the writing of the segregationist and former governor of Alabama, George Wallace. In the article, "Academic Standards in Medical Schools," Davis wrote that minority students at HMS were not fit to occupy the places in their classes and that more worthy students should fill their seats.
Davis' insult was felt by all of us who were nontraditional students at the long white, and male, HMS—or by anyone who cared about equity in medicine or life. But the next story I'm about to tell is personal. I pause to question if I should share it, but I feel I must: It's essential to understanding the layers of prejudice Boston offered—and the fears I experienced because of them.
Subscribe to Harvard Medicine magazine
It was in Boston that the greatest threat ever to my life occurred. It happened during an annual St. Patrick's Day celebration. I was in my third year at HMS and was just ending a day of a clinical rotation at Massachusetts General Hospital. It had been a typical day and, as usual, I headed for the T station to catch a Red Line train.
I was standing on the platform when what seemed like a bad dream unfolded.
A group of youths, all drunk with green beer and yelling insults inflected with what sounded like South Boston accents, decided that the sight of me, a young Black man in a short white coat carrying a doctor's bag, was unbearable. I've always wondered if the sight of me was too much for their fragile self-esteem or self-image to bear, but whatever their reasons, they came after me with evil intent. They were out for blood. My blood.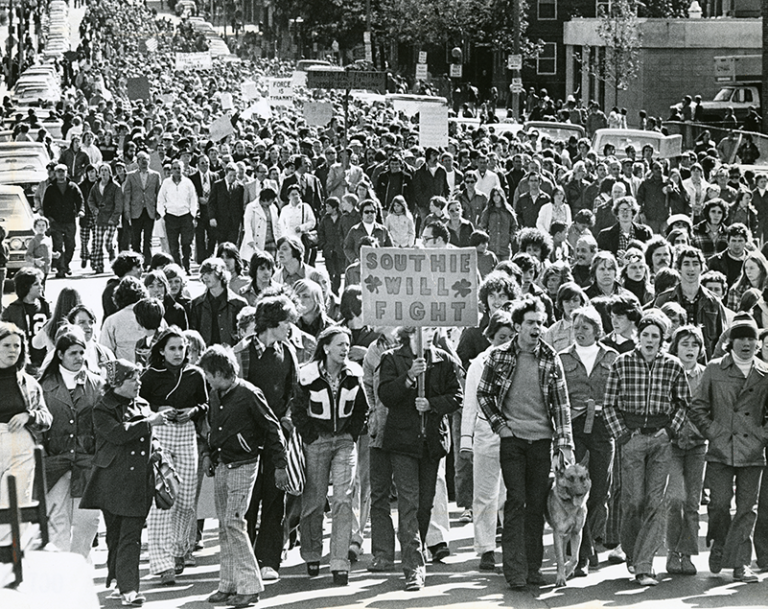 Cursing and staggering, they chased me out of the train station and all the way over to and down Huntington Avenue, where I sprinted next to a moving Green Line train. Thankfully, stimulated by my will to live, my adrenal glands propelled me ahead of them to Vanderbilt Hall's front door and the safe shelter within. This occurred only once, but it seared itself permanently in my memory. I never told my parents about this incident—I didn't want to worry them. But the pain and anger I felt then are still there.
I feel them as I write this.
Words to empower
It was from such humiliations that I came to realize that Boston, the widely touted cradle of liberal values, was deeply embedded with racist practices and racist individuals who would seek to do me and other students of color harm. My only solace came when I witnessed professors and fellow students standing with us as we denounced these despicable ideas and heinous actions.
My father's teachings and wise admonitions compelled me to seek out fellow students and faculty who had a moral conscience and convictions similar to mine. Dad had informed me that such individuals did exist and that they would help me and my fellow students find solutions—emotional support and intrapersonal strength—during those trying, turbulent, and dangerous times.
As usual, Dad was correct. I met lifelong friends whose journeys did not include being African American but whose families faced similar challenges. Such was the case for Harold Bursztajn, MD '77, a Jewish "brother" whose parents, as members of the resistance in Nazi-ravaged Poland, met and married in the sewers of the Lodz ghetto, and for Matthew Movsesian, MD '78, a native New Yorker of Armenian descent who never lost his outrage over the Turkish-led genocide of nearly two million Armenians in the early 1900s. These friends understood prejudice in all its malevolent shapes and forms. HMS neurobiologists and teachers David Potter, PhD '56, and Edwin Furshpan also supported us; they equally deplored the thoughts and writings that Davis had published. As I developed a large collection of multicultural friends, it became apparent to me that the fight for moral freedom and social justice transcended skin color or a person's state or country of origin.
"My father's teachings and wise admonitions compelled me to seek out fellow students and faculty who had a moral conscience and convictions similar to mine."
I suspect it is from such fiery crucibles of intense prejudice and racism, whether they be in Nashville or Boston, that a person becomes emboldened to develop programs to foster equity, diversity, and inclusion—as I did in my early career at Emory University and as I now do at Vanderbilt University.
Words for success
My will to learn, explore, and, thankfully, survive came from my parents, Robert and Mary. Dad, a journalist, and Mom, a first-grade schoolteacher, raised five children in a 2,000 square-foot home. Parental rules allowed us to play football in the street but required baseball and softball be played in the alley so as to minimize—but unfortunately not eliminate—damage to neighbors' cars or windows.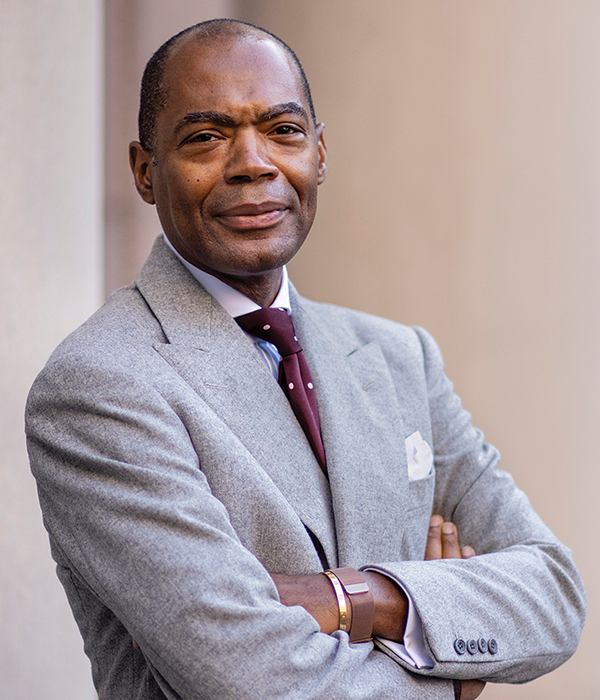 Although there is no record of there being physicians in our extended family, three of us chose careers in medicine. I led the way, first to Vanderbilt, then to HMS, and finally to Emory for residency and cardiology training. Eight years my junior, my twin brothers, Kevin and Keith, guided by providence or serendipity, began their journeys to medical careers. Kevin attended MIT then Vanderbilt for medical school and obtained his training in pediatrics at Boston Children's Hospital. Keith attended Harvard College then Washington University School of Medicine and finally Emory, like his older brother, for his residency and cardiology fellowship.
What natural forces compelled three young African American men from a southern African American middle-class family to choose careers in medicine? Furthermore, who would have guessed that along the way the education of these three men would connect to both Harvard and Vanderbilt? Or that their careers would intersect? We were a trio on the faculty at Vanderbilt for 15 years.
Anyone who knew our parents would know the answers to those questions. Both played key roles in our upbringing. Mother was the chief financial officer and chief operating officer who found funds—only the angels knew where—to pay for our education and that of our other two siblings, who also attended college. Dad served as the wise counsel. He offered us daily lessons of subtle moral instruction and of a virtuous life, which he modeled for us.
"I doubt a day passes when, gazing at a picture of our late parents, I don't reflect on some lesson that they left us."
On Saturdays, while we were on all fours hand waxing the floors of our home, he would turn on our RCA Victrola and infuse our curious minds and ears with the music of Beethoven, Mozart's Don Giovanni, and, of course, Ella Fitzgerald and Frank Sinatra. In his library, the largest room in our house and the only one with an air conditioner, he presented us with the words of Langston Hughes, Ernest Hemingway, and other writers to "teleport" our minds from our home on North Ninth Street to a street corner in Harlem or a bullring in Madrid.
Along with physical labor on Saturday mornings, he submitted teachings and admonitions daily at our dinner table, each inculcated with his seminal message of service to all. From his lessons, he set us on our paths from THERE to HERE.
I doubt a day passes when, gazing at a picture of our late parents, I don't reflect on some lesson, whether it be spiritual, musical, or humorous in nature, that they left us. Now, from their heavenly perch, they witness us rise—though not as early as Dad's 4:30 a.m. habit (but close)—to begin our days.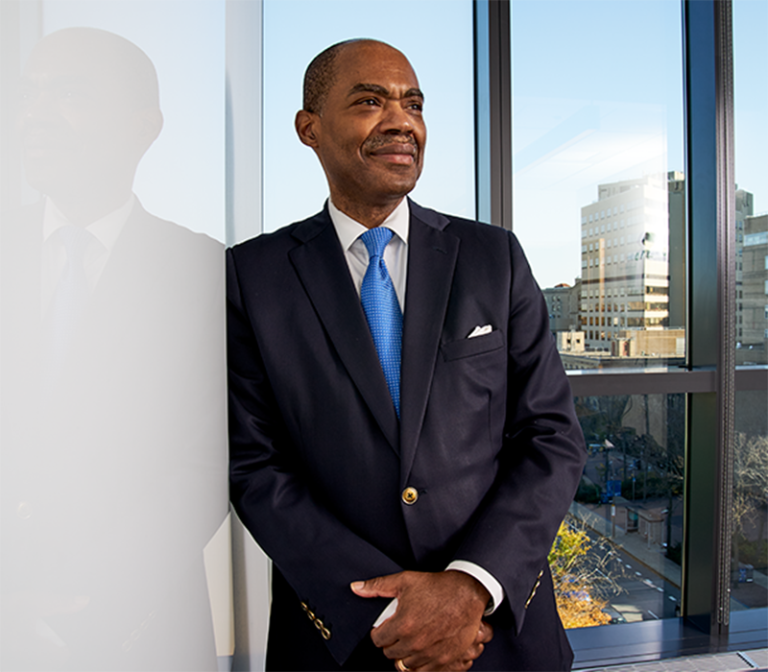 Kevin is now the president and COO of Boston Children's, a Harvard-affiliated hospital. Keith is the newly minted president of Yale New Haven Hospital. And I, the older brother, am the vice chancellor of equity, diversity, and inclusion and the chief diversity officer for Vanderbilt University and the chief diversity officer for Vanderbilt University Medical Center.
I think Dad would agree: We got from there to here.
The parental challenge to eradicate racial inequities remains with us, and our parents' message of service will continue to compel us, like Sisyphus, to put our shoulders to the boulder of racial inequities, health disparities, and inequitable patient care and push uphill toward change each day. And as we push, we are armed with their memories and life purpose.
Words of tribute
A few years after Dad passed, I wrote a piece for our local newspaper, The Tennessean. Although the words were written as a Father's Day tribute to him, what they say could apply to Mom, too.
He is gone now, like Pompeii.
He was as wise as Erasmus until the last second. His lessons etched in the son's soul.
A long life and many lessons shared.
He was not selective; his wisdom and love were freely dispensed.
No physical monument for him but progeny with his name and humor who seek to preserve the memory of his grace and who recite his intensely unique journey.
His legacy is that mercy, love, and service must be taught; shared and perpetuated.
For him this was the meaning and purpose of a complete life.
The Churchwell children remain thankful for lessons bestowed by Mom and Dad.
André Churchwell, MD '79, is vice chancellor of equity, diversity, and inclusion and chief diversity officer for Vanderbilt University and chief diversity officer for Vanderbilt University Medical Center.
Images: Abigail Bobo (top); Ted Dully/Boston Globe/Getty Images; Kelly Davidson (Kevin Churchwell); Steven Smith (Keith Churchwell)