Winter 2021
MD Students on the Joy and Purpose that Community Service Brings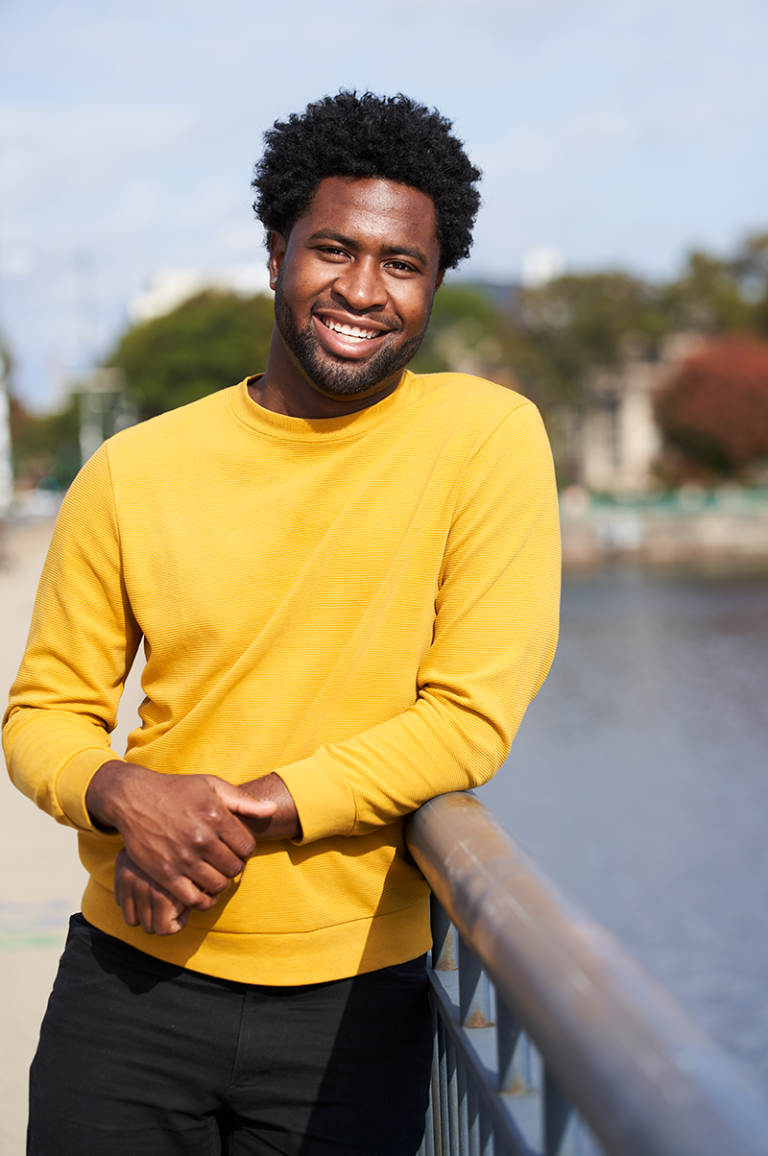 Jalen Benson
"Community service is always going to be central to what I do," says second-year MD student Jalen Benson. "These incredible institutions like Harvard have a lot of low-income—and especially Black and brown—people in their shadows who don't feel they can access state-of-the-art hospitals. A large part of the reason is historic and institutional barriers that are present today, so my goal is to minimize those barriers."
Benson knows firsthand what it's like to encounter structural racism. He was part of the largely white International Baccalaureate Program at his high school in Pensacola, Florida. More than once while waiting at a bus stop he overheard classmates' parents talking about him, saying, "What is he doing here?" or "It will ruin the quality of the education," or other hurtful statements.
Still, he says, "I was lucky. My mom raised me with the idea that life isn't fair, but if you work hard and do your best you can get what you want out of it." It didn't hurt that he and his brother were voracious readers or that he spent summers with his grandmother, who owned a flower shop, and grandfather, a "self-made man" who started out working in a junkyard but now owns a string of trailer parks and "doesn't know what a day off means."
Benson was beat on his original goal of becoming the first Black U.S. president.
"I was always going to go to Harvard law," he says. "I knew I had to leave Florida because I thought people there would always doubt me and hold me back. I wanted to be in a place where I could make mistakes without feeling pressure that I'd failed others like me."
As an undergrad at Dartmouth College, Benson majored in biology, working in biochemistry and pediatric oncology labs. Following graduation, he participated in Stanford University's thoracic surgery clinical research program but says he didn't find his niche until he worked nights as a naloxone counselor at a needle exchange in San Francisco. "It was amazing trying to cure cancer," he says, "but that wasn't allowing me to see the people I loved to work with in diverse socioeconomic situations."
Benson has been involved in mentorship programs and, as a wilderness first responder, has volunteered in rural Haiti. During the COVID-19 crisis he founded the National Student Response Network, which so far has matched around seven thousand students in the health care professions with institutions that need help during the pandemic. But he believes surgery and researching health equity are his true callings. "Surgery allows you to help someone in front of you today and research makes sure everyone who comes after them has a better and healthier experience," he says.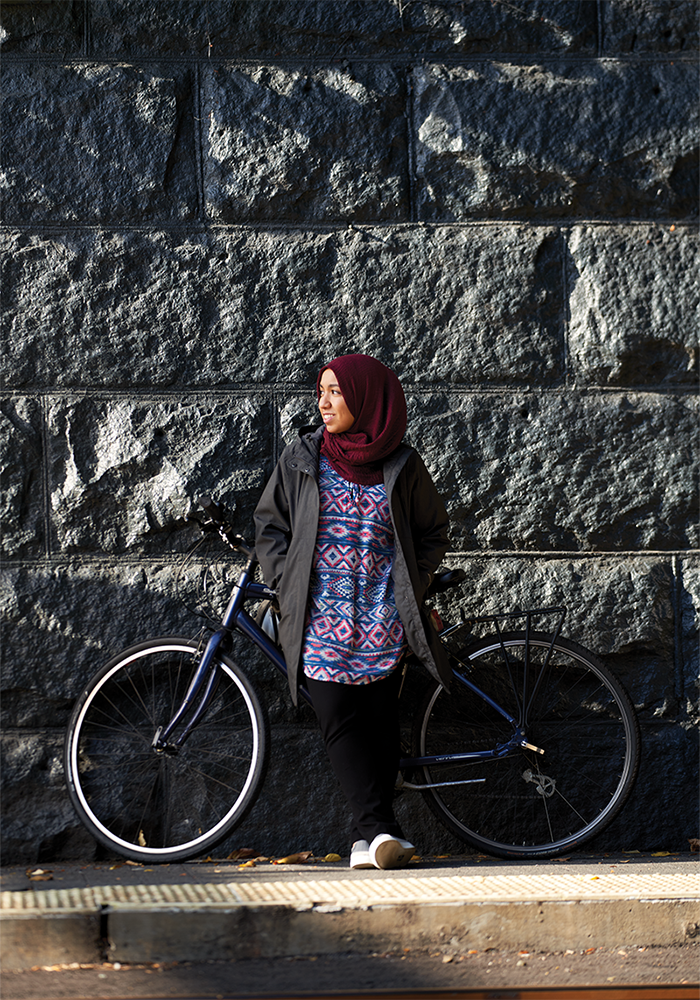 Sarah Ahmed
Born and raised in the Boston area, Sarah Ahmed grew up like many other first-generation Americans—navigating two cultures. And the key to doing that successfully was education. "My parents," says this second-year medical student, "raised me with the mindset that receiving a proper education would open many doors for my future."
As a student at Quincy High School in Massachusetts, Ahmed initially was interested in the school's culinary arts program.
But her participation in a science fair during her junior year changed things. "That's when science clicked for me," she says. "I understood the process and appreciated its logical approach."
She went on to major in biology at UMass Boston, where she was a member of the university's Honors College. She also participated in a three-week exchange program at Glasgow Caledonian University in Scotland that was designed to familiarize participants with the pre-med curriculum of a non-U.S. school.
After college, she joined a lab at the National Institutes of Health, where she studied the genetic causes of neurodegenerative diseases. "Although exploring the different genetic components of these diseases was fascinating," she recalls, "my favorite part was interacting with the participants in our studies."
This preference was strengthened by her childhood experience of spending summers in her parents' native Algeria, where she would often listen in on conversations between her aunts and uncles as they discussed the different medical issues that family members were having and their struggles to access proper care. "It made me want to go back and help people who don't have access to health care," she says.
Ahmed has always tried to make a difference for those who haven't had her opportunities in life. In high school, she was a peer tutor for teen moms and a volunteer in a local nursing home. College found her working as a peer mentor and tutor. Within the community, she, her sister, and some friends started a mentoring program for children at their local mosque.
Since she's been at HMS, Ahmed has worked in community clinics through the Crimson Care Collaborative, a student-faculty clinic that provides primary care service to people in the Boston area, and she is now a resident advisor in Vanderbilt Hall.
"For the longest time I thought poor health care was only happening outside the United States," she says. "But once I got involved with different aspects of my community, I realized the problems weren't only in Algeria. I think about the various scenarios that could have made my life totally different and feel I have the responsibility to be a strong voice for people who may not have the ability to be heard."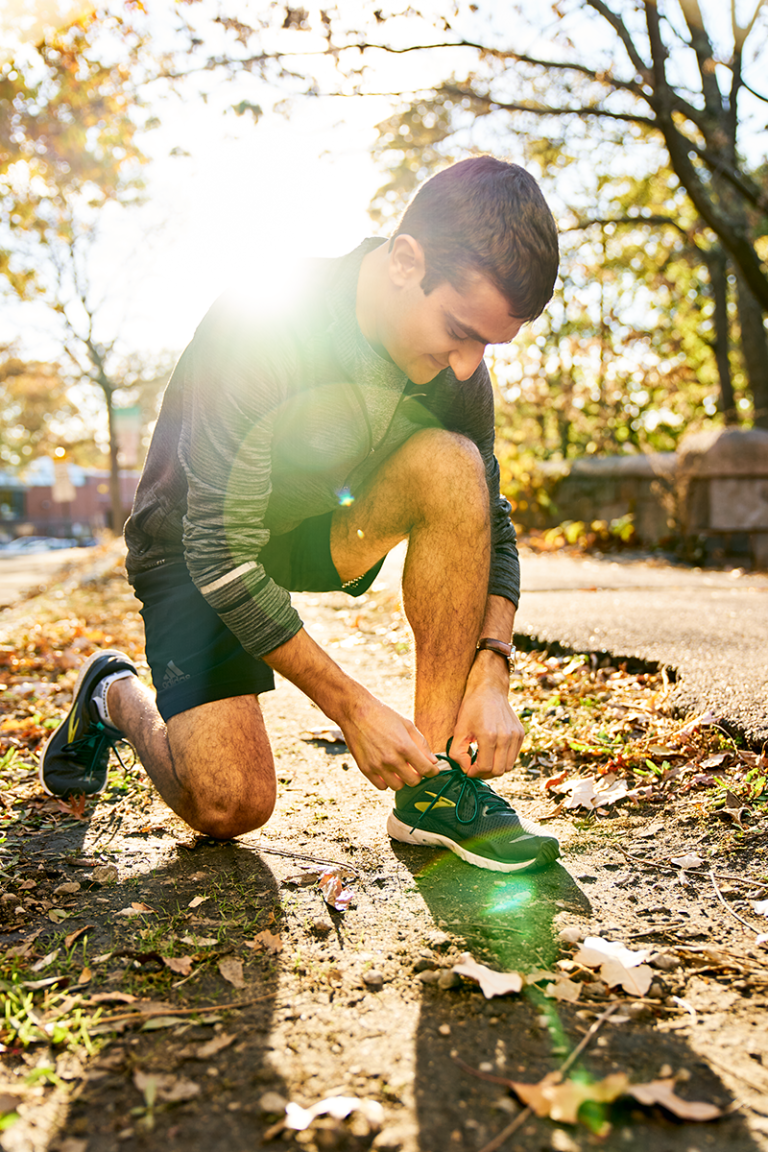 Adam Berger
Imagine being just shy of middle school—entering that "awkward phase" of growing up, as Adam Berger puts it—when your world shatters: Berger's parents divorced when he was in fifth grade.
Berger dealt with this sundering by focusing on school. It was, he says, the best therapy and it was available for free five days a week from September through June. "I always loved school," says Berger, a fourth-year medical student. "It was my haven to get away from everything. When the world around me became stressful, I would bury my head in my work."
Developing relationships with caring teachers who saw his potential was a real confidence builder, and when one got him into a microbiologist's lab for a high school science fair project, "that pushed me down the road to science," he says. "It made the textbooks come alive and catalyzed my love for the unknown."
Berger discovered his passion for service around the same time by volunteering at a hospital in his hometown of Olney, Maryland. "I really enjoyed talking to the patients," he says. "The amount of trust they put in me just because I had a badge was amazing."
He planned to become a physician but "caught the research bug" as a bioengineering major at the University of Maryland. The lab he worked in during a summer internship at the Naval Medical Research Center used optical imaging to take molecular fingerprints of traumatic wounds to see which healed well and which didn't, so he also "got to see the frontiers of research," he says. "What's new, what are we just learning, and what questions are still out there."
When he got to Harvard, Berger combined his interests by entering the MD-PhD program. He's not yet sure how his degrees will translate into a career, but he is sure about one thing: Whatever he does in life, it will involve helping others.
Since arriving at HMS he has become more aware of health care disparities, in part through his volunteer work with the Boston Health Care for the Homeless Program, whose clients he calls "some of the best teachers of medicine I have had." He has also learned a lot from the high school kids he mentors through the School's Health Professions Recruitment and Exposure Program. "The students' tenacity is phenomenal," he says. While he admits his path may seem "a little scattered," there is a connecting thread. "My goal is to be constantly improving. Not only improving myself, but improving the situation for others. Because I can only be x amount successful in life, but if I can help others to be successful, I'm really extending my reach."
Elizabeth Gehrman is a Boston-based writer.
Images: Kelly Davidson