Spring 2022
Paul Farmer: A Remembrance
In late February, the HMS community, and indeed people around the world, were stunned by the news that physician, humanitarian, and social justice advocate Paul Farmer, MD '90 PhD '90, had died. His death concentrated our thoughts on all he had done to bring health equity to everyone and also reminded us of the glaring needs that remain.
The HMS community drew together to commemorate the person who had led a dynamic Quad department, co-founded a global health and social justice nonprofit, lectured and written widely on the importance of health care as a human right, taught medical and graduate students throughout the world, and mentored and inspired scores of individuals at HMS and elsewhere.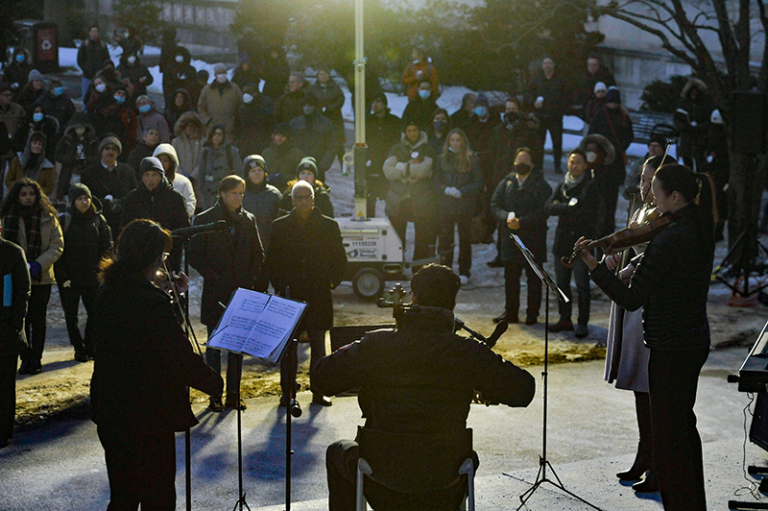 Of the several ceremonies celebrating Farmer and his life, a candlelight vigil on the Quad may have epitomized the solidarity that Farmer nourished and inspired within the HMS community. Although the early March evening was cold, there was an abiding warmth in the words shared. Among the speakers was George Q. Daley, MD '91, dean of Harvard Medical School. The following comes from remarks he made on that evening and in other communications to the HMS community.
---
I was heartbroken by the news that Paul Farmer had died in Rwanda. He was working and teaching at the University of Global Health Equity, an institution he co-founded. As devastated as I was, I knew that it was poignant, even poetic for Paul to breathe his last in a place that reflected his unceasing effort to bring exceptional medical care to people in great need of such care throughout the world.
Paul was a great teacher. And it was my extraordinary privilege to learn from him, to learn about the process of building health equity, about how to fight for the health and dignity of the most vulnerable patients, and about what it means to commit yourself to providing the most expert and compassionate of care to everyone.
Paul was not just one in a million, not just one in a generation. Paul was arguably singular in history, for he made history. He was a compassionate physician and infectious disease specialist, a brilliant and influential medical anthropologist, and among the greatest humanitarians of our time. He dedicated his life to improving human health and advocating for health equity and social justice on a global scale. He expressed conviction to this idea in many ways and at many times, but one statement stands out for me in particular: "The essence of global health equity is the idea that something so precious as health might be viewed as a right."
It's a simple statement, but, as was often true for Paul, it also is radical, inspirational, and unambiguous.
Paul was, at his core, and to the very end, a doctor, and his presence brought great honor to Harvard Medical School. His example will always be a reminder that a doctor's truest calling is to care for the sick and ailing. His life's work and teaching have been an inspiration to countless colleagues and trainees who will continue to carry on his legacy.
Paul championed the concept of accompaniment. It's the notion of being present on a journey with someone and committing to that person's well-being. Paul espoused the role of accompaniment in delivering complex care to people with life-threatening illnesses in resource-poor settings. He believed that compassion must be permanently and universally embedded in a clinician's work, and that the process of accompaniment—which implies a deeply held sense of the value and dignity of all human life—does not, or need not, undermine scientific rigor, but in fact, enforces it.
We all need to be accompanied sometimes, and this is one of those times. Many of us who knew Paul are hurting, and our community will be healing the deep wound of Paul's tragic passing for quite a while. Yet, we have the opportunity to accompany one another through our pain and to rededicate ourselves to sustaining everything that Paul believed in and stood for.
I will admit that Paul's death shook me deeply, and the unwelcome fact continues to surface unexpectedly during my daily activities. He was not only a consummate colleague and a beloved mentor, but my close friend. To me, he represented the heart and soul of HMS.
It is far from a platitude, however, to say that the people who leave us live on inside of us. Paul was larger than life, and it is important that we preserve his spirit, work, and impact. He was committed to a higher purpose and to being in service to those in greatest need around the world.
I believe that all of us in the HMS community near and far seek to emulate Paul's promise to the world and his commitment to serving the needs of those who face inequitable access to the basic human right of medical care. His commitment to a higher purpose and his embodiment of the HMS mission animated every fiber of his being. We each have a role to play in being diligent stewards of his legacy. I am humbled by the opportunity to do my part to keep his spirit and vision alive.
Images: Rick Groleau (top); Steve Lipofsky