Winter 2015
Space Science
Flexible designs give scientists the options needed for collaboration, discovery
by Elizabeth Cooney

9 minute read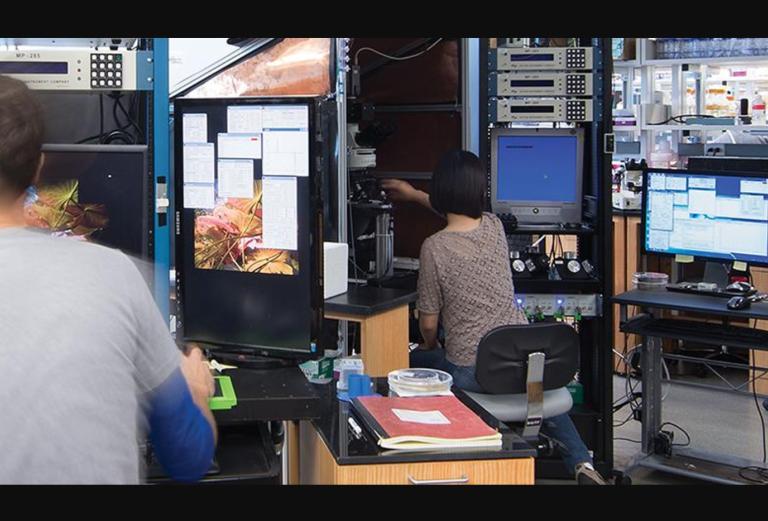 The scientists and architects huddled deep within one of the century-old structures framing Harvard Medical School's Quad. To one side stood wooden lockers; in a nearby corner, a winding staircase; and in front of the group, a wall. To them, however, it was not just a wall, it was a canvas, one on which they would execute a bold new idea.
To flip U.S. architect Louis Sullivan's famous phrase, when it comes to designing spaces for discovery, form no longer simply follows function: It defines it. For the past decade, laboratories on the Quad and throughout academia and biotech have been reclaiming the spaces that have tethered solitary scientists to bench and equipment.
Now, laboratories are flexible, capable of accommodating and commingling the scientific pursuits of both individual researchers and research teams. Design fosters collaboration, often incorporating concepts that accommodate the patterns of movement that bring people together—and help propel ideas. The goal, say scientists and architects, is to have laboratory spaces play an active part in shaping what is possible.
These ideas are not new. Jonas Salk, renowned for developing the polio vaccine, saw the value of architectural design as a means for encouraging collaboration and scientific creativity. In the 1960s, he selected noted architect Louis Kahn to give his vision shape. The result, the Salk Institute for Biological Studies in La Jolla, California, features large, open laboratory spaces that are easily adapted to suit changing scientific needs. Salk worked closely with Kahn, urging him to create a facility in which scientific cross-pollination could flourish yet one that was also "worthy of a visit by Picasso."
A half-century later, the National Institutes of Health pegged collaborative science to the biomedical agenda with its 2003 Roadmap, calling attention to the importance of fostering a culture of teamwork in research.
Referencing this intellectual construct, the scientists and architects gathered in front of that blank wall on the Quad contemplated how best to depict the contemporary culture of scientific collaboration. Their interpretation gave rise to a wide glass frontispiece leading to the new Laboratory of Systems Pharmacology. It would, they decided, reflect their mission and their message: You are entering a new place. We invite you to see how we are different.
Express Yourself
"We want people who are going to participate in the culture," says Laura Maliszewski, executive director of the Harvard Program in Therapeutic Science,the academic home of the Laboratory of Systems Pharmacology, "not be the lone wolves of traditional research. Participation is the only way you can actually do interdisciplinary research."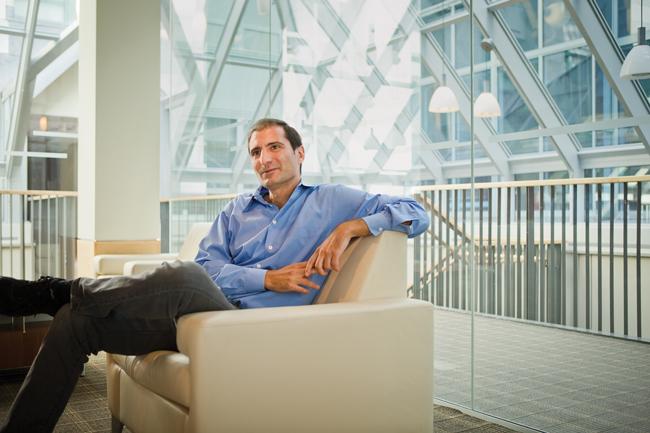 Maliszewski is not alone in her thinking on this. A building away, the neurobiology laboratory of Bernardo Sabatini '95 opens wide like a ballroom, with people circling through an airy space bordered with workstations. Rooms dedicated to studying behavior in animals stand apart, while sophisticated equipment is housed centrally or installed within cabinets situated to ease transit as experiments take scientists from one station to another. Discussion spaces cluster in close proximity to Sabatini's office, a welcoming, well-lit space with walls constructed of partially frosted glass meant to define the physical space but not to block the visual field of researchers who are working or simply passing through. A whiteboard displays remnants of the past year's World Cup rankings, silent testimony to the international makeup and interests of Sabatini's research team.
This is the third lab that Sabatini, the HMS Alice and Rodman W. Moorhead III Professor of Neurobiology, has designed at Harvard. He hopes it is built to be his last.
"The key for me was flexibility," he says. "The reason we had to move was simply that we had changed. Our science had evolved."
Sabatini's previous laboratories were fragmented, spread over two floors, with instrumentation crucial to the finely detailed neuroimaging techniques he has pioneered—ultrasensitive microscopes and the 1,500-pound, 4-by-12-foot air tables that cushioned them during use—dominating the space. Using these instruments, Sabatini and his colleagues made breakthroughs that have added to our knowledge of the development and regulation of synapses in the brain and of how they affect behavior and disorders such as autism, Parkinson's disease, and Alzheimer's disease. Not content to work within the limitations of available tools, Sabatini's team designed new tools for use in their research.
Over time, the scientists expanded their use of animal models and are using highly specialized techniques that are sensitive to light, sound, and smell to investigate the synergistic role that behavior and anatomy have in neurological function. The work has always required collaboration and the sharing of space and instrumentation. Given the directions that discoveries in his laboratory were taking, Sabatini knew that these requirements would only grow. Researchers would need to work in serial spaces—not just a desk/bench combination—and would need to move their work through a range of experiments to achieve breakthroughs.
The new laboratory reflects those needs. "You could think of the modern lab as having many, many workstations that people move through," says Sabatini, "whereas the old design was much more one person sitting at one instrument, essentially all day."
The need to nimbly accommodate discovery proved itself when the paint was barely dry on the new laboratory's walls: space originally designated for refrigerators was reconfigured to hold delicate electrophysiology rigs and fluorescence microscopes.
Susana Zelter, senior laboratory architect at Boston firm Miller Dyer Spears (MDS) and a member of the team that designed the new space, appreciated the reconfiguration on her first visit to Sabatini's lab.
"I was in heaven," Zelter says. "Bernardo had been very clear: He wanted open space, and he wanted it to be flexible. The changes I saw meant the design had satisfied those requirements."
Myron Miller, a principal at MDS, says flexibility is not just a contemporary need. "Any environment has to evolve. A year from now, or five years from now, scientists will have a different way of using it."
Room With a View
A newer member of the faculty, Dragana Rogulja, an HMS assistant professor of neurobiology, studies sleep: why we need it and how we move from waking to sleeping and back again. Her experimental model is the fruit fly, so her lab members spend their working hours in what they refer to as the fly room. Because her team spends so much time there, Rogulja asked the architects to include windows in their design of the room. Like Sabatini, she recognizes that a comfortable environment helps make the long hours demanded by high-caliber research more tolerable—and more conducive to discovery.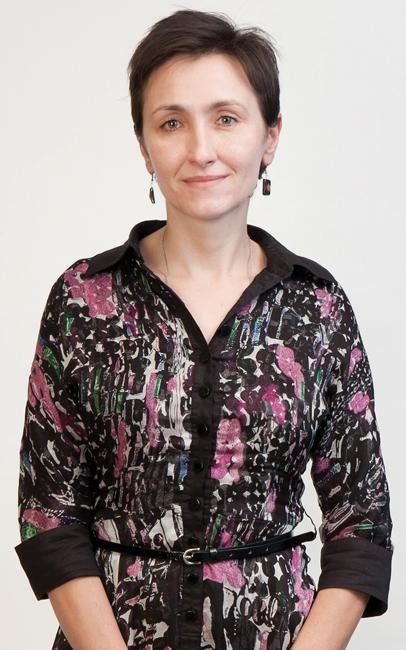 The rest of her laboratory is fitted with the light wood casework and dark countertops common in newer lab spaces. Carriers hang from the ceiling, ready to supply power and gases, a configuration of resources that is also common in new research spaces. Rogulja has leveraged the space's flexibility by having the benches spaced to allow for aisles that ease the movements of members of her research team.
"Creating more open space in a laboratory environment breaks down barriers and encourages collaboration," says Robert Quigley, a principal of ARC/Architectural Resources Cambridge, the firm that designed Rogulja's laboratory. "The lab lost about two and a half linear feet in bench space, but she knew the tradeoff was important."
"You give up some space," admits Rogulja, "but it's good for people to be more integrated."
New Twists
Designing flexible laboratory space found its first proponents in the biotech industry. According to Quigley, these companies brought modular design to their workplaces more than two decades ago. The concept gained a greater foothold in academia, he says, as tighter funding made greater efficiency more attractive.
A modular bench unit on concealed wheels can be moved for a fraction of the roughly $80,000 required to shift fixed equipment. Open labs mean fewer walls and fewer doors. Reducing or eliminating the need to tear down and rebuild infrastructure helps lower the costs of setting up new labs and reconfiguring existing ones.
Maliszewski of the systems pharmacology lab says flexibility extends beyond the bench; it also embraces the philosophy underpinning a 2009 report on the so-called new biology. The report was produced for the National Research Council and written by a committee co-chaired by Thomas Connelly of the DuPont Company and Phillip Sharp of MIT.
"The New Biologist," the report says, "is not a scientist who knows a little bit about all disciplines, but a scientist with deep knowledge in one discipline and a 'working fluency' in several."
Work Streams
If there is a tenet fueling Maliszewski's efforts, it might be the belief in the importance of bringing scientists together to learn one another's language. The systems pharmacology laboratory is itself an experiment, mixing together biology, engineering, and medicine in a setting that Maliszewski says provides space for independent discovery.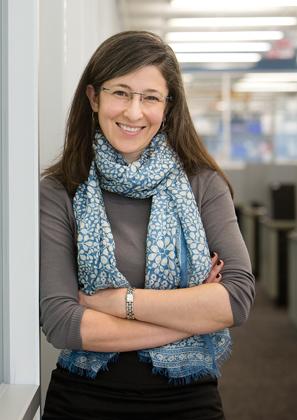 Her characterization belies her serious intention: Straying from the syllabus to play with new ideas and to collaborate with new colleagues is not only encouraged, it's required. The laboratory intentionally takes students, scientists, clinicians, and computational experts from their "home" or hospital lab and brings them to a light-filled discovery space designed to encourage exchange of ideas and to foster interactions, whether the researchers are on their way to the coffeemaker or to the wet lab.
"The point of the systems pharmacology lab is to take a lot of what systems biology has done, looking at development and genetics and basic biology, and applying them to medicine," Maliszewski says. "This is taking engineering plus biology plus medicine, and sort of squishing them together."
Inside the laboratory, walkways do not run directly from one point to another, thus giving lab members multiple opportunities to interact.
"You have to traverse the corridors, you have to look over people's shoulders, and you have to run into them," Maliszewski says. "It's a huge culture shift—it's team science."
"I've spent a lot of time writing white papers about knowledge transfer," Maliszewski adds. "This is how it happens: Two people sit and talk to each other for more than ten minutes."
It's that simple, and, in a high-powered research environment, that difficult.
According to Jon Whitney, a principal at Janovsky/Hurley Architects Inc., in Wellesley Hills, Massachusetts, the systems pharmacology lab was constructed so that its physical environment could adapt and grow in response to the scientists' continually evolving research.
All three architecture firms are familiar with the constraints posed by the marble buildings erected on the Quad in 1906. MDS, for example, recently opened up the skylight above Gordon Hall's atrium, while ARC has designed lab space at HMS as small as 300 square feet and as large as the New Research Building.
With each assignment, these architects try to imagine the future of science. And as their scientific collaborators are quick to point out, that future will never be a fixed point. Like scientific research itself, laboratory design will always be a work in progress.
Elizabeth Cooney is a science writer in the HMS Office of Communications and External Relations.
Images: Chuck Choi (top); John Soares