Spring 2020
Students Adjust to Pandemic-Related Changes
Five HMS students consider how the 2020 pandemic has changed their lives but not their commitment to medicine and biomedical research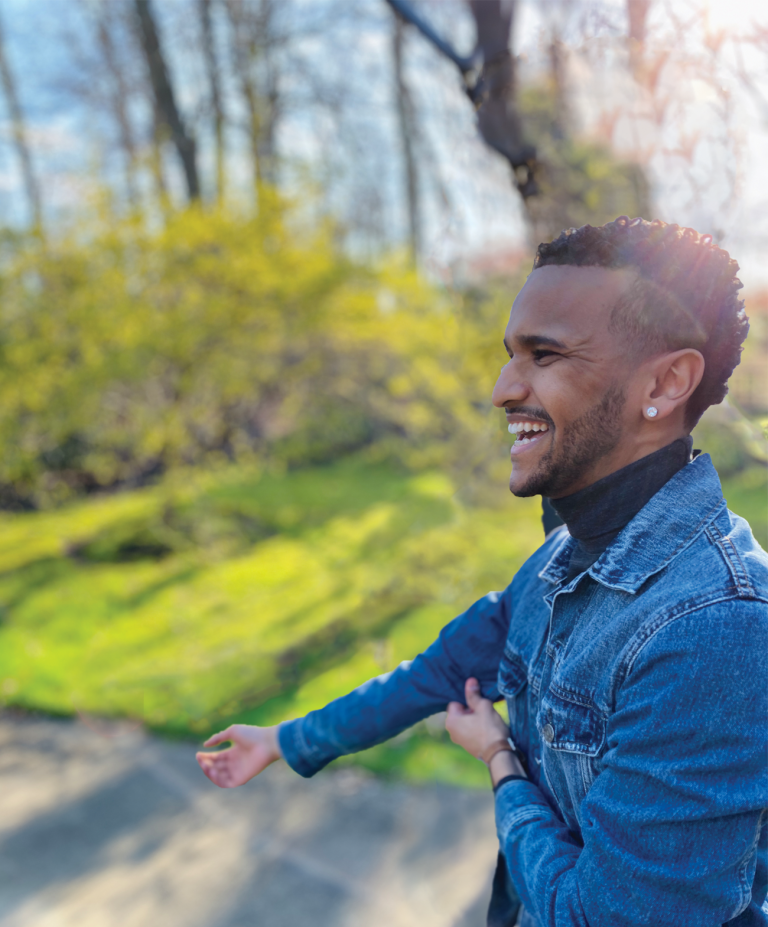 Ahmed Ahmed
For first-year medical student Ahmed Ahmed, the social and health inequities revealed by the COVID-19 pandemic are personal.
"It highlights how much we're missing in terms of public health and a social safety net within our society," he says. "Even the assumptions embedded in our recommendations hit close to home for me."
Ahmed was born in a Kenyan refugee camp after his family fled Somalia's civil war, and he arrived in the United States as an infant in 1996. His parents initially settled in Maryland, but at age 7, he moved with three siblings and his mother to Rochester, Minnesota. It was there that Ahmed grew attentive to socioeconomic differences.
"I remember visiting a friend's house when I was 12," he says. "We went into their kitchen to grab a snack, turned on the lights, and that's when I learned not every house in America had cockroaches."
Rochester is home to the Mayo Clinic, where "most of my friends' parents worked as doctors and nurses, and my mom worked as a dishwasher." It made for hard times financially, but Ahmed is proud of his mom's work.
"Her efforts inspired my own drive," he says. "Society doesn't always place a high premium on her work, but we see how essential it is in times like these."
Ahmed reciprocated his mother's efforts by excelling academically. He graduated from Cornell University with a degree in biology and spent two years at the University of Oxford as a Rhodes scholar. When he chose Harvard for medical school, his mother "was just beaming with joy," he says. "It was the first time she recognized the name of the school I was going to attend."
Now, as part of the dispersed class of HMS first-year students, Ahmed is in New Jersey working to help vulnerable groups during the pandemic. He recently helped organize a webinar with Nancy Oriol, MD '79, that brought together more than 330 mobile health clinic leaders from around the country.
"Mobile clinics uniquely reach vulnerable groups, including the uninsured, the underinsured, and the undocumented," Ahmed notes. "In crafting COVID-19 responses, it's important that we don't leave these groups behind." Ahmed and Oriol recently co-published an opinion piece in which they called for equity in the fight against COVID-19.
Ahmed hopes to continue working at the intersection of clinical medicine, public policy, and higher education. "If I don't allow myself to give up any of those passions," he says, "I can have a career in all three."
—Elizabeth Gehrman
Xavier du Maine
Xavier du Maine misses his lab.
"I do mouse research, so the quarantine is going to delay my experiments," he says. "But it's giving me more time to think about my science so that when we get back, I can hit the ground running."
Du Maine is using the time away from the lab to get a jump on his dissertation and a paper he's preparing for publication. He's not someone who likes to be idle: In addition to working as a biological and biomedical sciences PhD candidate in the laboratory of HMS neurobiology professor Chenghua Gu, he is a member of Underrepresented Scholars in Neuroscience, Minority Biomedical Scientists of Harvard, and the Christian Medical and Dental Association. Last year, he was named a Diversity and Inclusion Fellow in Harvard's Graduate School of Arts and Sciences.
As a biology undergraduate at Columbia University, the St. Louis native spent one summer studying ALS at Washington University and another researching Alzheimer's disease at UCSF, but when Harvard's Summer Honors Undergraduate Research Program unexpectedly paired him with Dragana Rogulja, an assistant professor of neurobiology in the Blavatnik Institute at HMS, and into the lab of Rogulja's frequent research collaborator, HMS neurobiologist Michael Crickmore at Boston Children's Hospital, he shifted gears academically. The two scientists "just live and breathe science," says du Maine. "Their passion and enthusiasm were contagious." They sparked his interest in basic science and his desire to study it "at Harvard in particular."
Du Maine is now looking at cellular pathways in the blood-brain barrier. "I love it because it straddles the line between basic and translational neuroscience," he says. "Research like this can have a huge impact, because as much as we don't know about diseases and how they work, multiply that by one hundred and that's how little we know about the fundamentals of how the brain works."
As fascinating as du Maine finds academic research, his goal is to use his PhD as a stepping-stone to an administrative position in higher education.
"What really changed my perspective was becoming a GSAS diversity fellow," he says.
"We address issues related to creating an inclusive community across the graduate schools." He thinks he can leverage the early difficulties he faced as a minority STEM student to help "celebrate everyone's differences and allow them to thrive."
Meanwhile, the student groups he belongs to and his Christian faith have "been a foundation for me," he says. "When things get rough and really dark, they are absolutely crucial for maintaining my sanity, putting things in perspective, and reminding me there's a greater purpose."
—Elizabeth Gehrman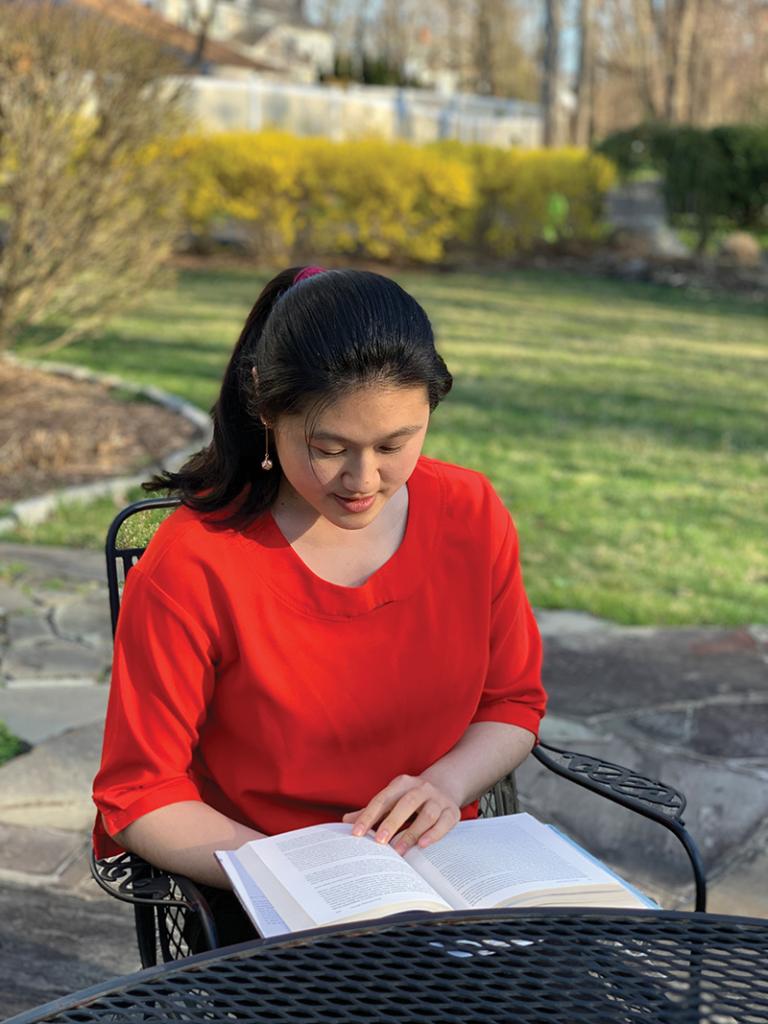 Jie Jane Chen
When you're preparing to complete medical school and planning for the coming months, you can become a bit disoriented if all those plans come to a screeching halt. Yet, if you "learn to lean in," says fourth-year medical student Jie Jane Chen, you can embrace the challenges and grow. For Chen, gratitude and connection are key.
"I am thankful for many people in my life who are sources of encouragement and strength," says this California native, "and for the opportunities to stay in touch despite being physically apart."
Chen began to see the effects of the pandemic on her family and patients months ago. In January, word from concerned family members led her father to cancel a planned visit to China. In February, when Chen was in Madrid doing a gastroenterology rotation at Hospital General Universitario Gregorio Marañón, which is affiliated with Universidad Complutense de Madrid, the first case of the novel coronavirus emerged in Barcelona. Soon her hospital implemented additional precautions. By mid-March, her psychosocial oncology and palliative care rotation at Brigham and Women's Hospital/Dana-Farber Cancer Institute had gone virtual.
"It's heartbreaking to see how the new rules limiting visitors in hospitals and hospice facilities affect patients and health care teams," says Chen. She chose to focus on providing assistance to those on health care's frontlines who need child care or other support and on counseling patients with COVID-19 symptoms about home care.
Fostering such connections fits right into Chen's interests in improving the quality of patient care and strengthening community among medical professionals. Before the American Radium Society's conference was postponed, for example, she had planned to present her findings on patient-provider communication and decision-making, along with patterns of palliative care among patients receiving palliative radiotherapy. Three years earlier, she cofounded Weave, a novel tool for connecting students and faculty interested in developing mentoring relationships. It won the School's 2019 Program Award for a Culture of Excellence in Mentoring and the 2019 Dean's Innovation Award in Diversity and Inclusion.
Now Chen is poised to meld her interests in clinical research and education with work as an academic radiation oncologist. Before coming to HMS, she coordinated clinical trials in the Stanford Cancer Institute's Department of Radiation Oncology; in March, she matched in radiation oncology at the University of California, San Francisco.
Meanwhile, she's reflecting on her role in medicine and the ongoing pandemic as a soon-to-be intern.
"I'm now trying to lean into everything as it happens, to be a source of emotional support for people, and to build community and resilience where I can."
—Ann Marie Menting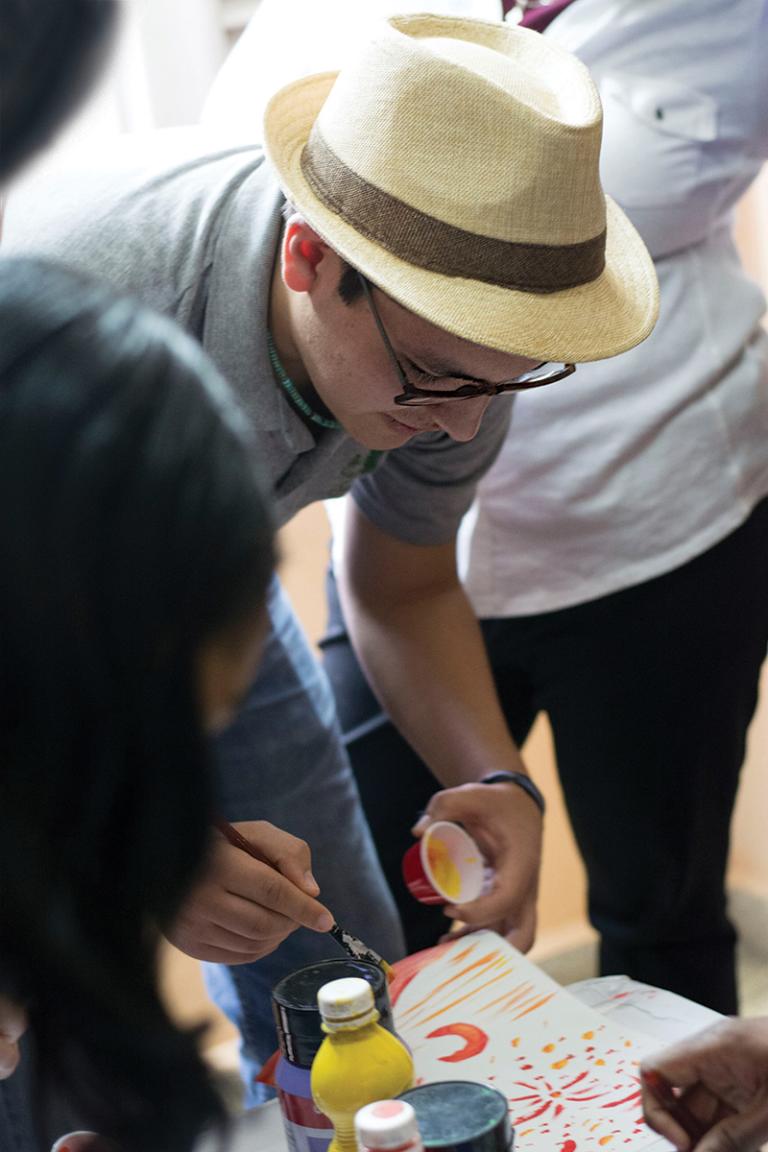 Victor Lopez-Carmen
There is a strong and intricate web of connections that binds Victor Lopez-Carmen to generations of his people.
"We consider ourselves as one generation of many," says the first-year medical student. "I belong to this generation and work to build something better for the next. We all build off the work of our ancestors."
Lopez-Carmen, who is a Dakota of the Crow Creek Sioux Tribe and also Yaqui, lives and breathes the responsibilities that come with these interlaced connections. In mid-March when he and other first-year students moved off campus as part of the School's pandemic response plan, Lopez-Carmen headed to his brother's home in California, not his family's home in Tucson, Arizona.
"I did not want to risk going to my community," he says.
Lopez-Carmen became acquainted with HMS through the Four Directions Summer Research Program, an opportunity the School and Brigham and Women's Hospital offer to students who are committed to improving the health of Native American communities. For Lopez-Carmen, improving Native American health care is not simply a commitment, it is the passion that has fueled his work for years. And it is the passion that led him to pursue medicine as a career.
"I know the beauty in our culture, but I also know of the unending trauma that colonization has subjected it to for centuries by undermining Indigenous systems of self-reliance, including for health care," he says. "I wanted to figure out what was going on and how I could help."
Lopez-Carmen has been helping at both national and international levels. After graduation from college, he received a Fulbright scholarship to work with Aboriginal peoples in Australia, where he also earned a master's in public health. When he returned to the United States, he worked on the House Natural Resources Committee with Arizona Rep. Raúl Grijalva.
For the past six years he has worked with the UN Global Indigenous Youth Caucus, a role he began during his undergraduate freshman year. He was elected coordinator for the group's North American region and, today, is the co-chair of this UN caucus. He's now on the student leadership committee for the HMS COVID-19 Student Response effort and is leading its COVID-19 Indigenous Health Campaign.
He says work with Indigenous youth keeps him firmly committed to improving the well-being of the current and upcoming generations of his people.
"I think being an Indigenous student at HMS is a tremendous blessing that doesn't come without difficulty," he says. "I want other Indigenous youth to know that even in the spaces where we haven't been historically represented, we can be our full authentic selves, learn Western medicine, and also practice our culture unapologetically."
—Ann Marie Menting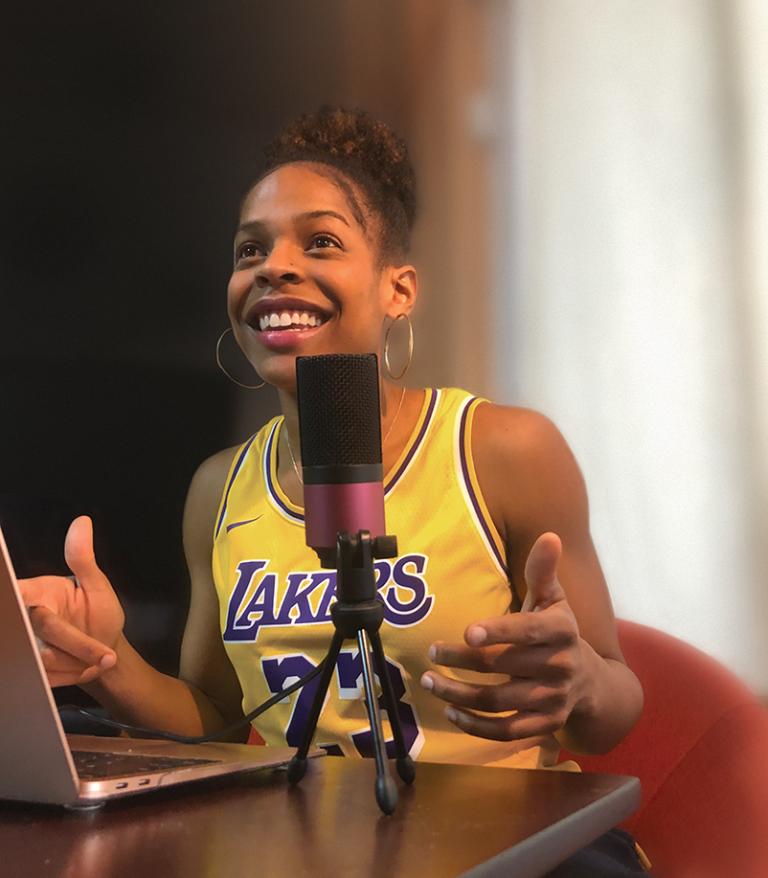 LaShyra Nolen
In some ways, nothing has changed for first-year HMS student LaShyra "Lash" Nolen since physical distancing was instituted in early March.
"Service has always been a big part of my life," she says, "so I feel I'm pretty much doing what I've always done. It's just that now it's all virtual."
As class president Nolen has been working with Dean for Students Fidencio Saldaña, other deans, members of the student council, and volunteers from across the first-year cohort to mobilize a COVID-19 student committee to help her classmates with their unexpected relocations, make sure online education concerns are being heard, and see to students' general well-being with isolation-busting workouts and social gatherings online.
"Of course students would be anxious," she says. "We need to make sure everyone feels supported and that we maintain community during this challenging time."
Holding the top spot in student government is nothing new for Nolen: She was class president in fifth and sixth grade and every year of high school. She welcomes the responsibilities that come with the job, but admits she still has found it difficult to fulfill all her various roles—student, leader, social advocate—while arranging to move back to her native California, organize the student committee, and remain available to peers who need help.
"I'm processing the same emotions of worry and frustration and sadness as other students," she says, "but as a leader I have to be strong."
Nolen, who decided to become a "brain surgeon-astronaut" when her goldfish project took first place in a third-grade science fair, has been contemplating issues of social justice at least since age 10, when her family moved from Compton to Cucamonga and she suddenly became "not just smart, but the smart Black person." Health disparities really hit home for her five years later when her beloved stepfather died of a heart attack. "I started to ask why people end up where they are."
She dropped the astronaut portion of her dream and tweaked the medical part a little too. Today her plan is to use the joint MD-MPP degree she's working toward to see patients and teach race theory or serve as an elected official. For now, though, she's coping as she always has, by writing.
"I pour out my heart on paper," she says, "so writing down my ideas about social justice really brings me great peace."
—Elizabeth Gehrman
Elizabeth Gehrman is a Boston-based writer. Ann Marie Menting is editor of Harvard Medicine magazine.
Images: Emma Korolik (Ahmed); Courtesy of Xavier du Maine; Ye Grace Chen (Chen); Jondo Lopez-Carillo (Lopez-Carmen); GeorgePatrick Hutchins (Nolen)