Spring 2016
View of London
A vision of collaboration and scientific inquiry remains vital after forty years
by Sharon Clark

6 minute read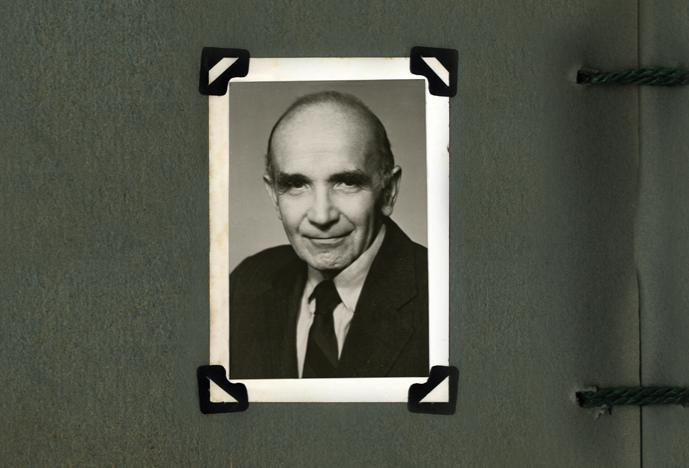 This past year, I had the opportunity to be in Boston for my reunion. The visit gave me a chance to catch up with people so important to me during my years as an HMS student. In particular, I was able to spend time with Irving London '43, cofounder of the Harvard-MIT Health Sciences and Technology (HST) Program—the same program I was enrolled in at HMS. Talking with London, "Irv" to so many of us, allowed the debt of gratitude I have felt for him and the HST program to resurface. Both the man and the program were pivotal to my development as a physician, a scientist, and, I think, a person.
In the fall of 1975, I left California and my life at Stanford University and headed to Boston. As a senior, I had been considering applying to medical schools with combined MD–PhD programs, as well as the one at Stanford. I felt I needed to see what other programs might offer because I was looking for a strong graduate science program and a clinically strong medical center.
When I visited Harvard, people at HMS knew I was coming and they made an effort to sandwich in some interviews with someone who had reviewed my application: London. I remember visiting with him at MIT. He set a relaxed tone immediately with his wonderfully warm voice. Our conversation ranged from my research projects, both current and past, to his vision for the growth and development of the HMS-MIT program. He had recently set up the program with Herman Eisen, an immunologist who was a founding faculty member in MIT's Center for Cancer Research. I was captivated by our conversation—here was someone who understood the depth of my interest in science and also valued the challenge of looking to rigorous science for ways to question and improve medicine. Most of all, I felt he was someone I could trust. The HST program that he and Eisen were establishing was something different in medical education; I knew they would make it happen.
The Love of Learning
For me, my years in the HST program proved the wisdom and beauty of London and Eisen's vision. The goal of the program was to expose me and my twenty-five classmates to a world of academic rigor, scientific inquiry, and collaboration while also preparing us to become medical clinicians. The paradigm of the physician-scientist was not new, but at the time, their approach to this education was. The HST curriculum was demanding. Classes were rigorous, and each of us had to pick an area of concentration—mine was neuroscience—and defend a thesis. Preclinical course instructors eschewed memorization as the sole tool for learning. We were directly and indirectly reminded that we were there to question and that meant we questioned the dogma of any given area of medicine. Perhaps it was an outgrowth of London's rabbinical training, or just the natural approach of someone for whom teaching and learning are everything, but in this program, pedagogy was valued as much or more than innovation and invention. A love and respect for learning seeped into our bones.
Critical thinking was demanded, and intellectual daring was nurtured. To help us develop the skills to critique medical and scientific papers relevant to the lectures, we worked from peer-reviewed papers drawn from the medical literature. Recently, I read an article in Harvard Magazine about the waning days of the classroom lecture. That article led me to realize something else about our program: We were never truly lectured to. With our small class size, we could easily engage with those teaching us. From the moment each morning when we boarded the yellow school bus at Vanderbilt Hall for our trip to MIT or Harvard Yard, to our return to the HMS quadrangle, we were encouraged to talk with one another about what we'd learned and to use that new information to generate ideas.
Although I knew that London and Eisen had built their respective portions of the program from scratch, it was Walter Abelmann's book on the first twenty-five years of the program that helped me to appreciate the amount of work that went into that launch. Gathering the top-notch faculty may have been made easier by the fact that the program allowed them to teach in an environment that excited them—in a small classroom to eager students who had open, inquisitive, and science-driven minds. One of the many examples is found in the program's neuroanatomy course. London recruited Walle Nauta, a neuroanatomy professor at MIT who many considered to be a founder of the field of neuroscience, to teach it. That course alone inspired many in my class to seek careers—and to make breakthroughs—in neuroscience.
Model in Action
My recent visit with the ninety-six-year-old London reminded me of another aspect of the program: the mentorship it provides its students. In fact, for me, London may be the ultimate mentor. He challenges people, especially students, to achieve their best and, for those of us in the HST program, to achieve through discipline and study. I found his challenge to be personally valuable when, while a resident at Stanford in plastic surgery, I did a rotation in hand surgery. I noticed that following surgery to correct damage from injury, patients' hands often had highly varied results with re-establishing a sense of touch. While I was in the HST program, I had taken a seminar at MIT on the electrophysiology of the primate motor cortex. Since then, I had continued to follow research developments in neurophysiology so I knew that researchers at the University of California, San Francisco, were using primate animal models to study how the somatosensory cortex, the area of the brain that processes sensory information, was responding to limb amputations. I wanted to know how the perception of touch rewired after reconstructive procedures that entailed the movement of tissue and nerve repairs. I wanted to know if, by understanding the neurophysiology of plasticity, we could improve the ability to process sensory information and improve the function of injured limbs.
To address this question, I tapped my HST training in neuroscience and the power of combined institutional resources, and formulated a proposal for a cross-institution study to investigate the role that plasticity plays in patients who undergo hand surgery following trauma. Soon, the weekends I was not performing surgery at Stanford were spent at UCSF gathering and analyzing data on the plasticity of the somatosensory cortex in the primate. This work led to publications in Nature and the Journal of Neurophysiology; many feel that these data have been key to better understanding ways to improve sensory recovery in hand therapy. My interest in using basic science, analysis, and collaboration to investigate a perplexing clinical problem of sensory perception was an approach straight out of the HST playbook.
Like all our colleagues at HMS, those in the HST program seek to advance medical science. For those of us who participated in HST and had the benefit of London's mentorship, working to advance medicine is not only a challenge we were trained to take on, it is our responsibility. I am personally grateful for the HST experience—and for London's vision and mentorship.
Sharon Ann Clark, MD '80 is a plastic and reconstructive surgeon in private practice in San Mateo, California.
Image: Harvard Medical Library in the Francis A. Countway Library of Medicine