Spring 2015
Biking with Wolves
A physician searches for the elemental truths of body and mind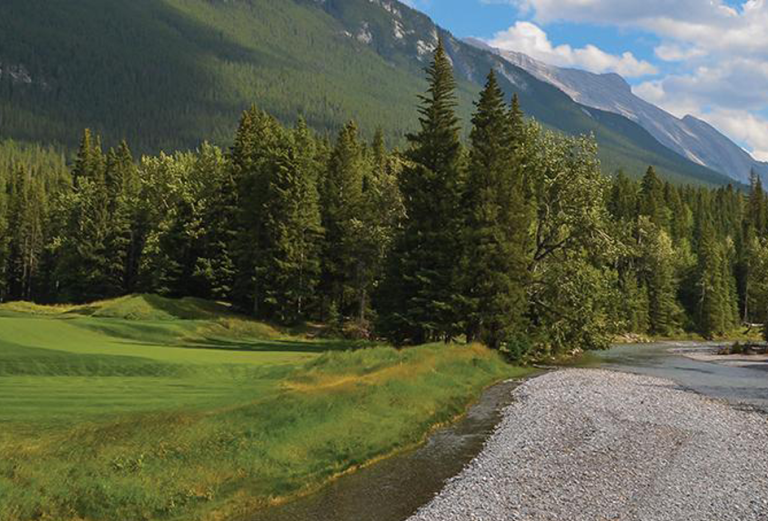 The Great Divide in North America is a geographic concept that has always intrigued me. It is the high and lonely spine of the continent, the hydrologic break that separates great rivers and the oceans they feed. Winters are long there, summers brief and exuberant. I have lived close to the Divide—and to its metaphors—for most of my life, and I never cross it without some inner genuflection. Must I choose one side over the other, one watershed, one fierce vector for my whole life? Why not straddle the Divide, watching the water flow down each side in turn, while staying as far as possible from sea level and the lowland masses?
I had the chance to live those questions during the summer of 2014, when I participated in a bike race called the Tour Divide. That adventure began in early June.
June 17: South of Bigfork, Montana. It has rained and snowed much of the time for four days now, and I wish it would stop. Instead of camping, I stayed in a motel last night to dry out my kit and prepare for another early start. The only food available late in the evening was pizza, which did not meet my criteria for "good fuel," but I forced myself to eat slice after slice. This morning, nothing is open at 5 a.m. except a coffee shop, so I start out with just coffee and a piece of pie. Grinding up a 2,000-foot climb in steady cold rain I am warm enough, but flying down the other side, I become really cold. My gloves are soaked from the water running down my sleeves, and my toes are a distant memory. Somehow, I left my wool hat drying in the hotel bathroom. Because of my detour into Bigfork, I have to subtract 6 miles from the bike odometer to place myself accurately on the map, and I can't do the math. Stopping under a larch to put on more clothes, my heavy bike tips over and the can of bear repellent spray falls out, enveloping me and my bike in a reddish cloud of aerosolized Tabasco. Good thing I'm from New Mexico. I smile. The humor, and the burning, clear my hypothermic haze. The map makes sense to me now.
Divide and Conquer
The world's hardest bike race is not the Tour de France; it is the Tour Divide, a mountain-bike route of more than 2,700 miles that runs from Banff, Alberta, Canada, to Antelope Wells, New Mexico. The route crosses the Continental Divide thirty-two times, rising 200,000 vertical feet along the way.
The route didn't start as a course for a race. In the late 1990s, the Adventure Cycling Association published a map of the route. Some bikepackers rode it, and one of them set out to see how quickly he could finish it. The next year someone beat his time.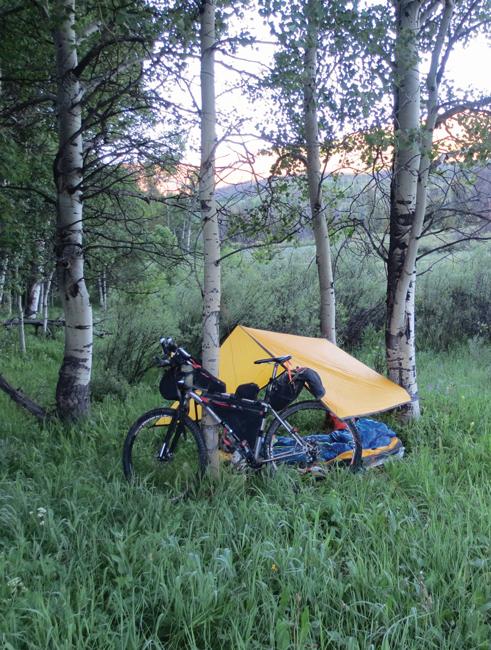 The friendly competition evolved into a race with one stage, no entry fees, no permits, no support, and no organizing or sanctioning body; just an informal gathering in Banff at 8 a.m. on the second Friday in June before riders start out on the Great Divide route to New Mexico. A rider can use only the resources that he or she can carry or that are available to all, such as restaurants, hotels, bike shops, and convenience stores. A rider also can accept the kindness of strangers, known as "trail magic," as long as the generosity is genuinely spontaneous. Each rider carries what is called a spot tracker, which sends location coordinates every ten minutes to a satellite and has an SOS function that will summon rescuers. The tracker transforms a rather lonely ride into a spectator sport, as family and friends follow the silent dots along a map and speculate about what their rider is feeling.
June 25: Pinedale, Wyoming. It was a spectacular ride today over Union Pass. I saw a grizzly across the meadow where both of us were having a snack. I waved and greeted him, but he was busy with his fish and wasn't interested in me. Then came a long, difficult downhill section with washboards, washouts, and loose rocks, followed by a couple of hours of smoother gravel and then paved road.
For several hours today I enjoyed the company of another racer. Human contact is precious in this empty country, and we pilgrims quickly shared our stories with one another.
My knees are really hurting today; they seem to be getting worse, and both Achilles tendons are swollen and creaking with every pedal stroke. Pushing my bike uphill through the snow in stiff cycling shoes has not been good, and it feels like the constant cold and wet have turned my synovial fluid to sludge. By the time I get to Pinedale, I am really worried that my joints won't make it for another 1,600 miles, so I stop in a pharmacy and pick up some anti-inflammatory drugs. My camp that night is next to an overhanging rock along the Emigrant Trail, on sweet-smelling earth in the sage and aspen. The Milky Way is a phosphorescent wave breaking above me. At this moment, there is no place I'd rather be.
Watersheds
I was born in 1950, the dividing point of the twentieth century. In that year the population of the United States reached 150 million. Growing up in New Mexico and Colorado gave me a taste for wide-open spaces and high altitudes, and I spent a decade as an Outward Bound instructor and guide on the rivers and mountains of that glorious country. In my thirtieth year I crossed over a high pass and began an entirely new adventure as a first-year at HMS. The physical challenges were different but the intellectual journey was definitely in nosebleed country, yet I felt that, in some unusual way, I was well prepared for the challenge. After all, I had been living and breathing the Outward Bound philosophy, which, as summarized by its founder Kurt Hahn, is to impel people into value-forming experiences and to ensure the survival of enterprising curiosity, indefatigable spirit, tenacity in pursuit, readiness for sensible self-denial, and, above all, compassion.
Aren't those exactly the qualities that make a successful medical student and a good doctor? I was indeed reasonably successful that first year, thanks in part to the pass-fail system, and to having discovered a kindred spirit reading a climbing magazine in the back row of Amphitheater C. I shared with Fred St. Goar '84 my dream of sea kayaking in the Northwest. The following summer Fred and I, with classmates Jeff Berman '84 and John Stogin '84, and friends Kim Howard and Sarah Wheeler (now my wife), undertook a six-week paddle up the wild Pacific coastline of Southeast Alaska. It was my considered intent to maintain contact with the important threads of my past life in boots and boats while starting my new career in white coat and with stethoscope.
Thirty years and a hundred adventures later, I retired from work at the Centers for Disease Control and Prevention and the Indian Health Service. The years had introduced two stents in my coronary arteries and a growing obsession with the Continental Divide. I was in the mood for something solitary and epic, a journey into my own mind using this aging body, which seemed different every day. The Tour Divide became my pilgrimage, a chance to touch the holy places and inhale their power.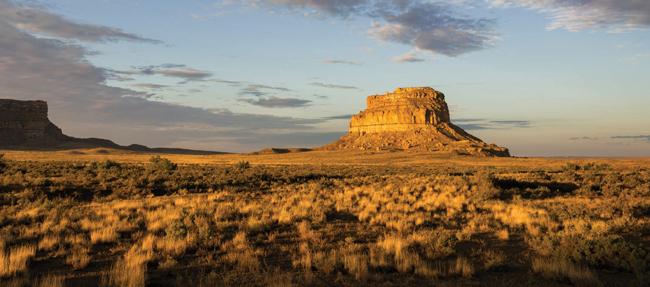 Taking Stock
I took a year to prepare. Putting the bike and equipment together was the best part: the perfect excuse to buy new gear! I pored over specification sheets and catalogs and considered the tradeoffs between durability and mass for each part. I calculated the incremental energy required to move an extra 500 grams up the estimated 60,000 meters to be climbed throughout the course and resolved to carry only what was necessary.
Getting my then 63-year-old body ready was not so much fun. I hired a personal trainer to help me develop the core and upper body strength I would need to keep my back healthy and a cycling coach to help me build the endurance my legs would need to ride more than 100 mountainous miles a day. I made field trips to convenience stores and reported my choices to a nutritionist, who then advised me on ways to optimize my food intake for long days in the saddle. After an intense discussion with my cardiologist about the relative risk of a stent thrombosis versus bleeding into a head injury, we agreed that I would stop taking Effient and instead take an aspirin and a statin every day.
"You have to live your life," he said, "and do the things that make you feel fulfilled. Living in fear won't work for you. Just be smart and listen to your body."
July 7: Gila National Forest, New Mexico. Since leaving Pie Town yesterday afternoon, it feels like my legs just won't work. The bruises on my sit-bones are amazingly painful, but I don't have the leg strength to stand on the pedals. I stop at a small waterfall to cool off and hydrate, I take electrolyte pills, I eat more food, I take Tylenol and Naprosyn. None of this helps. The endless succession of thousand-foot climbs on rough roads in the dust and the heat is really getting me down. I'm surprised, because I know this area, and I am getting close to the finish.
I try to diagnose myself. Could I be out of calories or dehydrated? I stop to eat and drink again and again, to no avail. Maybe electrolytes? Magnesium? I wish I could run my chemistries. Surely something is totally out of whack. Must be my thyroid. Should I take an extra dose of Synthroid? My left quad is really tender, possibly an isolated rhabdomyolysis from the statin. I wish I had some caffeine or coca leaves.
It's almost dark, and I stop by a tiny stream to filter drinking water and make a meal of my remaining scraps of food: potato buds, protein powder, and sardines. I ride on into the night, and somehow the dark and the coolness help. I am able to crest one more hill to camp by the Continental Divide sign. I think about the Outward Bound philosophy, and it seems that the only arrow left in my quiver is "tenacity in pursuit," but that one is sufficient. It is still 50 tough miles to the next meal in Silver City, but I have crossed an emotional divide. I make it there by 10 a.m. for a fabulous breakfast. I roll the last 125 miles through the magnificent desert in the twilight, with thunderstorms all around, and make it to Antelope Wells at noon the next day—2,752 miles in 26 days, 4 hours, and 15 minutes.
Trail Wisdom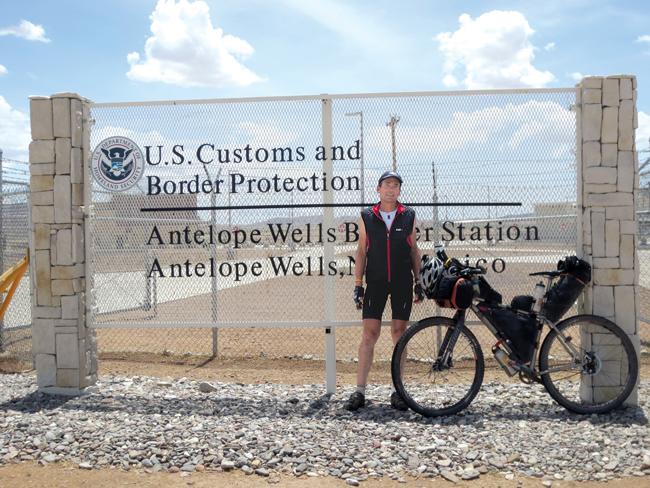 People ask me, "What did you think about while you were riding?" Really, I didn't do a lot of thinking. Most of the time I just counted pedal strokes or breaths—one-and-two-and-three-and-four—or noticed a wildflower, the smell of sage after rain, or simply the vastness. Or I reminded myself that the experience of pain does not have to lead to the mental construct of suffering. Before the ride I visualized how I would focus on three simple concepts: the physical body, the wilderness, and the mental qualities of knowledge, skill, and tenacity. The ride was to weave these threads into a braid of wisdom that I could show others and be comforted by. After Antelope Wells, however, it's not that clear. Looking back, the only thing that was simple was the trail, first on one side, then on the other, of the Great Divide.
Nathaniel Cobb '84 lives in New Mexico. He participated in the Tour Divide ride as a fund-raiser for WildEarth Guardians, a group that seeks to preserve wildlife habitats, such as those important to wolves.
Photos, from top: iStock, Nathaniel Cobb, iStock, Sarah Cobb