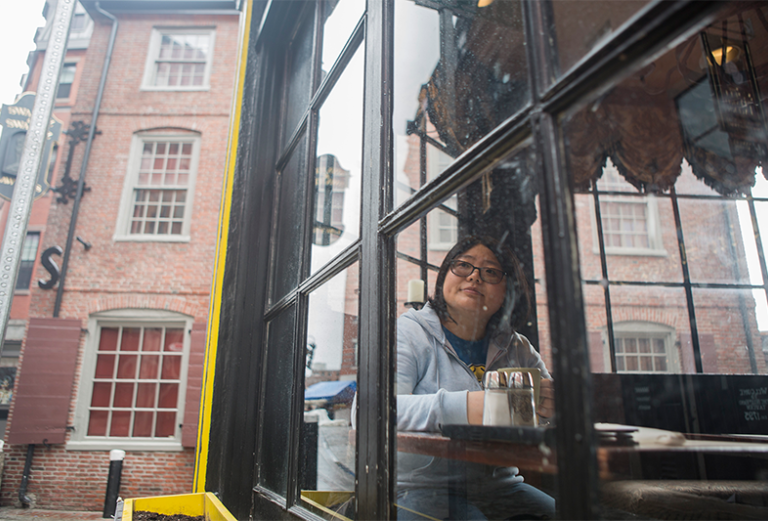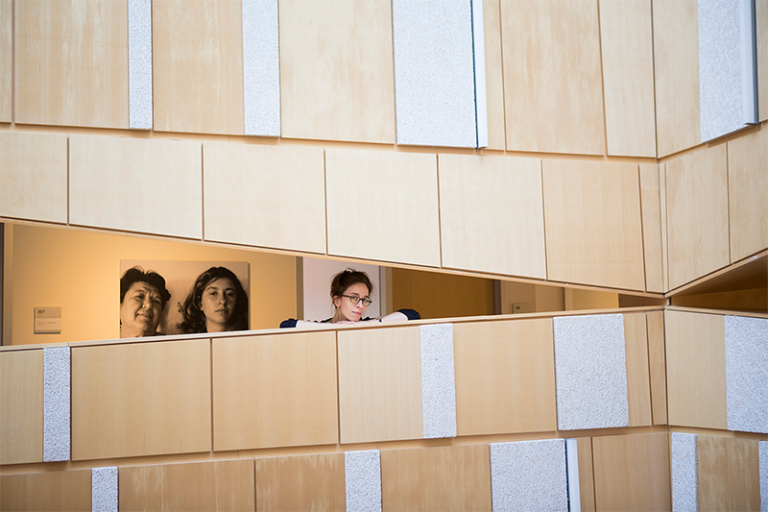 Edith Gahleitner
Throughout her life, Edith Gahleitner has been sensitive to the plight of individuals who were displaced, dismissed, or otherwise marginalized by economic, social, or political circumstance. Although she followed her love of sculpturing early in life, the turmoil in the world—the Arab Spring in 2010 and the Syrian crisis, for example—prompted her to redirect her talents. She turned from fine art to the study of medicine, pursuing her medical education and training in Canada, Europe, India, and Israel. Her focus throughout her studies: ways to provide contextually and culturally sensitive mental health care for people who have been displaced by conflict and have experienced violence.
Gahleitner is now a psychiatry resident in Switzerland and recently became a first-year student in the HMS Master of Medical Sciences in Global Health Delivery (MMSc-GHD) program.
Gahleitner began her residency training in gynecology and obstetrics in Switzerland, where she treated women from areas of conflict. All had survived sexual and gender-based violence. The experience prompted her to seek out more training in psychiatry and psychotherapy.
"To help a woman heal, I felt I could do better by integrating psychiatry with psychotherapy, by taking an integrated psychosocial approach," Gahleitner says.
While pursuing her education at HMS, Gahleitner continues to work for a nongovernmental organization in Germany, providing training for health professionals caring for refugees, with a special focus on working with women and girls who have experienced sexual and gender-based violence. The trainings also emphasize the importance of caregivers tending to one another.
"I think if you're part of an organization providing care for a vulnerable group of people, it's important to also take care of the people who are providing that care," Gahleitner says.
During her tenure at HMS, Gahleitner plans to use a human-rights approach to investigate the intersection of psychiatry and child protection issues.
Working with Jacqueline Bhabha, a professor of the practice of health and human rights in the FXB Center for Health and Human Rights at the Harvard-T.H. Chan School of Public Health, Gahleitner intends to research the consequences of immigration policies and practices; distress migration, that is, migration triggered by a complex set of circumstances including natural calamities and a lack of economic options; and humanitarian assistance on the psychosocial and mental health of child and adolescent refugees.
Gahleitner thinks that being a clinician, a researcher, and a teacher provides her with a firm foundation for speaking out against human rights violations. She would like to see physicians amplify their voices to urge politicians to provide funding for care and to change immigration policies. —Bobbie Collins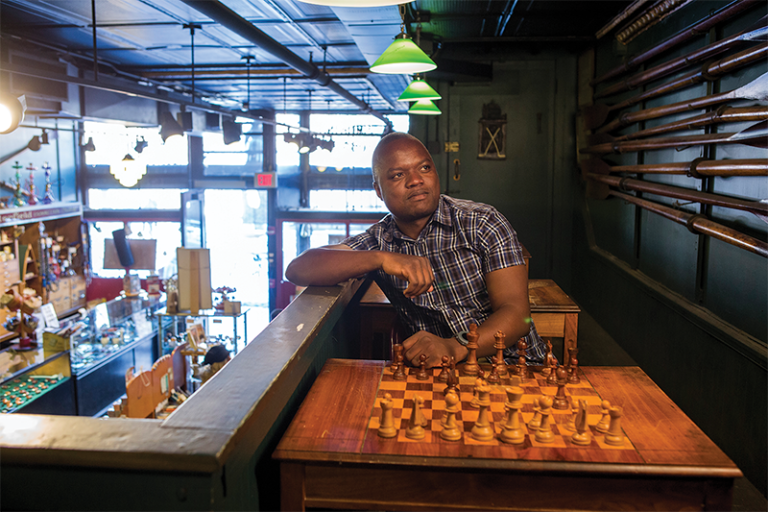 Chenjezo Grant Gonani
At first, Chenjezo Grant Gonani had a hard time believing that his friend was sick. He had just spoken with him, and everything had seemed fine. But when Gonani visited one night, the family had locked his friend in his room and wouldn't let him out. They said he'd been running around, shouting, and smashing windows.
"To me it was shocking," recalls Gonani, a second-year student in the HMS Master of Medical Sciences in Global Health Delivery (MMSc-GHD) program. "He'd be fine, then he'd be manic."
Gonani, who was then working as a general practitioner for the Malawi Ministry of Health, recognized that his friend likely had bipolar disorder. In their search for treatment for the man, his family was consulting various traditional and faith healers, not the staff at a nearby district hospital.
Yet, as the disorder worsened, the family worried that they couldn't keep him safe or protect others from his outbursts. They took him to the hospital where the staff, ill-prepared to deal with serious mental illness, put the man in chains and transferred him to the mental health hospital in the capital.
In Malawi, a nation of 19 million in southeastern Africa, many people view mental illness as a spiritual issue, a malady not trusted to staff at district hospitals. According to Gonani, in Malawi 80 percent of patients with mental health illness are untreated and live with their families.
"We have to build services that will work within the complex cultural, social, and economic context of the community," he says.
To contribute to this change, Gonani enrolled in a degree program in mental health care at Malawi's St. John of God College of Health Sciences, and, following graduation, he established a mental health clinic in the district hospital in Neno and began traveling to the district's other community health centers and making visits to patients' homes.
He also attended the Harvard Global Health Delivery Intensive Program, a bootstrapping course for delivery science, where he learned how to train general practitioners and community health workers to identify people with mental health illnesses, refer them for treatment, and provide them with basic support services.
In the MMSc-GHD program at HMS, Gonani is gaining skills that he will take to Malawi to help achieve his goal of developing care networks for people with mental illnesses that involve families and traditional community leaders. While at HMS, he is working with Giuseppe Raviola, an HMS assistant professor of psychiatry and director of the department's Program in Global Mental Health and Social Change; and Byron Good, an HMS professor of medical anthropology in global health and social medicine.
"You have to dig down to try to understand the cultural context before you build," Gonani says. "You have to understand things from the inside out." —Jake Miller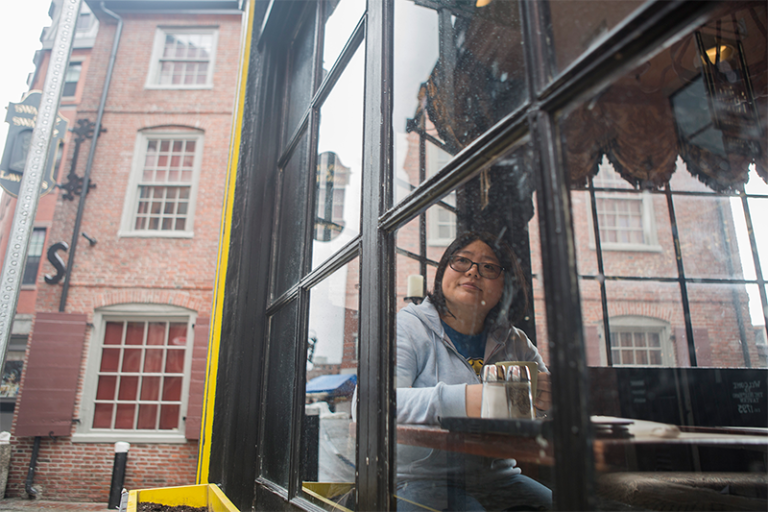 Miao Xue
The first thing that attracted Miao Xue to the study of psychology was a deep curiosity about people's inner worlds. She liked the idea that studying the mind would reveal important truths about the human condition.
The pursuit of that study has taken Xue, a first-year student in the HMS Master of Medical Sciences in Global Health Delivery (MMSc-GHD) program, on journeys far from her home in Beijing, China. These travels have allowed her to explore the social and cultural aspects of self—and of mental health.
When Xue graduated from high school, she says, a shortage of opportunities to study psychology in China led her to a program in Poland.
Living within another culture allowed Xue to see her own anew. In China, as elsewhere, mental health isn't just about mental illness or an individual patient's mind, she realized. It's about an interlocking set of factors that includes biology, culture, politics, and social interactions.
In addition to her work as a psychologist in a psychiatric hospital in China, she began developing a support program for the families of the mentally ill.
"If you only talk about the person as a patient, it's too narrow a vision," Xue says.
Social and economic support for family members who are caring for mentally ill loved ones may also be part of a comprehensive solution of treatment and support, Xue says. In China, she notes, mental illness can impoverish a family if it means losing the incomes of both the person who is ill and their caregiver.
For her MMSc-GHD program research project, Xue is developing an intervention to promote the well-being of families, particularly children, who are living with parents with mental illness. In order to best determine the resources that would be most helpful to these families, Xue is working with Byron Good, an HMS professor of medical anthropology in global health and social medicine, and Mary-Jo DelVecchio Good, an HMS professor of global health and social medicine, who use the tools of medical anthropology and sociology to strengthen mental health delivery systems in societies in Asia.
While in Boston, Xue continues to bring together the viewpoints of different cultures by mining the perspectives of scholars at Harvard's Kennedy and divinity schools and considering how those perspectives can contribute to global health equity programs. Xue hopes that these insights, along with data she will collect from surveys, will help her develop better programs in China for parents with mental illness—programs that help them heal, help support family members who serve as caregivers, and prevent their children from suffering undue trauma, such as separation or the feeling that they are to blame for their parent's illness.
"There are so many brilliant ideas about how to help," Xue says, "but there's a big gap between having those brilliant ideas and delivering the care that people need." —Jake Miller
Images: John Soares