Autumn 2012
A Healer of People and Forests
A profile of Bradford Lundborg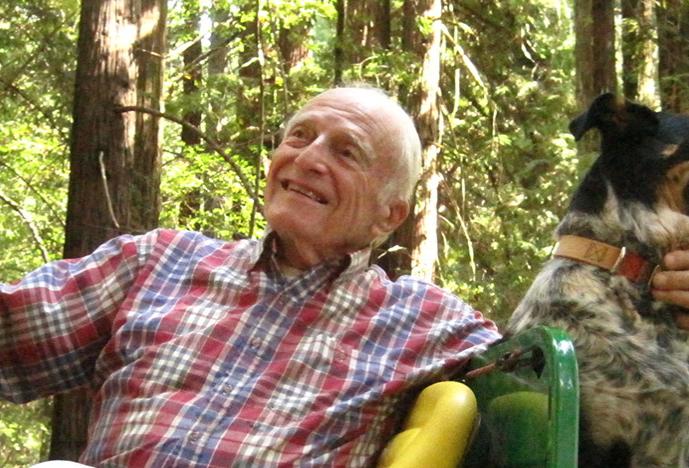 Road Followed
Custodian of a 600-acre coastal-forest nature preserve; blacksmithing instructor; an initial appointee to the California Coastal Commission; retired primary care physician, Santa Rosa, California.
Golden State
Brad Lundborg '52 declared his career intentions while eating cracked crab on Fisherman's Wharf with his parents when he was very young. "I said, 'I'm going to be a psychiatrist,' " he recalls. "At that point, I didn't have a clue you had to go to medical school to become one." World War II put his plans on hold. Hewing to his pacifist roots, Lundborg served in the U.S. Merchant Marine. After graduating from Stanford University, he was accepted to HMS, where he discovered a new interest: rugby. This self-described "totally noncompetitive human being," eventually captained Harvard's Crimson team and played with the All-Star American Rugby squad that competed in Bermuda in 1952.
Ritzy Business
At HMS, Lundborg worked as a research assistant for noted psychiatry professor Merrill Moore, a prolific poet whose patients hailed from the glamorous worlds of Broadway and Hollywood. "It was before the days of psychotropic drugs," he says. "Thorazine had just appeared in the research category and was used mainly for people with violent, acute psychiatric disorders." Recalls Lundborg, "Moore would analyze patients for three or four hours a day, and then we would monitor them for a few days in a suite at the Copley Plaza or Ritz Carlton." The work led Lundborg to reconsider that decision made in San Francisco.
Medical Maverick
He decided on primary care, ultimately establishing a private practice in Santa Rosa. In Sonoma County in the early 1960s, he recalls, health insurance wasn't common; patients often paid out of pocket. Then came the insurance companies, followed by Medicare and Medicaid. Costs rose. Lundborg responded by joining a nonprofit HMO, Health Plan of the Redwoods, which provided health care to 78,000 residents in a four-county area. Lundborg retired in 1997, after serving as the HMO's medical director for ten years. Since beginning his practice in 1958, he had fostered the health of three generations in the region.
A New Leaf
Lundborg's caregiving hasn't been restricted to humans. In the 1970s, with 3,200 acres of forest rescued from a housing developer, he helped establish Annadel State Park. In the early 1970s, he inherited the 600-acre Palmer Creek Ranch and set about restoring the heavily logged land. His goal: regrow the forest and re-establish its wildlife. He's also teaching blacksmithing to young people, an activity, he says, that fills him with joy. He has inadvertently become part of a simple-living lifestyle that he says is trending out West. "If the pendulum can swing, and it must swing, people need to be there to welcome it," he says.
Image: Jean Hegland