Spring 2023
The Healing Airwaves
By allowing for hard conversations, podcasts and radio can promote empathy and reduce stigma
by Molly McDonough

7 minute read

New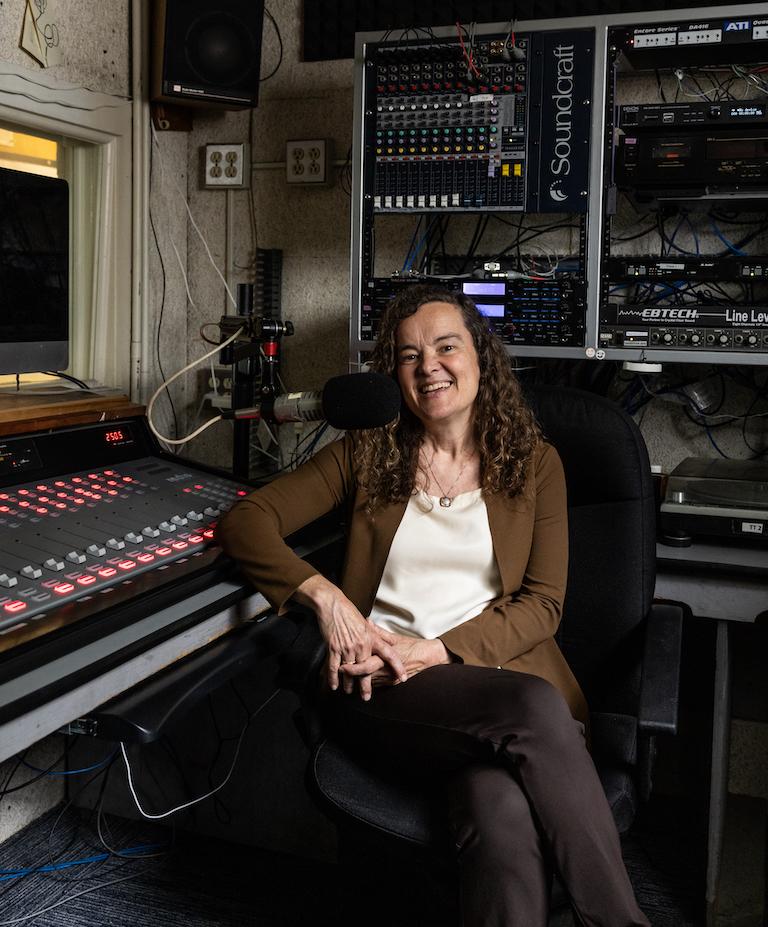 There's something powerful about telling a story — especially when it touches on subjects that we're reluctant to talk about. Anne Hallward, MD '97, knows this all too well. 
Toward the end of her father's life, years after dementia had left him unable to speak or recognize anyone, Hallward harbored complicated feelings. "I would just pray for him to die," she recounted during a 2014 TEDx Talk. "And I felt so horrible wishing death on my own father who I loved so much."
The thoughts felt too shameful to share. So she stayed silent about them for years — until she finally discussed them in front of a roomful of psychiatrists during a lecture on dementia. Hallward, herself a psychiatrist, was nervous. She suspected she'd shock and appall her colleagues. But telling the story was cathartic. On her way home, she pulled over to weep, realizing that she was finally granting herself compassion for her grief. 
Then the emails started coming. 
Lecture attendees shared similar experiences. "I felt the same way about my mother," one wrote, "but I was so ashamed I didn't tell anybody." "So many people pray for death precisely because they care," another wrote, expressing gratitude for the courage it took to share. "You just made it safer to be real about this."
Hallward understands that sharing stories about death is difficult.  "Our culture is pretty grief-averse," she says. "We don't really know how to be with our feelings or what to say. We tiptoe around death." But she also knows the value of speaking out. Bringing up difficult subjects for the sake of helping people feel less alone and ashamed has long been her passion. While in medical school, for instance, she was involved in the design of classes on human sexuality, cultural identity in medicine, and living with a life-threatening illness.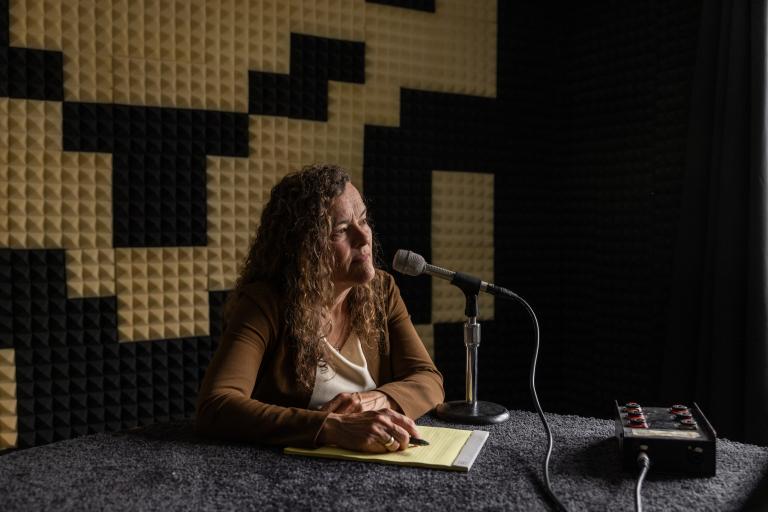 Hallward launched Safe Space Radio in 2008. The radio show and podcast is a public platform to discuss all kinds of tiptoed-around topics: death, mental illness, racism, sexuality, trauma, and more. Her interviews have encouraged hundreds of guests — including fellow psychiatrists, authors, veterans, refugees, and transgender teens — to share their stories. By making space for tough conversations, Hallward tackles what she argues is at the heart of the suffering of mental illness: the shame that makes people retreat into silenced isolation, and the stigma that perpetuates their pain. 
Saying it out loud 
While Hallward stresses that a radio show or podcast is no substitute for therapy, she notes that the convenience of audio content is clear. It's often free, available on demand, and can be consumed in private. And it's increasingly popular among young people. Research indicates that three-quarters of teens and young adults experiencing depression attempt to access other people's health stories through digital materials like podcasts. 
But do we know how effective these digital materials can be? There is compelling evidence that they can be beneficial, particularly programs featuring personal stories. Research suggests that stories can lend meaning and coherence to troubling experiences. Powerful first-person narratives can even change brain chemistry. A 2015 study in Cerebrum, for example, compared participants' reactions to storylines with a strong arc versus those with flat narratives, finding that dramatic arcs trigger an increase in oxytocin, a hormone associated with feelings of well-being and empathy. Subjects were also more likely to engage in behaviors intended to help others, such as donating to charity, in response to an effective personal story.
Another way to gauge a story's effectiveness is to examine the brain regions it activates. A 2021 paper in the Journal of Communication compared fMRI images of participants' brains while listening to three types of recordings: stories played backwards; instructive material, in this case, how to use a VCR; and stories describing personal experiences and challenges. While all recordings recruited brain areas associated with processing sound, only the narrative stories activated regions associated with higher-order functions, particularly regions related to self-referential thinking, social and motivational processes, and memory retrieval. Researchers observed this pattern across participants, indicating that a single message communicated widely, such as on the radio, can have a common influence on many. 
The audio medium also matters. While facial expressions are widely considered key to conveying emotion, recent research reveals that tone of voice could play an even bigger role. A 2017 study in American Psychologist explored the connection between voice-only communication and empathic accuracy, or one's ability to perceive the thoughts and emotions of others. Pairing up participants for two conversations — one with lights on, one with lights off — researchers found that participants more accurately interpreted emotions in the dark, when they couldn't see the other person. 
These results don't surprise Hallward. "When you only listen, you're picturing the character in your mind," she says. "This investment of your imagination helps you take on their perspective. You open your heart to their dilemmas, and you have more empathy for them."
A teaching tool 
To Hallward, empathy is the key to combating stigma — including among doctors. "Anyone who has gone to the doctor knows you want an empathetic doctor, someone who listens well and is kind and gets it," she says. "And it's very painful when your doctor doesn't. It can feel very dismissive and shaming."
Yet studies, including a systematic review published this year in BMC Medical Education, support previous evidence indicating that empathy tends to decline during medical school. The effect is especially pronounced around mental illness, Hallward says, as students are more likely to encounter patients only during acute crises. Stigma around mental illness leads to diagnostic overshadowing, a clinician's tendency to misattribute physical symptoms to mental illness. And stigma can discourage those with conditions like depression, anxiety, PTSD, or bipolar disorder from seeking treatment. 
When you only listen, you're picturing the character in your mind. This investment of your imagination helps you take on their perspective. You open your heart to their dilemmas, and you have more empathy for them.
As medical training evolves to include more multimedia and self-directed forms of learning, Hallward hopes podcasts like hers can complement a traditional textbook education. A 2023 paper she co-authored in Academic Psychiatry evaluated whether a narrative podcast — specifically a miniseries of Safe Space Radio programs — could help foster empathy and decrease mental health stigma among medical students in their psychiatry clerkship. Hallward and colleagues found that more than 90 percent of listeners felt better able to identify with, and more prepared to work with, patients facing the issues addressed. Practicing physicians can also benefit from Safe Space Radio programs. Episodes are used in continuing medical education courses designed to help physicians become more comfortable with discussing difficult subjects — such as climate anxiety, bullying, and suicidal ideation among LGBTQ+ teens — that can affect the mental health of their patients. 
In March, Hallward donated her 305-episode archive to the Center for the History of Medicine at the Francis A. Countway Library of Medicine. Under the care of director Scott Podolsky, MD '97 — Hallward's classmate — and the center's staff of research archivists, she hopes it will serve as a teaching tool for students and community members alike.
In a speech during an event marking the donation, Hallward played a recording of a man discussing what Safe Space Radio had meant to him. That listener, a Maine-based trucking company office manager, had happened to hear an episode about dementia and caretaking one day in his car. Because he'd cared for his own parents when they had dementia, it had resonated. "I felt normal for the first time," he said. "I wasn't overreacting, I wasn't underreacting. My feelings were legitimate. It made going forward possible."
As it turns out, the episode he heard was one of Hallward's most personal: the person being interviewed was her mother. The episode delved into the pain and discomfort of watching Hallward's father's decline, including the difficult feelings it stirred up. It captures how hard conversations promote healing — even for those who happen to tune in.
"When we come out of silence and share, we help other people feel less different, that they aren't so alone," Hallward says. "We transform our suffering into a gift."
Molly McDonough is the associate editor of Harvard Medicine magazine.
Images: Greta Rybus