Autumn 2015
A Leader In the Nation's Cardiovascular Research Efforts
A profile of Gary Gibbons, Class of 1984
by Katie Duboff

2 minute read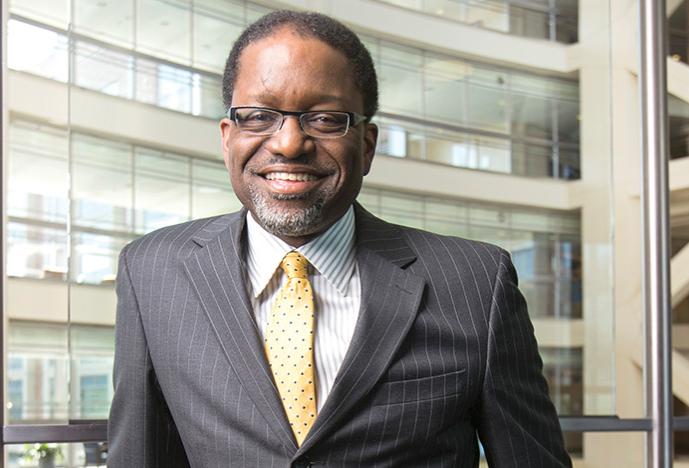 Claim to Fame
Director of the National Heart, Lung, and Blood Institute (NHLBI), National Institutes of Health
Asked and Answering
Gary Gibbons '84 has always been curious. "One of my early memories is of my parents, who were both schoolteachers, giving me books that literally were called 'How and Why,' " he says.
That curiosity kindled an early interest in science and engineering. "I had my own chemistry set, all that sort of thing," he says. "I was very curious about how things worked."
Science led him to medicine and to HMS, where he met A. Clifford Barger '43, his first-year physiology professor. "I remember distinctly asking him why African Americans had more high blood pressure and cardiovascular complications than other groups," he says. "Even though he was a world expert on blood pressure, he turned the question around and challenged me to ask and answer it myself."
A summer position in Barger's laboratory led to two more, each spent investigating blood pressure regulation. "That work transformed the trajectory of my life and career," says Gibbons.
Collected Wisdom
Family influences fostered Gibbons's commitment to hard work and also strengthened his interest in eliminating health disparities.
"My grandmother has always been my benchmark for hard work," says Gibbons. "She was a sharecropper's daughter in rural Georgia, with access to no more than an elementary education. She worked into her seventies as a domestic cleaning the floors of others."
His work in addressing health disparities led to faculty positions at both Stanford University and HMS, to Morehouse School of Medicine in Atlanta as the founding director of its Cardiovascular Research Institute, to an appointment as chair of Morehouse's Department of Physiology, and, in 2012, to his position at the National Heart, Lung, and Blood Institute.
Gibbons' family—particularly his three adult children—inspires him. So do the members of his church. "My other family is my church family," he says. "It has been an important contributor to my life and helps sustain me."
Personal Best
At NHLBI, Gibbons is dedicated to knowledge generation, especially for heart, lung, blood, and sleep disorders.
I get up every morning and embrace the fact that I have responsibility for the work of thousands of employees who are focused on generating new knowledge that will affect the health of the nation."
Gibbons is also dedicated to developing the next generation of leaders by investing in their training and development. Medicine, he thinks, offers its professionals an unprecedented opportunity to contribute not only to the body of scientific knowledge but also to our collective and individual well-being.
"I can't think of a better life path than the one that I'm on," he says. "If I could turn back the clock, I'd do it again."
Photo: Mark Finkenstaedt