Winter 2020
MD Students Prepare to Deliver Gender-Informed Care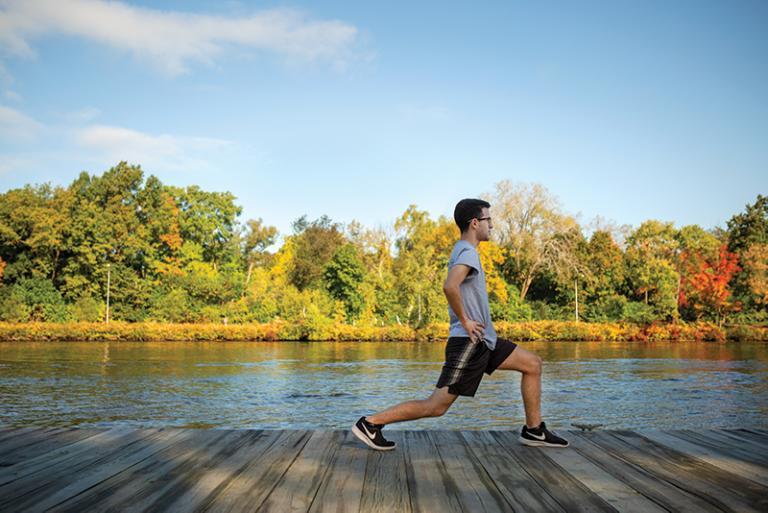 Edgar Garcia Saiz
Medicine's social side might be invisible to some, an abstraction to others. For Edgar Garcia Saiz, a second-year MD student, a deep caring for the social aspects of medicine was part of his way of thinking from an early age: His mother had a heart attack when he was in middle school. Underinsured, she hesitated over getting the care she needed at a crucial moment, opening Garcia Saiz's eyes to an old reality and a new opportunity.
"I saw a career in medicine as a way to advocate for patients with difficulties in accessing health care," he says. As a Harvard undergraduate, Garcia Saiz minored in sociology, work that led to his involvement in LGBTQ community building, such as staffing a late-night mental health hotline, working with the LGBTQ office of student life, and reviving Harvard's chapter of SHADE, a group for LGBTQ students of color because, he says, these students were "falling through the cracks in our programming and had difficulty finding an LGBTQ community that represented their diverse backgrounds."
Garcia Saiz says the support he receives at HMS is profound and a bit surprising. His faculty mentors are leading lights in the LGBTQ world, and they have helped him find his path. When Garcia Saiz looks into his future, he sees himself starting an LGBTQ health clinic that integrates care for patients.
"There's not really one single issue that affects LGBTQ people—it's very cross-specialty: primary care, infectious disease, psychiatry, and even pulmonology, which means all providers have to be adequately trained to provide culturally competent care," he says.
"When I worked at a mental health hotline," he adds, "many people I talked to said they often stopped seeking care because of negative experiences they had with providers who judged them on the basis on their identity or background."
Pediatric mental health has become the focus of Garcia Saiz's research project at Boston Children's Hospital. There, he works with Sabra Katz-Wise, an HMS assistant professor in pediatrics at Boston Children's, on how family functioning and support influence trans youth health outcomes, such as depression, suicidality, and anxiety.
Garcia Saiz's project investigates how familial support for a child's transgender identity influences sexual health outcomes—specifically, how family functioning influences riskier sexual behaviors later in life and whether there can be an effective early intervention.
What he hopes to discover is whether and how families supporting and respecting a child's gender identity can lead to better health outcomes with respect to riskier sexual behaviors.
—Susan Karcz
Aliya Feroe
When Aliya Feroe was in preschool in Minnesota, her teacher called her parents to discuss Aliya's unusual approach to self-portraiture: While the other kids were drawing stick figures, Aliya drew figures that featured a spleen, heart, and stomach.
Feroe, now a third-year MD student, came by this anatomical knowledge honestly, as she frequently accompanied her father, a nurse, to work and played with the anatomical models in his office. This is her earliest memory of being captivated by the human body. Later, this interest would find expression in a love of sports and as an athlete.
During her undergraduate studies at Bowdoin College, she became "fascinated by the health of whole populations, with how societal structures interact to give some people an advantage and others a disadvantage. I was no longer able to separate my fascination with the human body from the ever-apparent social determinants of health."
Feroe entered HMS thinking she would go into OB/GYN, having done some work in child and maternal health at the Centers for Disease Control and Prevention and at Boston Children's Hospital. That thinking was turned on its head after research projects at the Harvard-affiliated hospitals and a third-year rotation in surgery. Feroe fell hard for the operating room, in particular pediatric orthopedic surgery and sports medicine.
Although she is grounded in the medical side of health, Feroe continues to develop her interests in the societal side of the discipline. She is applying to master of public health programs and hopes to use both medicine and public health to effect social change.
One way she is already working on social change, along with other medical students, has been with the Sexual and Gender Minorities Health Equity Initiative, a grant-supported curriculum reform initiative that she helped launch at HMS last year. This initiative focuses on educating students as well as faculty on how to effectively care for patients who identify as part of a sexual or gender minority group.
Citing her involvement in this group as an example of the kind of support she has received at HMS, Feroe says that "from the beginning, I've been really impressed by the interest among administrators about getting change to happen." She found this a bit surprising because "where I grew up, my impression of Harvard was a place with white marble walls where I wouldn't belong." This turned out not to be the case, and "right off the bat I was surprised by how open-minded people are, and willing to help and eager to learn."
Feroe is not yet sure where she will land after her formal education is complete, but she is feeling pulled back to her roots in the Midwest and Scandinavia, her family's region of origin. Wherever she finds herself, she will blend medicine with policy—and add a dimension to her self-portrait.
—Susan Karcz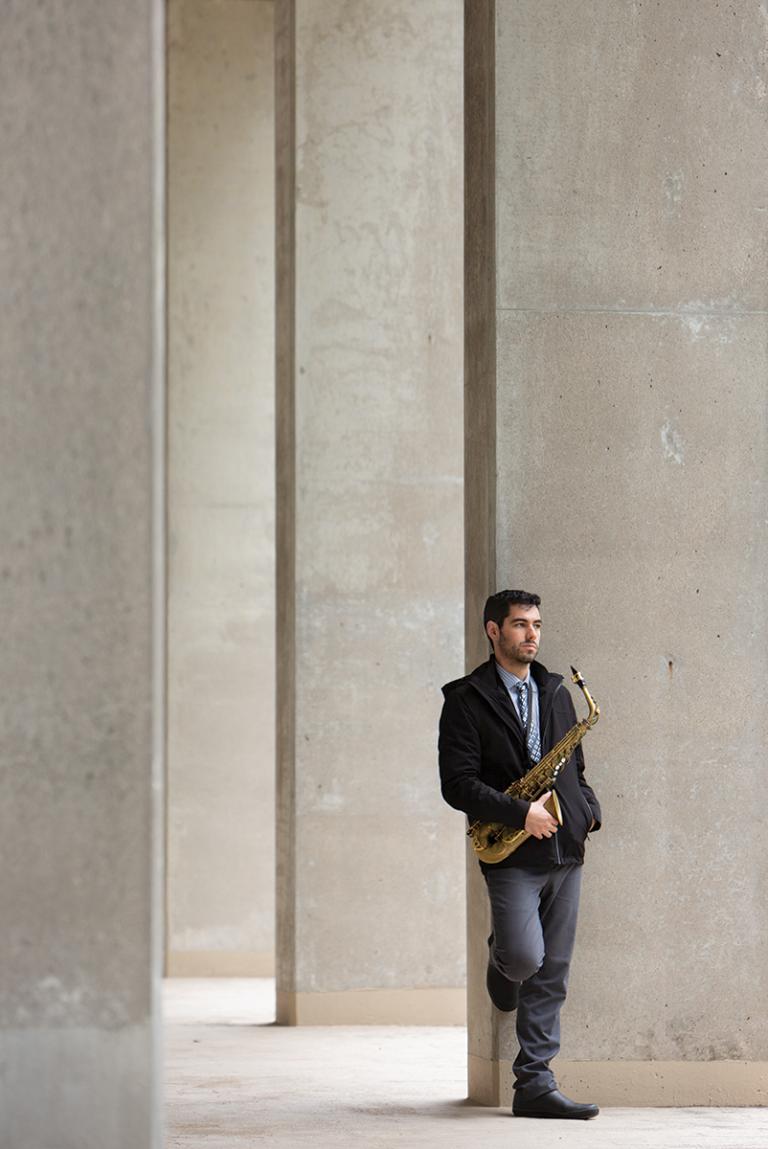 Jordan Said
According to Jordan Said he's always been comfortable being out at HMS. "I've never felt like I had to hide that part of myself."
HMS also has enabled Said, a third-year MD student, to incorporate his identity and interests into his professional goals. In his first two years at HMS, Said was a member of a working group that identified ways to improve components of the School's curriculum related to LGBTQ health. The group's findings have shaped the Sexual and Gender Minorities Health Equity Initiative (SGM), which aims to integrate culturally competent care for LGBTQ patients into the School's core MD curriculum.
Said completed his clinical clerkship at Cambridge Health Alliance, where he was involved in the Transgender Health Committee, which is developing and promoting resources on transgender care for all the hospital's health care providers. "Everyone has patients who are LGBTQ. Everyone should know how to take care of a trans patient, for example," he says.
With the support of faculty leadership and the HMS student-led Racial Justice Coalition, Said and two classmates designed and presented a workshop on recognizing and competently addressing microaggressions arising out of racism, sexism, or homophobia that may be encountered in the clinical setting. They went on to present their material at poster sessions at local and national conferences, where their material garnered special recognition.
"I think it grabs people for two reasons," says Said. "One is because it hasn't been addressed yet. The other is because it's so commonplace."
Despite both of his parents being physicians, Said came to medicine on his own. He loved biochemistry and cell biology and thought he would be a bench scientist, pursuing a bachelor's degree in molecular and cell biology at the University of California, Berkeley. While there, he volunteered as a lay medic at the Gay Men's Health Collective at the Berkeley Free Clinic, an experience that helped him realize he could fulfill his interest in working for social justice by becoming a physician.
Said hopes to participate in the HMS clinical elective dedicated to LGBTQ health at Boston Children's Hospital and is considering specializing in OB/GYN or dermatology. For the remainder of his student years, he plans to remain involved in the School's SGM initiative, an effort he thinks will help HMS grow as a leader in health education and delivery for the LGBTQ community.
—Bobbie Collins
Susan Karcz is associate editor of Harvard Medicine magazine. Bobbie Collins is editorial production coordinator in the HMS Office of Communications and External Relations.
Images: John Soares