Autumn 2021
Topical Interest
Adewole Adamson on removing bias from algorithms used to diagnose disease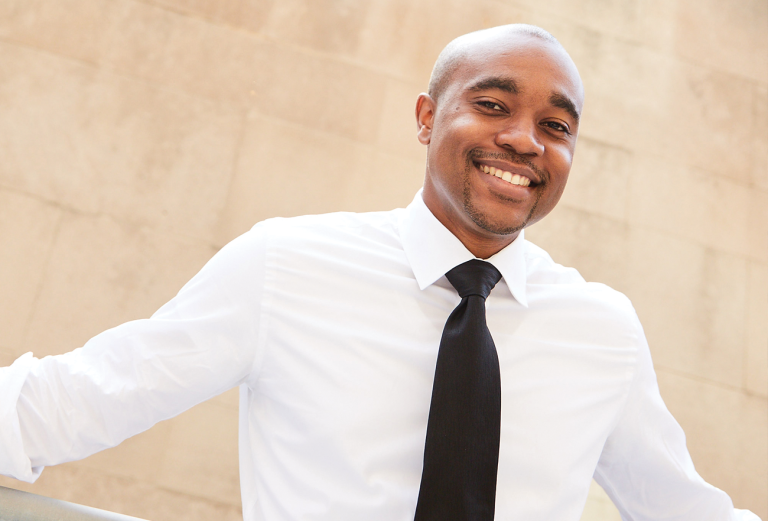 The allure of immunology was strong. So strong that Adewole Adamson took a year off from medical school for a clinical research training program at the National Institutes of Health.
"It was there that I received a scientific introduction to the skin, this huge immunologic organ," he says. He would later specialize in dermatology.
Curiosity about how things work has been an abiding interest for Adamson. A high-school program introduced him to lab-based science; the program's director gave him the confidence to believe he could be a researcher.
"It was really special to have somebody in my corner who saw something in me that maybe others didn't," says Adamson. "Maybe it was because she was a Black woman. I give her a lot of credit for starting me down this road."
Now, Adamson works to reveal bias in some of his specialty's diagnostic tools and to educate his peers and the public on misconceptions about skin diseases. An area of focus is the detection of skin cancers, particularly melanoma, using artificial intelligence.
Research has revealed that algorithmic bias limits these tools. In dermatology, an algorithm must "learn" to recognize pathology on multiple skin colors and types, otherwise some conditions could be missed or misdiagnosed, often with potentially severe consequences.
Adamson also has challenged the clinical dogma that people with dark skin should use sunscreen to prevent melanoma. The evidence, according to statements he made in The Washington Post and The New York Times, is simply not there.
"People haven't stepped back and asked whether it makes sense that UV exposure is related to melanoma in people who identify as Black," he says. Skin cancers in dark-skinned people, he notes, are more often found on the soles of the feet or palms of the hands, areas that don't receive much sun exposure.
He remains grateful for the people he met at HMS, recalling "the astute eye for diagnosis" of Harley Haynes, MD '63, an HMS professor of dermatology at Brigham and Women's Hospital.
"But for me the most remarkable part about being at HMS was my classmates. I was in the London Society, which was a very close-knit group, with only thirty of us. I remain friends with many of those folks, and it's been amazing seeing them blossom."
For now, Adamson is enjoying his work and learning from his peers and patients. Health care is his first love, and the future might see him augmenting his health care practice with public policy.
And if that doesn't work out, he has a backup plan: becoming a "high-end mixologist," he quips. Through self-training he has become adept at making cocktails and practices on friends. Something you can't do as a physician.
Adewole Adamson, MD '11 | assistant professor of internal medicine, Division of Dermatology, Dell Medical School | director, Pigmented Lesion Clinic, University of Texas at Austin
Susan Karcz is associate editor of Harvard Medicine magazine.
Image: Kelly Davidson