Autumn 2021
Keeping Good Food on the Tables of Older Adults
Health outcomes improve when food-insecure older adults tap nutrition assistance programs
by Susan Karcz

4 minute read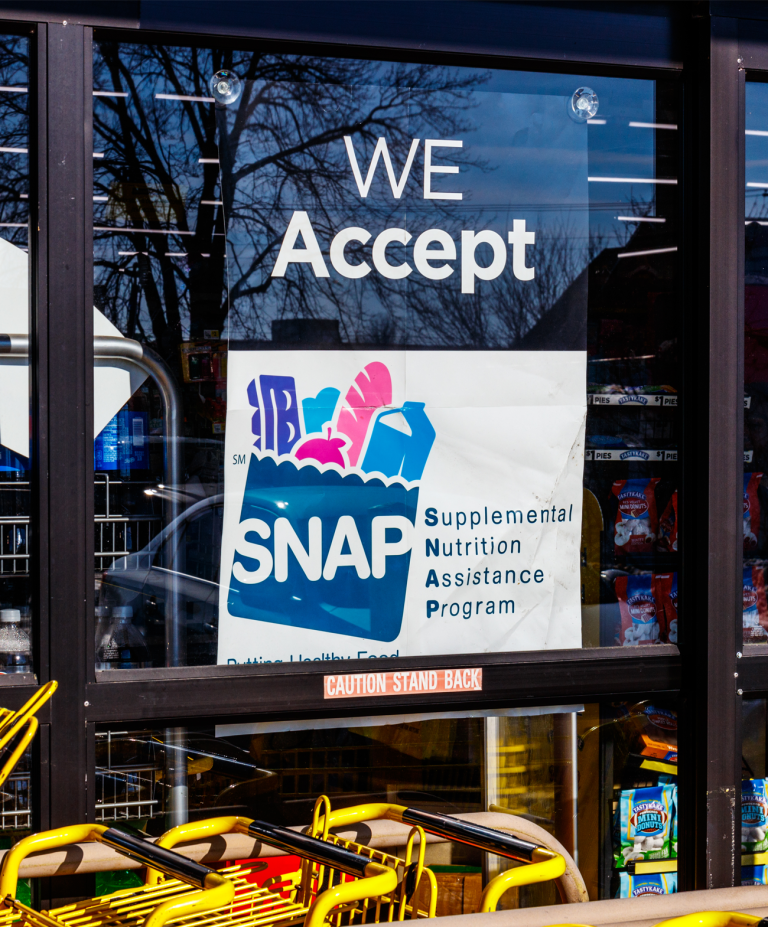 Food insecurity is associated with worse health in several ways. When people have limited access to affordable, nutritious food, conditions are created that can cause people to have poor-quality foods in their diets and to choose between purchasing medications, food, or other basic needs. Experiencing these quandaries can result in higher use of acute care services and higher health care costs.
According to the National Council on Aging, more than 7 million older adults, or 10 percent of adults age 60 and older, are food insecure in this country. Older adults with disabilities are two and a half times more likely to be food insecure.
The Supplemental Nutrition Assistance Program (SNAP) is the nation's largest direct effort to fight food insecurity and currently provides assistance to almost 40 million people. Although this program has been shown to reduce food insecurity, many eligible individuals, particularly older adults, do not participate in SNAP. Ensuring that those who are eligible to benefit from SNAP do so is one of the many goals of The Family Van, a Harvard Medical School-affiliated nonprofit in Boston that works to increase access to health care services in communities of greatest need.
Subscribe to Harvard Medicine magazine
Mollie Williams, executive director of The Family Van, says that many of their older clients are not aware that they are eligible for SNAP. "They think it's for other people, people worse off or people with children," she says. Others may be daunted by the application process, so Family Van staff help them navigate completing the application and submitting required documentation. "It's convoluted and has a really heavy administrative burden," Williams notes.
The importance of helping people gain access to food assistance programs was highlighted in research published in October 2021 in the Annals of Internal Medicine. According to the study, researchers in the Center for Primary Care at HMS and at other institutions found that older adults who are eligible for both Medicare and Medicaid are also often food insecure—and their use of health care is high and costly. Yet, many individuals who qualify for these government health programs are also eligible for SNAP. Those who enroll in the nutrition program, the authors found, had "meaningfully lower health care use and cost." Programs like SNAP, the authors concluded, provide a "clear connection between income and health" and can offer support to individuals made vulnerable by the political economy and can be "a key tool for advancing health equity."
How diet can benefit the health of older adults can be found in work done by Shivani Sahni, an HMS assistant professor of medicine at Hebrew SeniorLife where she is an associate scientist in the Hinda and Arthur Marcus Institute for Aging Research and director of the Nutrition Program. Sahni says she has focused her research "on the importance of individual nutrients as well as dietary patterns in musculoskeletal health and consequent frailty." She has demonstrated that higher protein intakes are protective against age-related loss of muscle strength in older men and women; that higher intakes of carotenoids, found in brightly colored fruits and vegetables, are associated with an increase in grip strength over time; and that a dietary pattern which combines lower amounts of foods high in simple carbohydrates and fat with higher amounts of foods that have dietary fiber and are rich in antioxidants may reduce the risk of frailty over time in older men and women.
It is critical to reduce frailty in older adults for it is associated with a greater risk of falls, disability, and mortality. According to other investigators at Hebrew SeniorLife's Marcus Institute, 25 percent of older adults who fall sustain moderate to severe injuries, including hip fractures. Moreover, falls are the leading cause of injury-related death among older people.
Yet Sahni admits that the cost of whole grains, high-quality protein, and fresh fruits and vegetables can be prohibitive for many who have limited resources. Thus, resources that enhance access to quality foods are vital.
The importance of quality nutrition can be directly measured among Family Van clients. Williams notes that, "most of our clients have one or more chronic diseases, like hypertension or diabetes, so when they come in for routine checks, conversations often revolve around how to better manage that condition by eating healthier foods." She adds that when these clients have access to nutritional support programs like SNAP, they can make better choices and don't have to just buy the cheapest thing they can find.
Susan Karcz is the senior copyeditor and editorial coordinator in the Office of Communications and External Relations at HMS.