Autumn 2018
The Lens as Canvas
A photo essay on the art and science of imaging
by Ann Marie Menting

3 minute read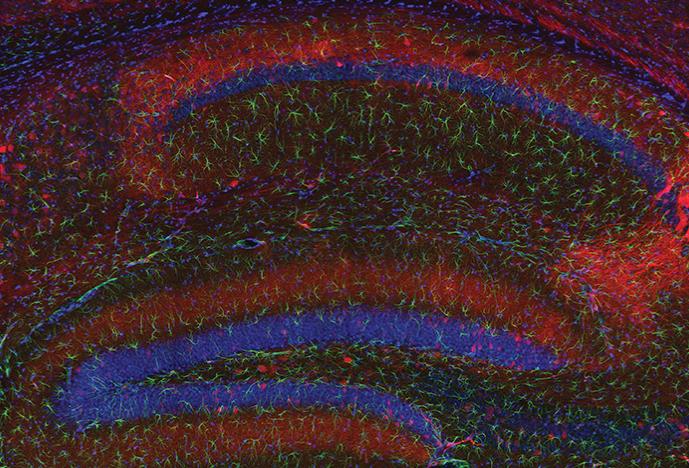 The hippocampus (above), a brain region important for learning and memory, was captured by David Brann, PhD 2022, a graduate student in the lab of neurobiologist Sandeep Robert (Bob) Datta, MD '97, PhD '04. This image shows the use of a new adeno-associated viral vector, called PHP.eB, capable of transducing neurons in a wide range of areas.
"The density of astrocytes (green) reminds us to also consider the role of non-neuronal supportive cells in modulating neuronal activity and in hippocampal-dependent learning," says Brann. "I was surprised at the amount of labeling by the PHP.eB vector in the hippocampal CA2 region (cells in red in the center). Although most studies of hippocampal learning and function neglect the CA2 region, recent work suggests that it may play a crucial role in social memory."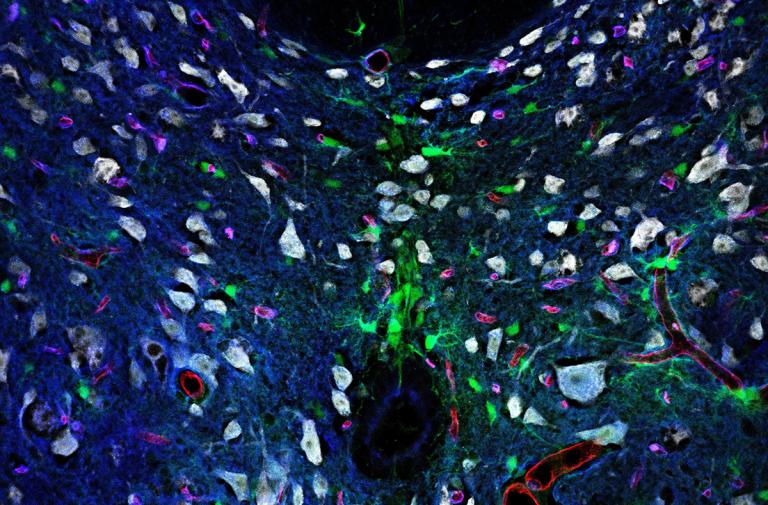 This image from Isle Bastille, PhD 2022, a graduate student in the neurobiology lab of Chenghua Gu, shows the central canal of the spinal cord (the cord is the dark oval at bottom center) and the surrounding gray matter. Bastille used two markers to delineate astrocytes, a type of support cell in the central nervous system, and their fine processes. This image was the first that allowed Bastille to clearly resolve astrocyte cell bodies, showing how their processes (blue) extend and wrap around blood vessels (red), often wedging themselves between blood vessels and neurons. Bastille says this research aims to decipher how spinal cord neurons receive nutrients and other molecules from the bloodstream, knowledge that is crucial to understanding spinal cord diseases.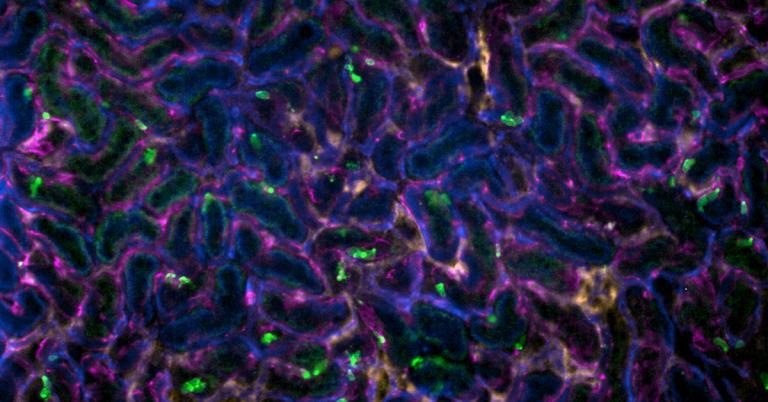 In his image of an uninjured kidney in a live mouse, Pei Xiong Liew, an HMS research fellow in the laboratory of pathologist Tanya Mayadas at Brigham and Women's Hospital, shows immune cells (green) traversing a bed of blood capillaries, which are lined with endothelial cells (blue); endothelial junctions are highlighted in magenta. In kidney disease, renal tubules (dark green) are disrupted, resulting in the recruitment of immune cells through the capillaries. By imaging how immune cells interact in host tissues in real time, Liew hopes to develop better treatments for patients with end-stage kidney disease.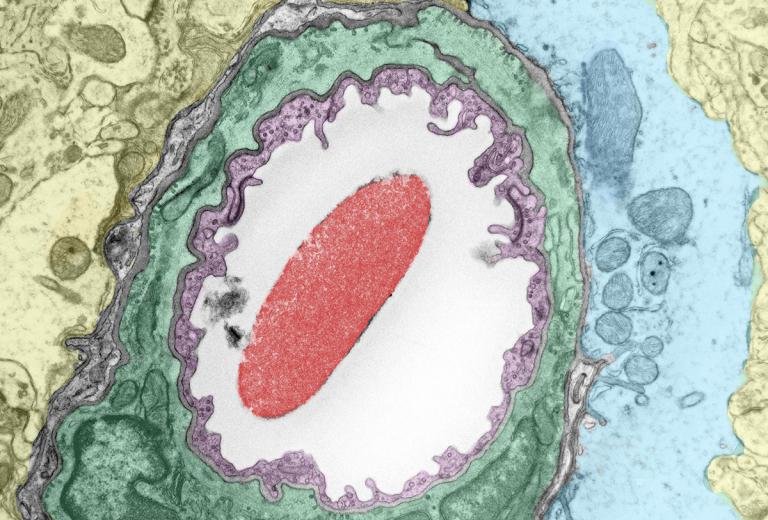 Brian Chow, a graduate student in the laboratory of neurobiologist Chenghua Gu, used electron microscopy to visualize the subcellular structures of a mouse brain artery (left, above). When arteries dilate, more blood can flow into the brain, helping to satisfy that organ's high metabolic demands.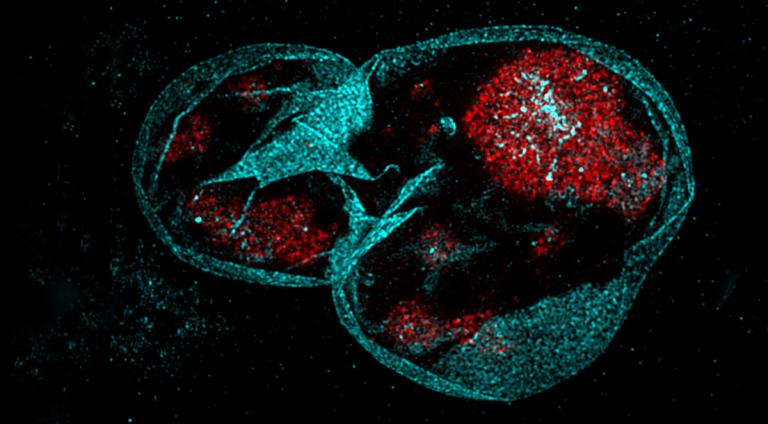 In work characterizing a multiprotein complex that plays a role in protecting cells from viral infections, Philipp Merkl, a research fellow in the laboratory of microbiologist David Knipe, captured the nucleus of a human fibroblast cell (above), staining it to show the nuclear lamina, a dense fibrillar network coating the inside of the nuclear membrane (blue-green), and areas of viral replication (red). Within the areas of replication are additional filamentous structures (blue-green). These structures represent an assembly of several proteins on the viral DNA, including a protein of the nuclear lamina.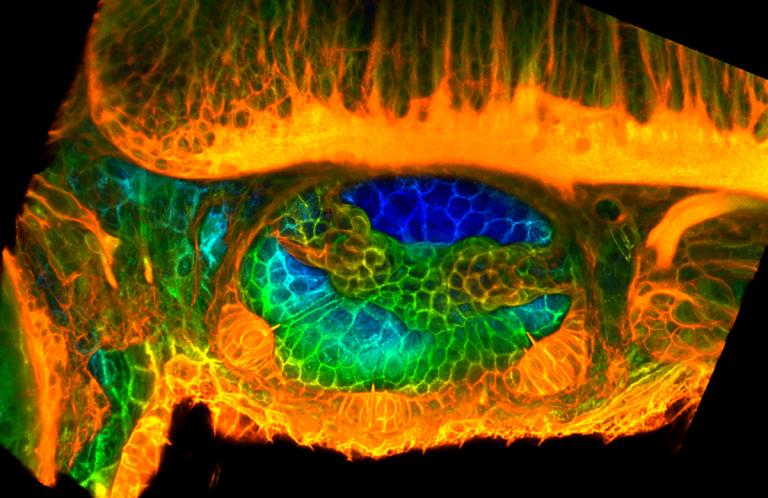 Akankshi Munjal's image of the inner ear of a zebrafish embryo is part of her research on how the ear's semicircular canals form from simple tissue. A postdoc in the laboratory of geneticist Sean Megason, PhD '01, Munjal seeks to infer the forces required to shape organs by analyzing cell shapes.